Pico Ruivo Mountain Hike and Walk
The Pico Ruivo is the highest point on the mountainous Madeira and standing at 1,862m above sea level the summit provides spectacular views over the entire island. The climb to the top of Pico Ruivo provides for a challenging hike and there are two excellent routes of varying degrees of difficulty.
The hiking route from Pico do Arieiro to Pico Ruivo
The most popular and more challenging course is from the summit of Pico do Arieiro, which is easily accessible by car and is the third highest peak of Madeira. This route is not for the faint hearted as it traverses steep ridges, passes through tunnels and steep slopes.
The stunning natural scenery of the mountainous region
The round trip takes around 5-6 hours and covers 12km. The second route is much easier accessing Pico Ruivo from the east and the village of Achada do Teixeira, the round trip takes between 2.5-3 hours but still climbs up 300 meters over the 3km route.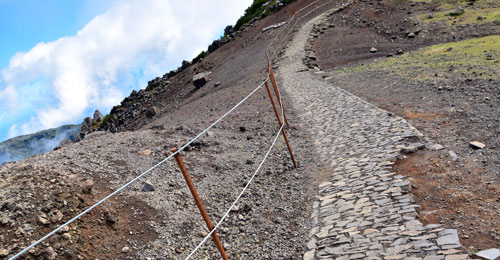 The footpaths are well used....
Pico Ruivo Precautions
The weather of Pico Ruivo is very variable so always plan for the worst. Between Pico do Arieiro and Pico Ruivo there are tunneled sections so it is advisable to bring a torch. Never attempt these hikes if you suffer with vertigo. There are many good tour companies that provide small group hikes along the route Pico do Arieiro to Achada do Teixeira which eliminate the tiring return section.
Pico do Arieiro to Pico Ruivo
This is the most popular route and during the height of the tourist season the path can be busy with walkers and tour groups. To avoid the crowds start earlier in the day but never start the hike late in the day especially if returning.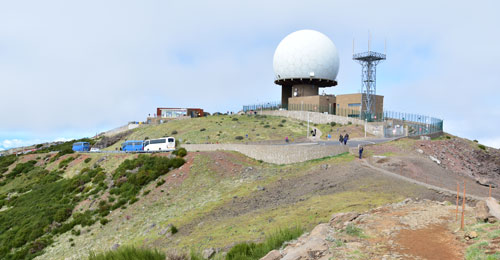 Pico do Arieiro is the location of a radar dome, and lots of tour coaches....
One of the factors which makes this hike so popular is the easy access to the summit of Pico do Arieiro from Funchal (20km to the south) and there is a good tarmac road right to the summit suitable for all cars. The reason for the good access is that Pico do Arieiro is the site of a NATO radar installation.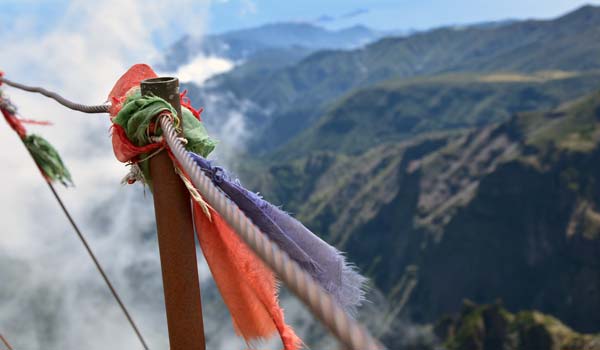 The region is simply stunning...
The path is well signed and there are two alternative route around the Pico das Torres. The western is shorter and passes through a long tunnel below the Pico do Gato but over the last couple of years there have been closures due to landslides.
The eastern route adds 40-50 minutes extra but requires steep climb around the Pico das Torres. Always follow the signs for current information. Just below the summit of Pico Ruivo is a rest hut and shop which provides tap water. From the shop it is a steep climb for the last 90 meters to the top and the amazing views.