Madeira, Portugal; a holiday and tourism guide for 2023
Madeira is an oasis of green within the Atlantic Ocean. This lush island with its permanent spring-like climate, is diverse and fascinating, and one of the truly unique holiday destinations of Europe.
Found within the island are dramatic natural scenery, towering mountains and tropical forests, and a people that are welcoming and hospitable, reflecting the laid-back nature of the Portuguese.
Madeira is not your typical beach holiday destination, this is a location to go out and explore, immerse in local culture or find solitude while hiking one of the magnificent trails that cross the island.
If you are seeking a relaxing holiday, Madeira boasts world-class hotels, a glorious climate and a social atmosphere, while offering exceptional value for money.
Madeira is varied and thrilling, and a holiday here can be as exciting or relaxing as you choose it to be. This article will provide an introduction to Madeira, by answering some of the common holiday questions.
What are the highlights of Madeira?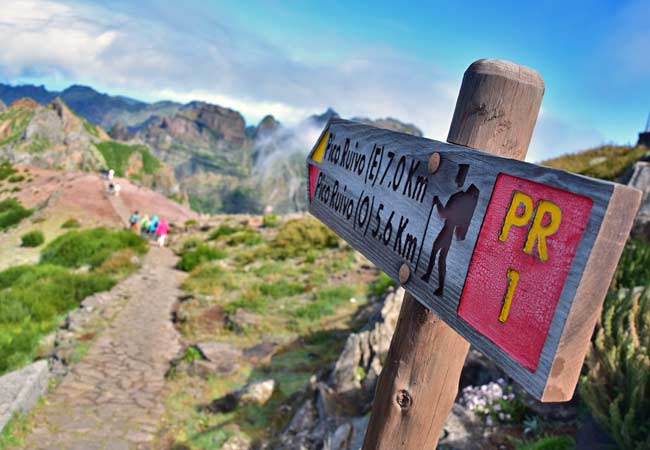 Hiking above the cloud line between the mountains of Pico do Arieiro and Pico Ruivo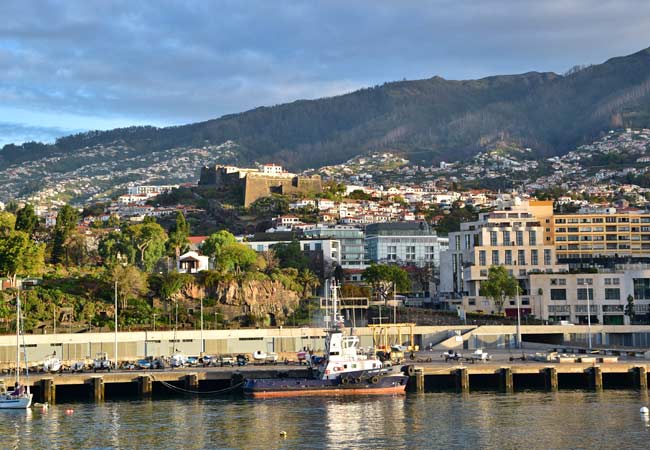 The history and culture of Funchal, then take a cable car ride above the city to Monte and return on a wicker chair toboggan run.
The rugged and breath-taking scenery along the northern coastline of Madeira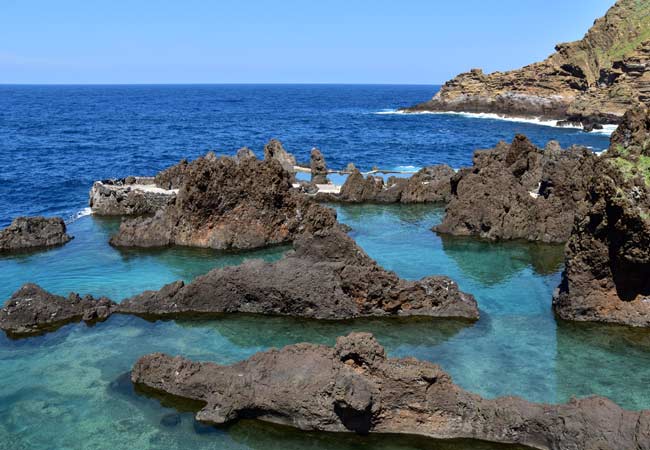 Swimming in the lava pools at Porto Moniz, as giant Atlantic waves crash onto the basalt rocks
Related articles: Funchal guide - Porto Moniz - Pico do Arieiro
Madeira Introduction
Madeira is a territory of Portugal, but it is closer to mainland Africa (800km) than to Lisbon (1,200km), while the Canary Islands are 400km to the south. The southern latitude of Madeira, and close proximity to the Canaries would expect an island of soring heat and parched lands, but this is not true.
The Atlantic Ocean tempers any temperature extremes, while the mountains and moisture-laden winds ensure rain falls, and keeps the island lush and green. Madeira is often referred to as the 'island of the eternal spring', and this description is so true.
Related articles: Top 10 of Madeira - 1 week in Madeira - When to visit Madeira?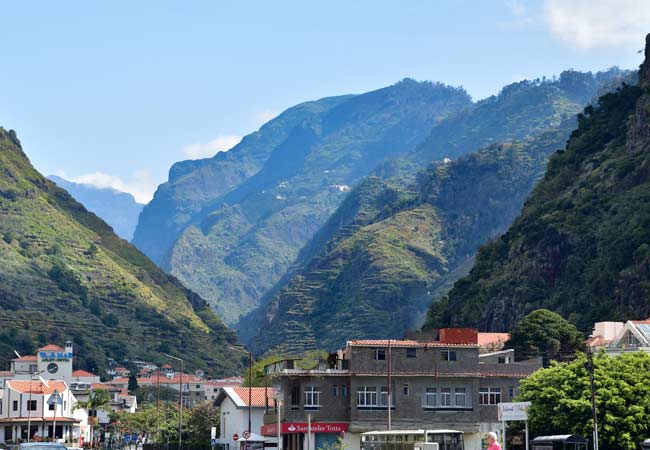 The green and mountainous interior of Madeira
Who should visit Madeira?
Madeira is a destination that will appeal to a wide range of tourists. The island is very safe, tourist facilities are of a high standard, and is comparatively inexpensive, especially when compared to other major holiday destinations.
These traits typically entice a more mature visitor, but Madeira is an exciting island, just wanting to be discovered by the modern independent tourist. Hire a car, climb a mountain, eat delicious seafood, party in Funchal, hike through a river valley, whale watch or simply admire the stunning scenery.
The major holiday consideration for Madeira is the lack of beaches, but if beaches are essential for your holiday then consider dividing your time between Madeira and Porto Santo. Porto Santo is the second island of the Madeira archipelago, and has a gorgeous sandy beach extending along the entire southern side of the island.
Our opinion: Porto Santo is one of the last undiscovered beach destinations of Europe.
Related articles: Top 10 activities in Madeira - Day trip to Porto Santo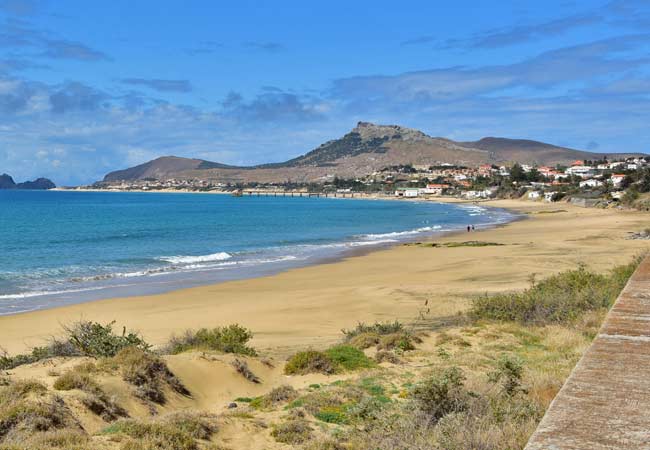 Porto Santo is much more arid than Madeira, but there is a beautiful 7km beach
Where to go in Madeira?
Most visitors to Madeira are based close to Funchal, the largest city on the island and where over half of the island's population live.
Funchal is a pretty and welcoming city that is a charming mix of classic Portuguese architecture, whitewashed houses and carefully maintained gardens. The main hotel zone is to the west of Funchal, and if you book a package holiday you will be more than likely based within this area.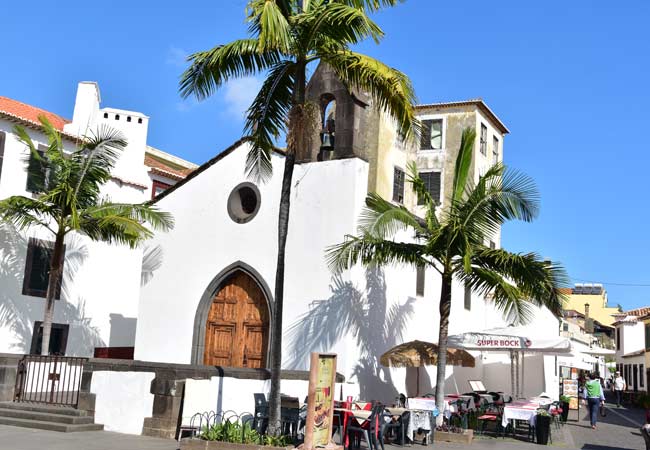 The historic centre of Funchal is an enjoyable locaction for a holiday
The interior of Madeira is formed of massive extinct volcanoes and deep river valleys that have been carved out by the constant mountain rains. Pico Ruivo is the highest point of Madeira at 1,850m while the third highest peak, Pico do Arieiro, is easily accessible by road.
The deep valleys provided protection and safety to the early population of Madeira during the numerous pirate raids. The most famous of these valleys is the Curral das Freiras (Nuns Refuge) which is surrounded by towering cliffs on three sides.
Crossing the island are a series of complex waterways that diverted water from the wet northern side to the fertile lands on the eastern side of Madeira. Today these small streams and associated footpaths provide visitors with wonderful hiking routes (known as the Levadas), which pass through some of the most specular landscapes in Madeira.
The coastline of Madeira is a jagged mixture of massive cliffs and stony beaches. The cliffs outside the town of Câmara de Lobos are some of the highest in Europe and there is a fear-inducing skywalk which protrudes out over the 500m drop.
The remote town of Porto Moniz on the very north western edge is famed for its lava pools that are filled by the high tide.
Related articles: Cabo Girão Skywalk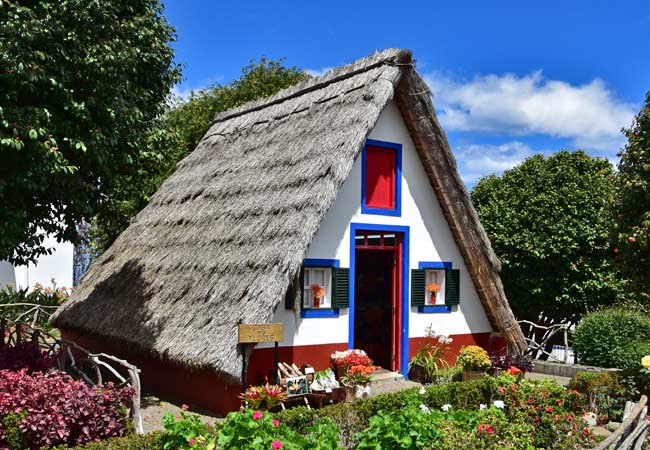 The traditional houses of Madeira in Santana
When to visit Madeira?
There are two peak seasons for Madeira; the Christmas holidays and school summer holidays (July-August). If you are planning a holiday during these periods, always book flights and accommodation well in advance, as flights will be expensive, and hotels do sell out.
Early spring and autumn are the best times of the year to visit as the weather is still wonderful but there are not the summertime crowds or cruise ships. The winter months experience the most rain, but this tends to fall on the northern side of the island, whereas Funchal to the south is much drier.
Insight: The main festival of Madeira is the flower festival hosted in Funchal between the 23rd of April and the 24th of May.
June is a strange month in Madeira, as the island is often covered in cloud (but rarely rains) and is frequently referred to as "June gloom" by locals. By July the intense summer sun burns this cloud away in the early morning.
Our advice: If you are holidaying in June, head to Lisbon or Porto for their Popular Saint Festivals and guaranteed great weather.
Related articles: Our Lisbon guide – Porto guide
Suggested itineraries for a holiday to Madeira?
A typical holiday to Madeira is based in or near Funchal (many of the major hotels are to the west of the city) and the island is explored via organised day trips or with a rental car.
If you wish to explore Madeira independently, a recommended itinerary with a rental car is; Day 1) Funchal and Monte Day 2) Câmara De Lobos and the Cabo Girão Cliffs Day 3) Porto Moniz Day 4) the mountains of Pico do Arieiro and Pico Ruivo Day 5) Ribeiro Frio, Santana and Machico Day 6) Curral Das Freiras and Day 7) São Vicente and caves.
A map of this suggested itinerary is shown below.
Guided tours are a hassle-free way to explore Madeira and also provide a chance to meet fellow tourists. There are many different tour companies providing guides tours of Madeira, but they all tend to split the island into two; east and west. The western tours typically visit Câmara De Lobos, Sao Vicente and Porto Moniz, while the eastern tours include Santana, Ribeiro Frio and Machico.
Related articles: 1 week in Madeira
What about the beaches?
The powerful waves and strong sea currents have prevented the coastline of Madeira retaining any meaningful sandy beaches.
This has actually been a blessing for the island. The lack of sandy beaches has prevented Madeira being overrun by package holidays and mega hotel developments, as with the cultural devoid Canary Islands.
There are two artificial sandy beaches on Madeira, at Calheta and Machico. Both are protected from the ocean currents and winter storms by sea walls, but this does mean neither beach is very large.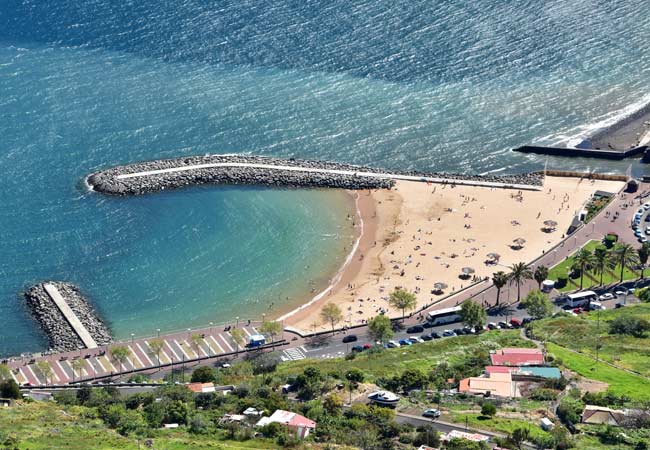 The Paira do Machico beach is to the northeast of Madeira
If you truly want a beach destination, consider visiting Porto Santo for a portion of your holiday to Madeira. There is a regular ferry connecting Funchal to Porto Santo, and the island has its own airport with a few services to Europe.
Another option is to book a hotel with a beautiful swimming pool complex and grounds, which can be as equally pleasant for a relaxing holiday.
Our opinion: Madeira may not have the bountiful beaches as with other islands in the eastern Atlantic Ocean, but easily compensates with mountainous scenery, rugged coastlines and culturally rich towns and villages.
Related articles: The best sandy beaches of Madeira
Is language going to be a problem?
All people who work within the tourism industry speak English fluently and often a third European language. All restaurants menus will have an English section, while all transportation use English as the second language. The Portuguese always appreciate an effort to speak their language.
Madeira for children?
Madeira is not a conventional or well-known destination for a family holiday but is ideal for children. The Portuguese are very welcoming and supportive of families, especially if travelling with young children. The island is very safe, all tourist facilities and hotels are at a very high standard, and shops sell all common branded goods.
As for activities, there is the cable car and toboggan run in Funchal, there are boat tours and the lava pools in Porto Moniz. The beaches in Madeira tend to be stony and the sea waters are cold.
Travel to Madeira and Madeira airport
Madeira is served by a modern international airport situated on the northeastern side of the island.
There are numerous routes connecting Madeira to major European cities, and many of these flights are operated by the low-cost airlines, so there can be bargains to be found if booked far enough in advance.
Onward travel from the airport is very easy, as there is a regular bus service, called the Aerobus which connects the airport to Funchal (40 minutes €5.00). For faster transfers, there are taxis or pre-booked transfers.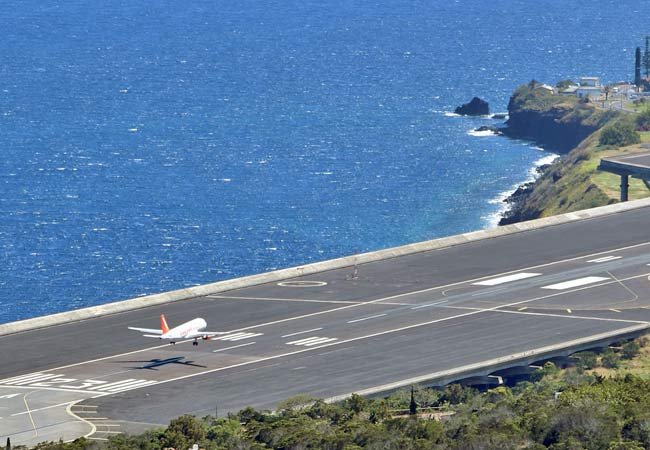 The run way of Madeira spans a deep valley and extends out over the sea… The approach to Madeira is one of the most stunning in Europe
Insight: Madeira airport used to have the reputation as one of the worlds most dangerous, this was before the large and modern airport was constructed in 2002. Do not listen to scare stories the airport is perfectly safe, but pilots do need additional training due to the crosswinds and zig-zag approach.