Madeira Beaches and Best Sandy Beach
Madeira is a mountainous volcanic island, that has a wonderful year-round climate, a lush interior, bags of Portuguese charm, but unfortunately no natural sandy beaches.
Unlike the Canary Islands, Madeira does not have a shoreline of golden sands, and the few natural beaches found between the tower cliffs are lined with grey pebbles and black basalt stones.
To help boost tourism artificial beaches have been constructed using imported sands, but Madeira will always be a destination for outdoor activities and a cultural experience.
If you are after a purely beach experience while in Madeira, consider heading to the pretty island of Porto Santo, which is 2 hours by ferry from Funchal, and can be visited as either a day trip or longer stay. This guide will detail the best beaches in Madeira.
Related articles: Introduction to Madeira – Madeira top 10 - 1 week in Madeira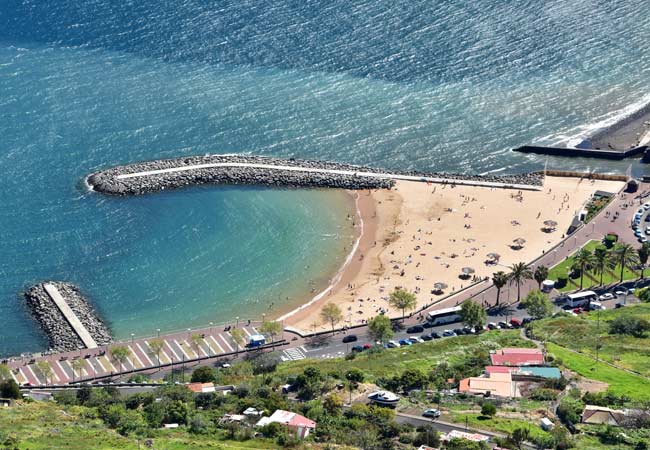 All of Madeira's beaches are sheltered by sea walls, to stop then being washed away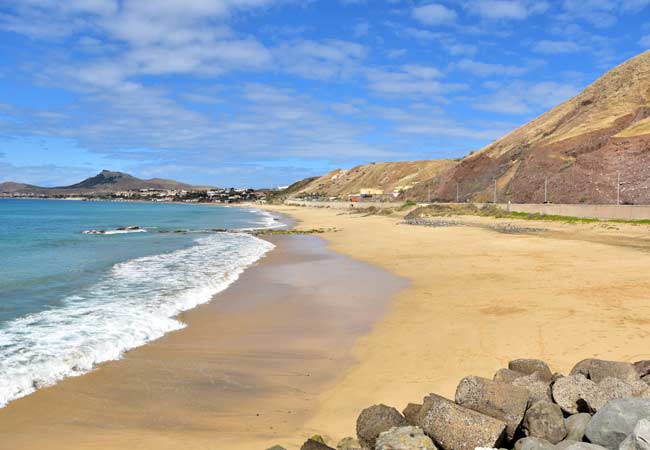 The island of Porto Santo has the best beach but is a 2hour ferry away
Porto Santo Beach
Porto Santo is a small arid island 75km to the north east of Madeira and is the location of the best beaches of the Madeira Archipelago, and possibly of Portugal. The rocky headlands of Porto Santo have sheltered the coastline from the strong oceanic currents and allowed a sandy shoreline to form that covers the entire southern side of the island.
This beach of soft golden sands and clear sea waters extends for 5km from the harbour into the east to the pretty headland of Ponta da Calheta in the west, and includes the charming village of Vila Baleira. For an informative guide to a day trip and sights of Porto Santo can be found here.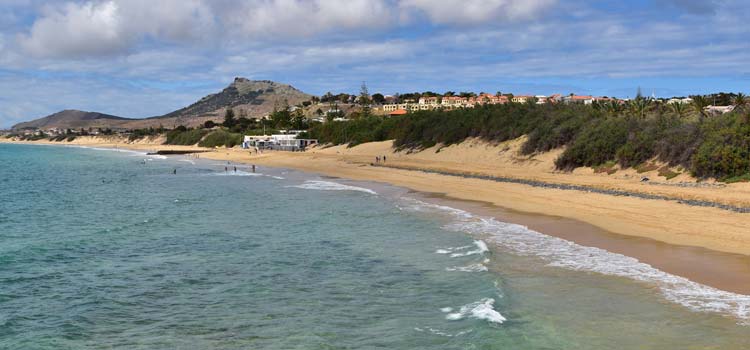 Porto Santo has a 7km long sandy coastline
Porto Santo is a popular holiday destination with the Portuguese, with a wide range of hotels, restaurants and shops. The main resort town of Vila Baleira has a pleasant small-town feel, with a very similar atmosphere to Porto Moniz or Ribeira Brava. We really like Porto Santo and highly recommend it as a destination for tourists who having an extended holiday to Madeira.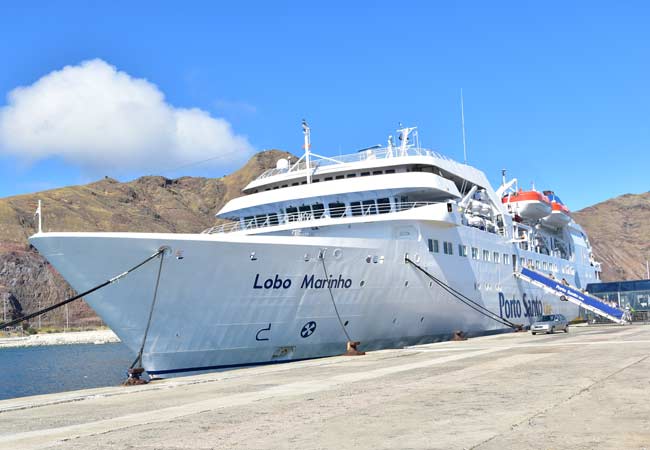 The ferry to Porto Santo
Porto Santo is connected to Madeira by ferry, and the journey time takes two hours on the modern and well equipped Lobo Marinho ferry, operated by Porto Santo Line. The ferry schedule is designed so that the Porto Santo can be visited as a day trip from Funchal, with a morning departure and evening return. Day trip tickets cost €65.
Praia da Calheta Beach Madeira
The Praia da Calheta was the first artificial beach constructed on Madeira and could be considered as the best sandy beach on the island. The beach was constructed with two sea walls that have formed a double sided bay which holds sand imported from Morocco but there was token amount from Portugal.
This novel design has ensured that the golden sands are not washed away by storms and also maximises the beach capacity. As this is the best beach on Madeira it tends to be busy during the summer but is the best place to head to for a relaxing day on the beach.
The Praia da Calheta beach
Calheta beach is ideal for families as the waters are clean (blue flag) and free of strong currents while there are great tourist facilities close to the beach. Calheta is a pretty little town surrounded by steep cliffs and positioned on a small river, which is approximately 30km drive from Funchal.
There is a limited bus services from Funchal to Calheta provided by Rodo Este bus company and it is possible to visit as a day trip but expect long journey. The bus routes are the 80, 115 and 142 and the latest timetable can be seen on the Rodo Este website:
http://www.rodoeste.com.pt/Hor%C3%A1rios
(link opens new tab)
Paira de Machico, Madeira
The second artificial sandy beach of Madeira is the Paira do Machico, on the shoreline in front of Madeira's second city Machico.
Machico beach is protected by a long rock breakwater on the seaward side but is smaller than Calheta beach and stretches for 125 meters with a maximum depth of 70 meters.
The sands are non-native to Madeira and were imported from the beaches of Morocco. During the summer, it fills up but it does offer visitors soft golden sands on which to enjoy the beautiful weather.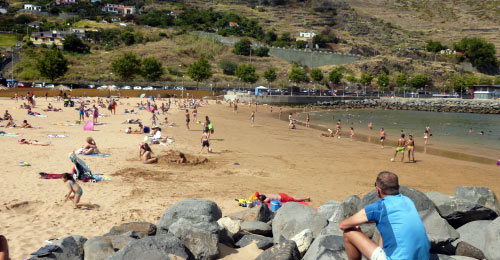 The Paira do Machico beach to the northeast of Madeira
Machico is on the opposite side to Calheta and is on the eastern side of the island close to the airport. The beach is in the town of Machico and 25km from Funchal and only 6km from Santa Cruz. There is better public transport between Funchal and Machico but for a day trip from Funchal its best to have a rental car.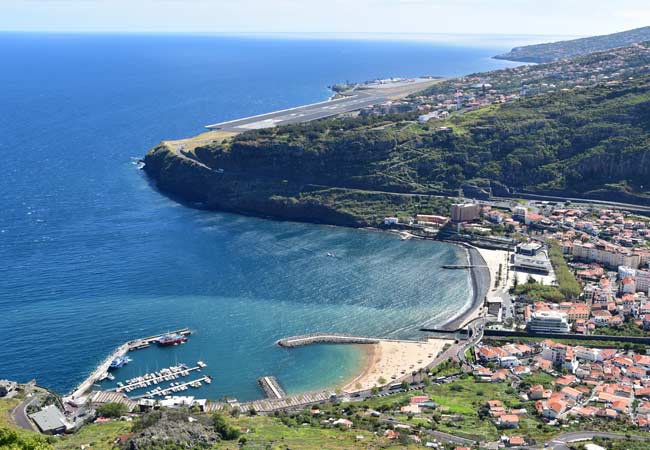 Machico is on the edge of the town and close to the airport (runway is at the top of the image)