Coimbra, Portugal; a tourism guide
Coimbra is frequently known as the university city of Portugal, but for over 100 years it was the medieval capital of the country. This interplay of ancient history and progressive student ideals, come together in Coimbra to form one fascinating tourist destination.
Coimbra is a city to create unique travel memories and experiences. Be it an intimate Fado performance, an authentic meal at a family-owned restaurant or being caught up in some chaotic student tradition.
Strangely, Coimbra is often rushed through by foreign visitors or worse simply overlooked. But spend time in Coimbra and you will discover a truly magical city.
Highlights of Coimbra
Coimbra needs more than 2 hours!
Many tourists visit Coimbra as part of a coach or guided tour, which typically spend less than two hours in the city. This short time barely scratches the surface of this vibrant city.
Coimbra at a minimum requires one full day of sightseeing, while the day trips and attractions in the region surrounding Coimbra could extend a trip to four or five days. Coimbra offers the largest selection of restaurants and liveliest nightlife of central Portugal, and is an enjoyable city to be based in.
Even if you are limited by time, it is worth spending at least one night in the city before heading to the next destination. A rushed tour will not allow you enough time to explore the charming cobbled backstreets or enjoy a relaxed coffee and sweet pastry in the Café Santa Cruz.
Coimbra as a day trip
Coimbra is a popular tourist destination when travelling between Lisbon and Porto, and the major highlights of the city can be seen in a full day of sightseeing.
Below is an interactive map of our suggested 1-day tour of Coimbra, which begins and ends at the train station.
Sights along the tour route: 1) Igreja de São Tiago 2) Café Santa Cruz 3) Igreja de Santa Cruz 4) Jardim da Manga 5) Porta de Barbacã 6) Torre de Anto 7) Sé Velha 8) Museu Nacional Machado de Castro 9) Sé Nova 10) Aqueduto de São Sebastião 11) Jardim Botânico 12) Biblioteca Joanina 13) Torre da Universidade de Coimbra 14) Parque Verde do Mondego 15) Ponte Pedonal Pedro e Inês 16) Mosteiro de Santa Clara-a-Velha 17) Mosteiro de Santa Clara-a-Nova 18) Portugal dos Pequenitos 19) Ponte de Santa Clara
The above tour route is 8km and involves climbing some very steep hills around the university. The day can be shortened by excluding the Parque Verde do Mondego (14) and the Ponte Pedonal Pedro e Inês (15)
Travel to Coimbra
Coimbra has excellent public transport connections, being severed by the main north-south railway and being a hub for central Portugal bus services.
There are numerous express train services which connect Coimbra to Lisbon or Porto, and routes are fast (1h34 from Lisbon, 1h12 from Porto) and relatively inexpensive; €23,90 Lisbon to Coimbra (single) €17,50 Porto to Coimbra (single). This means that Coimbra is ideal if you are touring Portugal and reliant on public transport. The only inconvenience is that train tickets must be booked in advance and are popular in the summer.
Related articles: Lisbon to Coimbra – Porto to Coimbra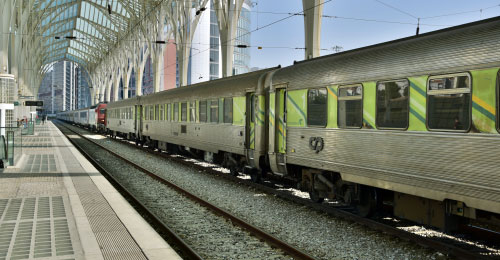 The train to Coimbra, in Orient train station, Lisbon
Coimbra is great for Food
The unique heritage and culture of Coimbra transfers to the cooking and cuisine which is very distinct from other regions of Portugal.
The local produced wines are the perfect complement to all of the delicious foods. As Coimbra is predominantly a university town, meals especially at lunch, offer exceptional value.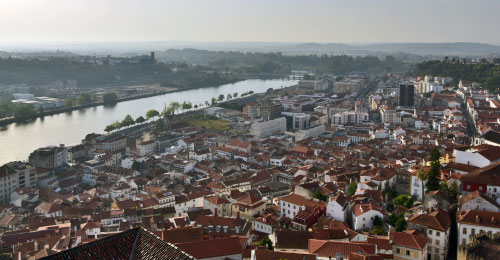 The view over Coimbra
Discover more of central Portugal with our guides