Coimbra Introduction - Lisbon to Coimbra - Coimbra itineraries - Igreja de Santa Cruz
Coimbra Portugal Guide
Coimbra is Portugal's historic and fascinating university city, which makes for a great destination as part of a tour or holiday of central Portugal. Coimbra is a varied and captivating city that boasts an extensive history, vibrant atmosphere and a range of interesting tourist attractions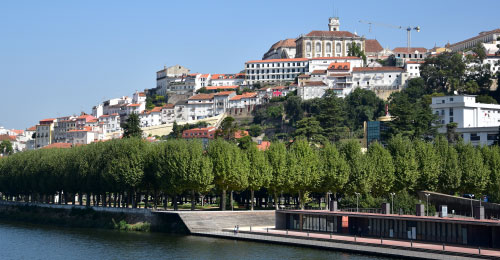 Coimbra contains one of the world's oldest universities but the city is no historic relic, it is an affluent city that is both liberal and forward thinking, in part due to the large student population. As a tourist destination Coimbra will appeal to wide selection of visitors; it crammed with interesting historical monuments but equally has a lively atmosphere and great nightlife. Coimbra is often overlooked by foreign visitors but for those tourists who defy convention will discover a truly enthralling holiday destination.
Highlights of Coimbra
The beautiful historic university buildings, which include the library, the grand hall and the view from the "Owl" tower.
Listening to the sweet sound of Fado, a style of music which was created by the students to woo the women of Coimbra.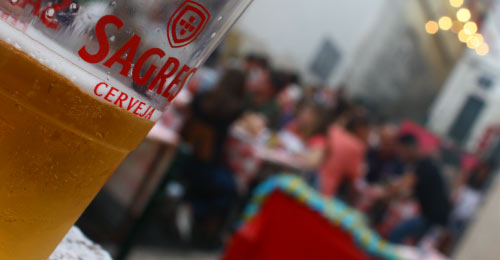 Portugal dos Pequenitos, Portugal's key monuments in miniature, designed for children but adored by adults.....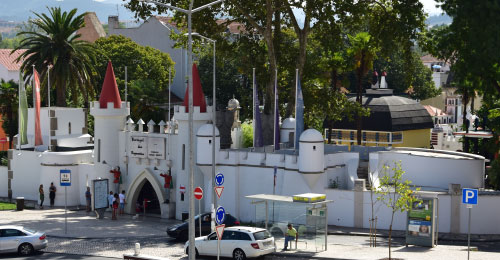 The Igreja de Santa Cruz, Coimbra's most historically important church but contains numerous design failures…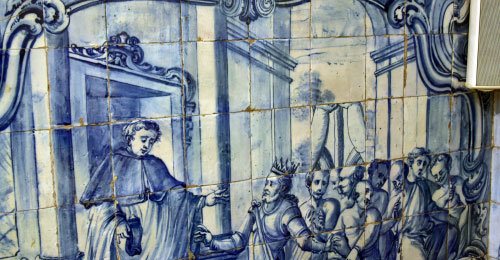 Spot the odd piece in the tile image, oops!
Coimbra needs more than 2 hours!
Many tourists to Coimbra visit as part of a coach or guided tour that spend less than 2 hours within the city, and this barely scratches the surface of this wonderful city. Coimbra at a minimum requires one and half days just to explore the main sights, while the great day trips could extend a stay to four or five days. Coimbra has a lively nightlife and fabulous restaurants and is worthy of at least a night's stay even for those visitors on a limited time frame. For those visitors who spend time to discover the city will be rewarded with a rich understanding and appreciation of the city and it's people.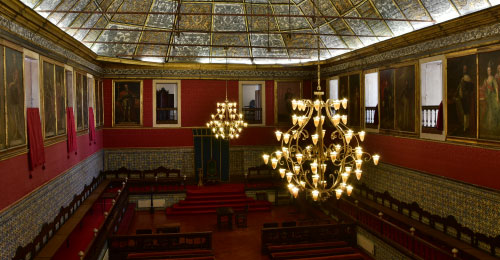 The main room in the university
Coimbra is Easy to Travel To
Coimbra is half way between Lisbon and Porto, and this makes for the perfect destination to break the journey between the two major cities. The express train (the Alpha Pendular??), which connects Lisbon to Porto stops at Coimbra and it is little more than 1.5 hour from either city. This means that Coimbra is ideal for visitors who are reliant on public transport, with regular and inexpensive from both major airport cities. Once in Coimbra the historic centre is compact and it can be easily explored on foot.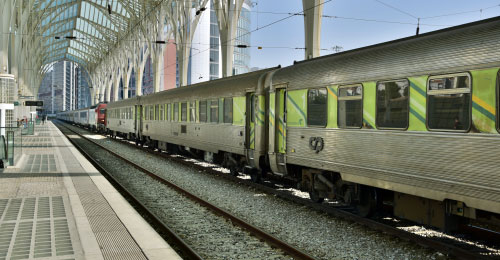 The train to Coimbra, in Orient train station, Lisbon
Coimbra is great for Food
The unique heritage and culture of Coimbra transfers to the cooking and cuisine which is very distinct from other regions of Portugal.
The local produced wines are the perfect complement to all of the delicious foods. As Coimbra is predominantly a university town, meals especially at lunch, offer exceptional value.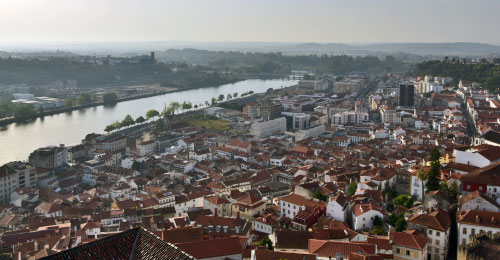 The view over Coimbra
Coimbra will make you fit
As Coimbra is centred around the ancient roman there is a lot of walking up steep hills