Introduction – Top 10 Portugal – 1 Week Ideas – Weekend in Portugal – Airports – Lisbon to Porto Tours - Best Beaches
Top 10 places to visit in Portugal
Portugal is a fascinating and varied country, with breath-taking scenery, compelling history and a glorious climate. Geographically, Portugal may only be a minor country, but its tourism credentials are enough to rival that of Italy or France.
Along the coast, traditional fishing villages overlook pristine beaches, while in the cities, historic districts coexist with ultra-modern. Not only is there a lot to see, Portugal has progressive attitudes with liberal thinking and vibrant nightlife, but still holds dear its heritage and history. Portugal is a wonderful holiday destination and this guide will detail our favourite top 10 places to visit.
No 10) Tavira, a traditional beach Town
Tavira is a delightful fishing town, which is situated on the much calmer eastern Algarve. While many towns of southern Portugal have succumbed to mass tourism, Tavira has barely altered, retaining its distinctive character and charm. Tavira was an important fortified town during the North African Moors era (9th century) and later was a bustling port. This varied history is all played out along the cobbled streets and small plazas, where ancient walls stand next to baroque villas.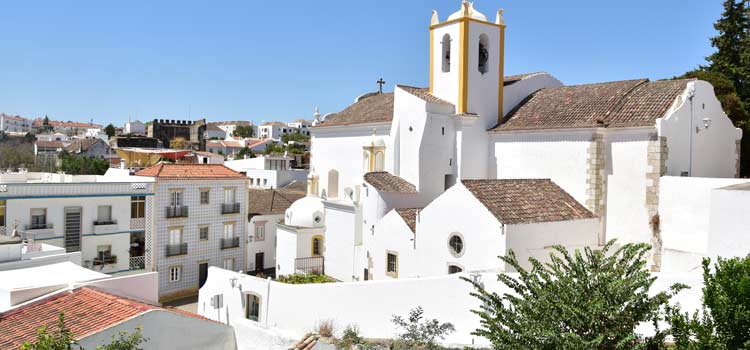 The pretty center of Tavira
To the south of Tavira are pristine sandy beaches, which are protected from development by the Ria Formosa Nature Park. For a mature and relaxed holiday destination, there is no better choice than Tavira, and for a guide to Tavira please click here.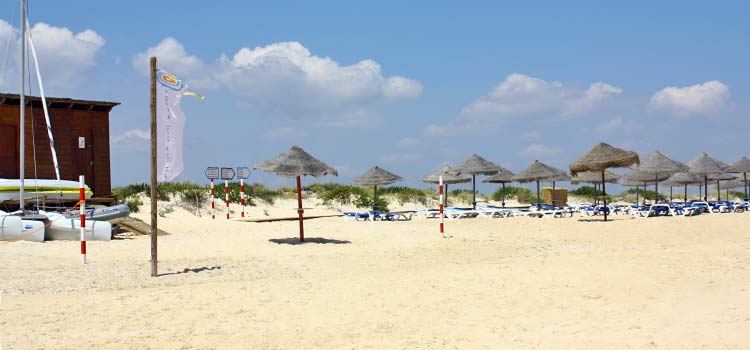 The great empty beaches close to Tavira
No 9) Coimbra, university Town - Portugal top 10
Coimbra is the ancient university town of Portugal and is an intriguing mix of historic sights and youthful energy, imparted by the larger student population. These students are frequently seen throughout Coimbra dressed in their black robes either rushing to classes or later in the cafes groups performing classical songs. Coimbra is a compact city which can be explored easily within a day but its location partway between Lisbon and Porto means that it is a popular destination to separate the journey. For a guide to Coimbra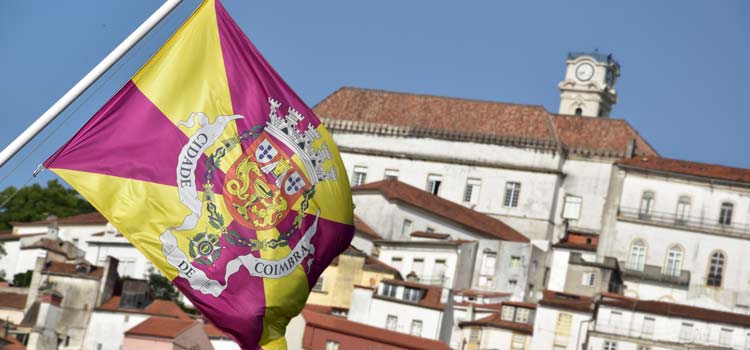 Coimbra is an ancient university town
No 8) Sesimbra, beautiful beach resort
Sesimbra is a pretty resort town that is to the south of Lisbon on the Setubal Peninsula. This small town is adored by the Portuguese who flock here during their short holiday season, while outside of the peak months the town is peaceful and unhurried.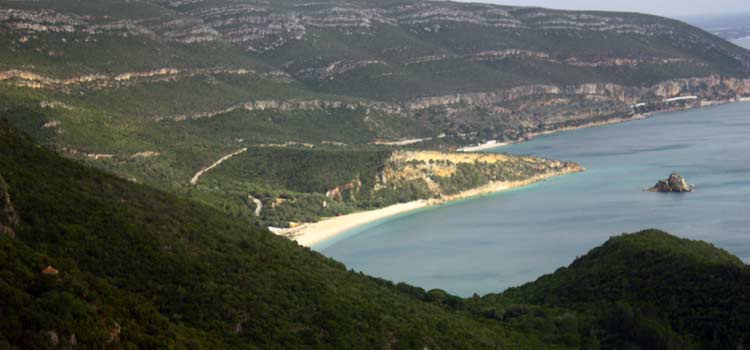 Within the vicinity of Sesimbra is a beautiful coastline of craggy cliffs and glorious beaches while inland are the stunning forest covered hills of the Arrabida national park. Sesimbra is virtually unknown by foreign visitors but is only a short bus ride from Lisbon and the whole region makes for an enjoyable alternative beach holiday destination. To read more about Sesimbra please click here.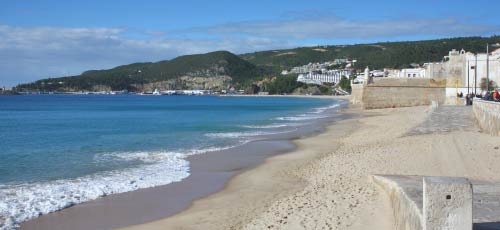 No 7) Evora, Historic Town
Evora is a historic city that lies in the heart of the dry and arid Alentejo region. Evora was once an important trading town and religious centre, and this extensive history is reflected by the varied sights of the city. The city is famed for its beautiful preserved Roman Temple and creepy bone chapel.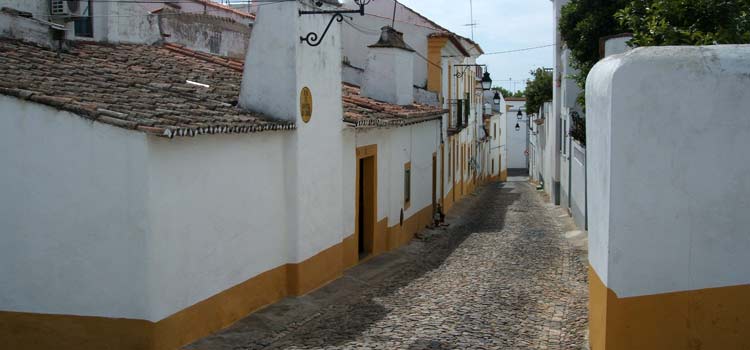 Evora operates at a slow pace, brought about by the intensely hot summers but has a young university population and is no sleepy relic. For visitors with a rental car Evora makes for a good base from which to explore the entire of the Alentejo region. To discover more about Evora please visit Evora-Portugal.com.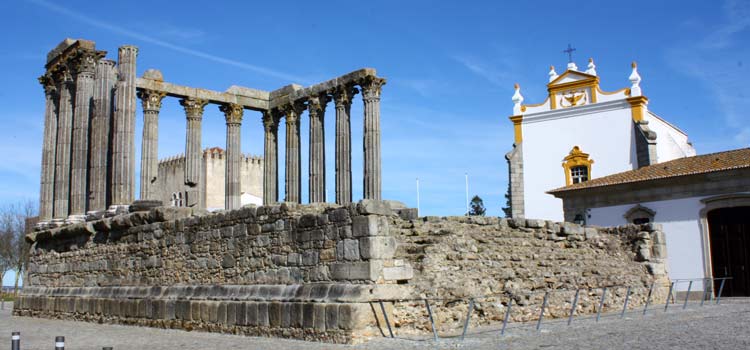 The Temple of Diana in Evora
No 6) Guimarães - Top 10 destinations in Portugal
Guimarães is the historic birth place of Portugal; from which the first king of Portugal was born and the fledgling country was established in 1128. The city centre has retained its historic appeal with cobbled plazas surrounded by gothic buildings and traditionally styled houses.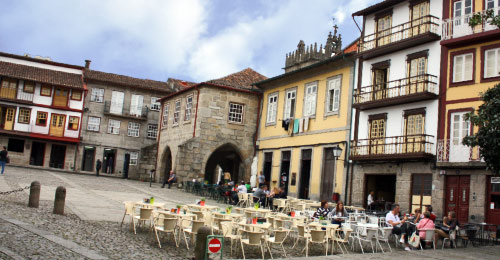 Guimarães city centre
The ancient stone castle stands at highest point of the city while a cable car transports visitors to the vantage point of Penha Mountain and its panoramic views over Guimarães, also there are enjoyable hiking trails. Guimarães is a charming and small city that can be easily visited as a day trip from Porto.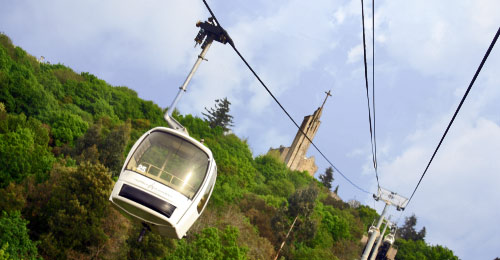 The cable car to Penha Hill
No 5) Vila Nova de Milfontes and the Alentejo Coastline
Vila Nova de Milfontes is situated on some of the most stunning and dramatic coastline of Portugal. The small fishing town is at the heart of the Sudoeste Alentejano national park, which extends along the wild and rugged coast of the western Alentejo region. The sleepy town of Vila Nova de Milfontes is loved by the Portuguese, who transform it into bustling resort during their short summer holidays, while outside of the summer it is peaceful and welcoming destination.
As the town is designed for Portuguese tourists expect exceptional value and delicious traditional food, based around the fresh catch from the sea. Vila Nova is the least accessible of our top 5 towns in Portugal but every deserted and pristine beach is simply worth the effort. To read more about Vila Nova de Milfontes please click here.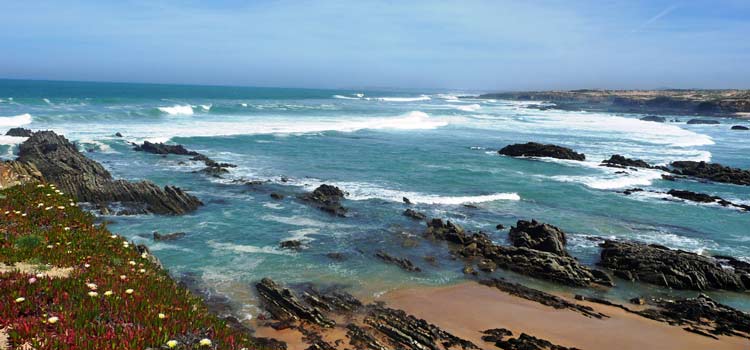 The beautiful Vila Nova de Milfontes coastline - Top 10 places to visit in Portugal
No 4) Sintra
Sintra is set amidst the pine covered hills of the Serra de Sintra and this slightly cooler climate convinced the Portuguese nobility to create their summer retreat within the town. The nobility constructed lavish palaces, while the elite of Portugal who followed them constructed equal opulent residences. Today these palaces and stately homes are open to the public and Sintra is considered as the best day trip from Lisbon.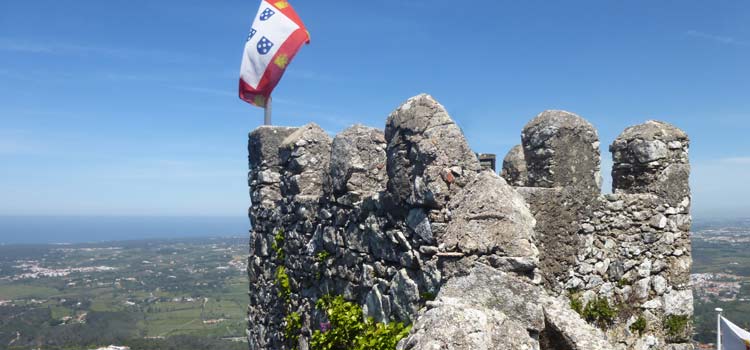 The view from Moors castle in Sintra
Most tourists to Sintra go for a set route and visit the gothic National Palace, the ruins of the Moors castle and the beautiful Pena Palace but there are sufficient sights for a second full day of sightseeing. Sintra is connected to Lisbon by a direct railway and is easily accessible for all tourists, to read more about Sintra, please visit Sintra-Portugal.com.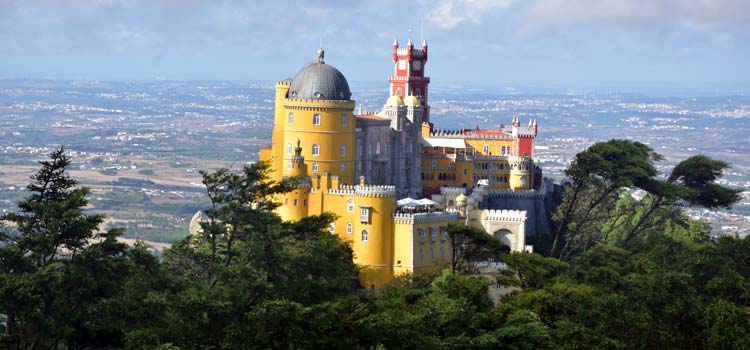 The colourful Pena Palace of Sintra
No 3) Lagos
Lagos is the finest resort of the Algarve coastline, as it blends a lively and social city around a historic centre, which has not compromised to mass tourism. Lagos provides a selection of wonderful beaches, with the Dona Ana beach considered the most picturesque in all Portugal. Further along the coast are the Ponte da Piedade cliffs, a series of highly weathered sandstone cliffs that are best explored by boat.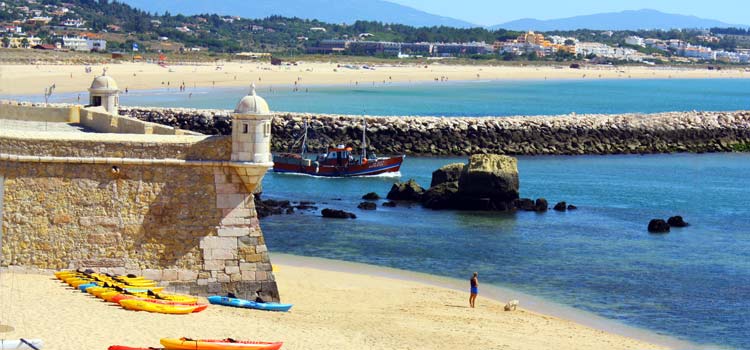 The harbour front in Lagos
The centre of Lagos reflects the varied history of the city, with large sections of the ancient city walls and the small fort guards the estuary to the harbour. Lagos is a great destination from which to explore the western edge of the Algarve and day trips include Sagres, Portimão and Silves.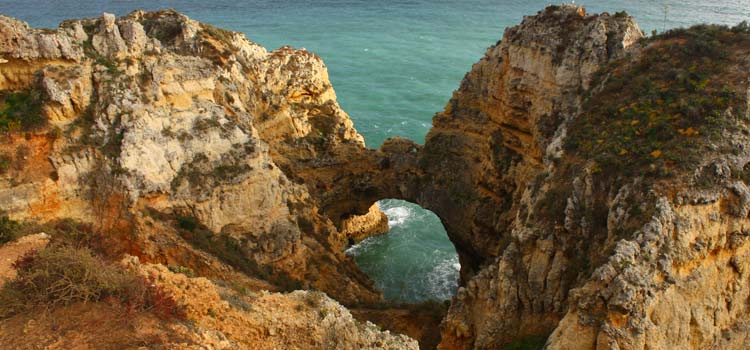 Ponte da Piedade, Lagos
Lagos has a more sophisticated and family friendly atmosphere than its resort neighbour of Praia de Rocha – which is the destination to head to for nightlife and parties. For more information about Lagos please click here.
No 2) Porto
Porto is the charming and fascinating capital of the north, which is famed for the sweet alcoholic drink of Port. This drink is intertwined in the fortunes and history of Porto and is still stored in the vast cellars which line the banks of the Douro River.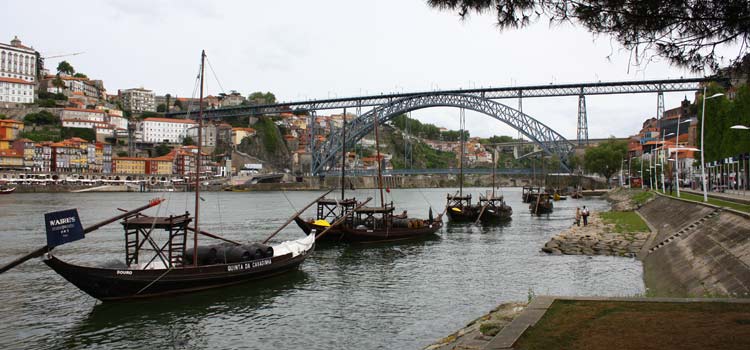 The delightful water front of Porto
The port tasting tours are an enjoyable way to become connoisseurs of the drink, which can be savoured in the numerous bars that extend along the scenic river front. Porto offers beautiful churches, historic buildings and leisurely cruises along the river. For longer holidays to Porto there are pretty beaches and interesting day trips, all easily reached by train.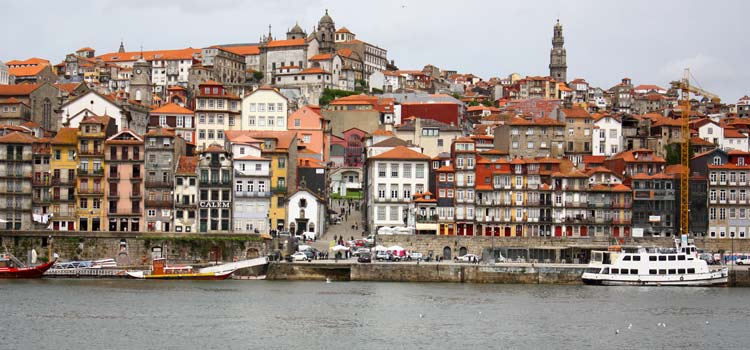 Porto is rapidly developing into a respected tourist destination and with the increase of low cost flights it is becoming a popular alternative city break destination. Porto unfortunately is always significantly wetter than the Algarve and Lisbon, so therefore comes in second in our top 5 cities of Portugal. For an extensive guide to Porto please click here.
No 1) Lisbon - Top 5 towns of Portugal
Lisbon is a vibrant and diverse city, which is forward thinking and liberal but has not forgotten its heritage and past. The city is a joy to explore with grand plazas leading to narrow cobbled streets that are dissected by the quaint tram network. Lisbon has so many varied and distinct districts, each one proud of its own unique history and architectural styles.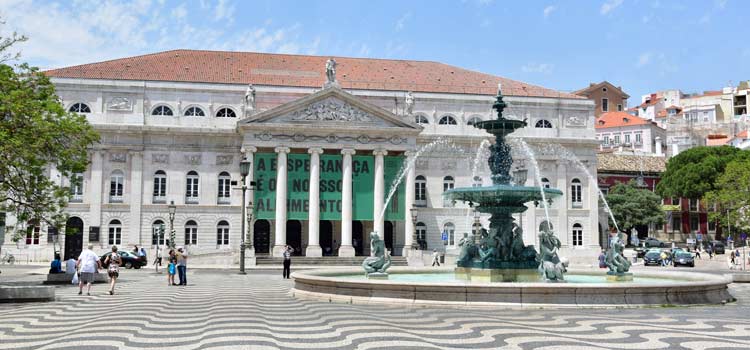 The Baixa district of Lisbon
To top Lisbon as a destination, there are glorious beaches only a short train ride away, meaning that a visit to Lisbon can both be a beach holiday and city break. Lisbon is a destination for all tourist types be that from families, young couples through to the more mature traveller. Lisbon is simply a wonderful holiday destination that all visitors fall in love with and rightfully the top spot of our top 5 destinations of Portugal. For a complete guide to Lisbon please click here.