Questions for a Holiday or Visit to Evora
Evora is a historic city that lies in the heart of the Alentejo region and makes for a great destination for a tour of Portugal. The town has a pleasant relaxed pace of live and has many good tourist attractions that will entertain most visitors. This guide will answer some of the common questions for a visit to Evora.
Related articles: Introduction to Evora
Introduction Evora Questions
Is Evora worth visiting?
Evora is a great destination as part of a tour of central Portugal or as a short excursion from Lisbon. The town is very charming with cobbled streets lined with traditional painted houses and surrounded by an ancient city wall. Evora has the second most national monuments of any Portuguese town, coming second only to Lisbon. Simply put there is a lot to see.
Who is Evora not suited for?
Evora is a historic city and not particular well suited for families with young children. The Portuguese are very welcoming of families and children but Evora simply does not have the activities that will entertain them. The other drawback of Evora and children is the hot summers and intense sun. Evora has a large university population but the town is not really designed for visitors who are looking for all night parties and cheap drink.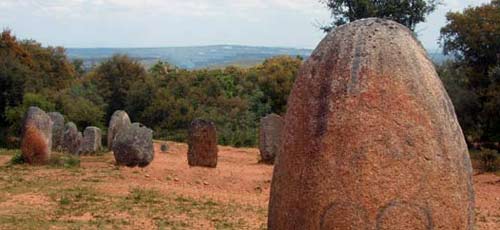 The Almendres Cromlech standing stones
How long should I spend in Evora?
The major sights can all be seen in a busy and rushed single day but at a minimum most visitors spend 2 nights. The exact length really depends on if you planning to rent a car and are using Evora as a base to explore the surrounding region. For those visitors reliant on public transport should stay 2 nights, 1 full day and two half days with transport connections. With a rental car the stay should be extended by another night to visit the standing stones. For longer visits Evora is a good location to explore the marble towns of Borba Vila Viçosa and Estremoz.
Can I visit Evora as a day trip from Lisbon?
Yes but it will be a very long day. Having a car hire offers the most flexibility but the frequency of bus services means that Evora can be visited as a day trip by public transport.
Evora or Fatima?
If religion is you thing then visit Fatima if not head to Evora there is much more to see and a better tourist destination.
Traveling Questions About Evora
Is Evora easy to drive around?
No the streets were never designed for cars. If driving for a day trip park in the marked car parks and walk into the centre. If staying in a hotel make sure that they offer car parking.
What is the nearest airport?
Lisbon but it is possible to travel from Faro to Evora
Is there good public transport from Lisbon?
Yes Lisbon and Evora are connected by both train and bus services. There are more daily bus services but the train is more relaxing and enjoyable. Lisbon is 130km west of Evora and the bus journey takes around 1.5 hours.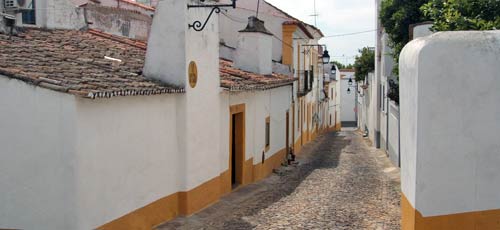 The pretty and traditional streets of Evora
Is there good public transport from Faro to Evora?
This is a much longer journey than from Lisbon to Evora but there are 3 daily direct bus services, which make the 4 hour journey from Faro to Evora.
What's a good onward destination after Evora?
Elvaz is a remote fortified town close to the Spanish boarder. The main attraction is the remote non-touristy atmosphere and massive castles. Beja makes for a pleasant over-night stop heading south to the Algarve.
Where should I stay in Evora?
Evora is a small and compact city that can be easily walked. So long as the hotel is within the city walls the location will be fine. Always go for air conditioning during the summer as it can get very hot. Unlike many other Portuguese destinations hotels do not sell out and there is usually space (do check though!)
Discover more of central Portugal with our guides