Lisbon To Evora By Bus and Train
Evora is a historic Portuguese city that is situated in the heart of the Alentejo region. The city is a must-see tourist destination and can be visited as a day trip from Lisbon or included in a wider tour of Portugal.
Evora is connected to Lisbon by a reliable and inexpensive public transport network, which means that car rental is not required to reach this city. This article will provide a comparison of the public transport options available to tourists, including fares, departure times and station information.
Related articles: Introduction to Evora - Lisbon day trips
Train or Bus to Evora?
The main difference between travelling by train or bus is the frequency of services (prices and journey times are comparable). The bus runs a frequent, almost, hourly service, whilst there are only four trains per day (three at weekends). Also, trains only depart at rush hour, meaning there are no services during the daytime (9:00-17:00).
However, the train service provides a much more relaxing and comfortable experience. There are always seats available and carriages are spacious with ample leg room, whereas, buses tend to fill up and need to be pre-booked, especially at weekends. Coach travel sometimes suffer with the Portuguese erratic driving (fast cornering and hard braking) and visitors susceptible to travel sickness should always choose train travel.
The train is our preferred means of travel between Lisbon and Evora.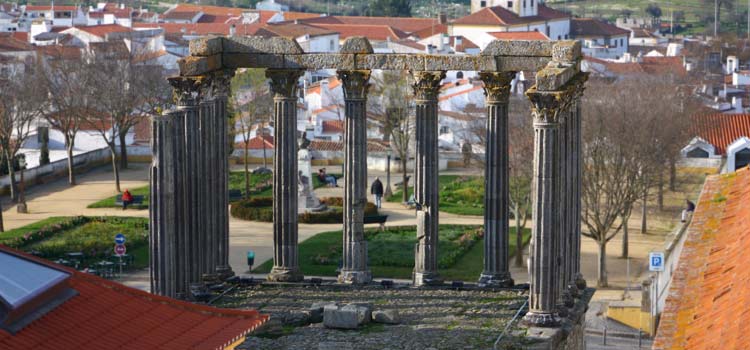 The Diana Roman Temple
A guide to traveling from Lisbon To Evora by Train
Evora is located 130km east of Lisbon and travelling there by train is a relaxing and enjoyable experience. The Lisbon to Evora train service is operated by Comboios de Portugal (CP), the national train company of Portugal, and their website is www.cp.pt. The Evora train is a direct intercity service that is fast and comparatively comfortable. The Evora railway underwent a major re-construction in 2013 and the new tracks enable trains to operate smoothly and at maximum speeds.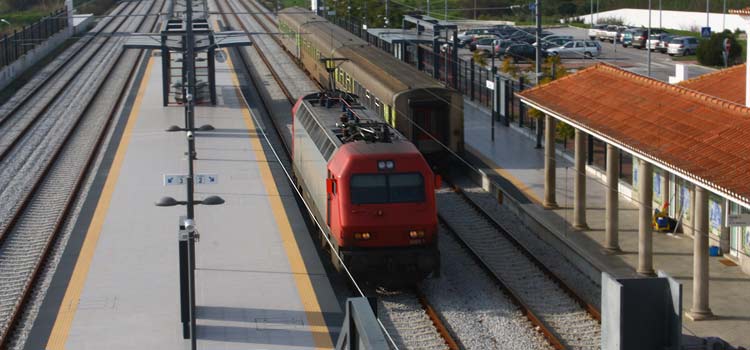 Evora train station is modern but has few passengers
Train Departures
Departures from Lisbon's Oriente Station:
• Monday - Friday: 7:02, 9:02 and then 17:02, 19:02
• Saturday & Sunday : 9:52 and then 17:02, 19:02
Departures from Evora Train Station
• Monday – Friday: 7:06, 9:06 and then 16:57, 19:06
• Saturday & Sunday: 9:06 and then 16:57, 19:06
Please note: Train times were checked in July 2021, please check the CP website (or train station) for any seasonal alterations:
www.cp.pt/StaticFiles/timetables/lisbon-evora-beja-trains.pdf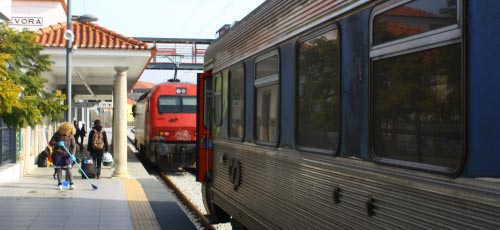 The Evora to Lisbon train
The above train times enable Evora to be a feasible, although long, day trip from Lisbon. However, the service is infrequent and tourists should arrange their day around departure times.
It is recommended that visitors depart from Lisbon at 9:02 (Mon-Fri) or 9:52 (Sat-Sun) and get the return train at 16:57 – this provides a minimum of 4 hours in Evora, which is sufficient to see the main tourist sites.
An adult single ticket costs €12.40 and a day return costs €24.80. Tickets need to be purchased before boarding the train. Note that seats are allocated and these are displayed on the ticket.
Lisbon and Evora train station information
The train to Evora departs from Lisbon's Oriente Train Station. This station is connected to the Red Metro Line and is located within the Parque das Nações area. The Oriente is large complex, comprising of a metro, bus and train station. There is also a shopping complex opposite. Interestingly, more passengers pass through this station annually than New York's Grand Central Station!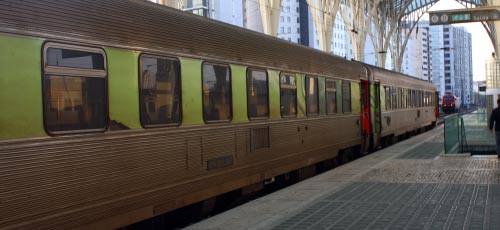 The Evora train in Orient station in Lisbon
Evora Train Station is the final stop along the service from Lisbon and is situated to the south of the city. It is a 500m walk along the Avenida dos Combatentes da Grande Guerra from the train station to the southern city walls, and takes approximately 10 minutes to walk.
Lisbon To Evora By Bus Overview
The Lisbon to Evora bus is part of the intercity express service operated by Rede Expressos. The intercity buses are punctual and reliable. They are also clean, modern and have air conditioning. The journey from Lisbon to Evora takes approximately an hour and a half. A single ticket cost €11.90 and a day return costs €21.20. For the latest timetable please see the Rede Expressos websites: www.rede-expressos.pt/
Tickets need to be purchased before boarding the bus and allocated seats are displayed on tickets by the word "Lugar", for example Lugar 12 (seat 12).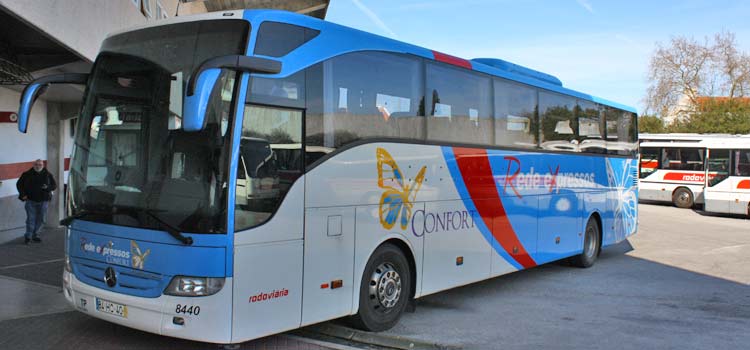 The Rede Expressos' direct bus to Evora
Tickets can be purchased from Lisbon's Sete Rios Bus Station, Evora Bus Station, or via the internet at the Rede Expressos website. Internet tickets can be purchased up to 30 days in advance, and pre-booked tickets are recommended for travel during the summer season. Tickets purchased via the internet are non-refundable and no alterations can be made.
Bus Stations
Services to Evora depart from Lisbon's Sete Rios Bus Station, which is served by the Jardim Zoológico Metro Station on the Blue Metro Line. Sete Rios is the main hub for Rede Expressos buses and is a busy bus station with frequent arrivals and departures.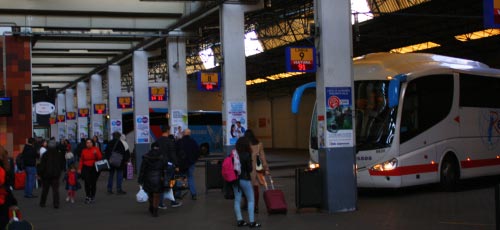 Sete Rios is a major bus station
Buses depart promptly, so always arrive earlier than the departure time in order to locate the correct departure bay. All of the departure bays are clearly displayed on the departure screens, which are found in both the waiting room and ticket office. The exact departure time is also printed on the ticket.
Sete Rios bus station is equipped with all of the expected facilities of a major bus station, including; a waiting area, cafes and a variety of shops. The bus station underwent a major renovation project and is relatively clean. It is also considered to be very safe and there is a constant police presence. Despite this, do not leave luggage unattended and be vigilant for opportunistic pick-pockets.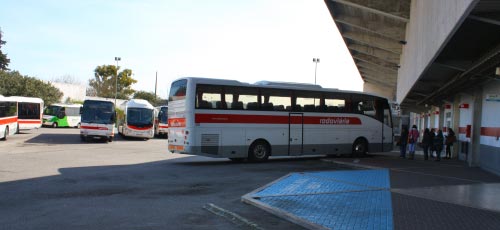 The Evora bus station
Evora Bus Station is on the western side of the city, next to Evora's cemetery. It is less than a 200m walk to the city walls so there is no need to get a taxi. Evora Bus Station is a major hub for both intercity and regional buses, and all onward tickets can be purchased directly from the station.
Discover more of central Portugal with our guides