Portugal for a Winter Holiday
The winter months are the low tourist season for Portugal, but with some careful planning, and a bit of weather luck, a really enjoyable holiday can be had.
There are benefits to visiting Portugal in this low season; there will no queuing for popular tourist attractions, exceptional deals can be found and the weather will be much better than back at home. This article will provide an introduction for visiting Portugal in the winter and will provide details of the weather, suggested destinations and holiday advice.
Why go in the winter?
Portugal may not be able to offer glorious beach weather, but it excels as a holiday destination, with historic towns, stunning scenery and vibrant nightlife.
Porto and Lisbon are year-round city breaks destinations, and the low season offers cheap flights, accommodation deals and less hectic sightseeing.
The winter is a wonderful season for a touring holiday of the Alentejo and the interior of Portugal. The summer scorched lands are filled with lush greens and flowers, and the winter will be free of tour coaches and Spanish day trippers.
Many visitors come to Portugal to escape the cold and gloom of the Northern Europe winter, and the larger Algarve resort towns fill up with retirees and longer stay visitors. For the Christmas holidays, the Algarve attracts a younger and more diverse crowd, and there is a real buzz about the Algarve, especially in Albufeira.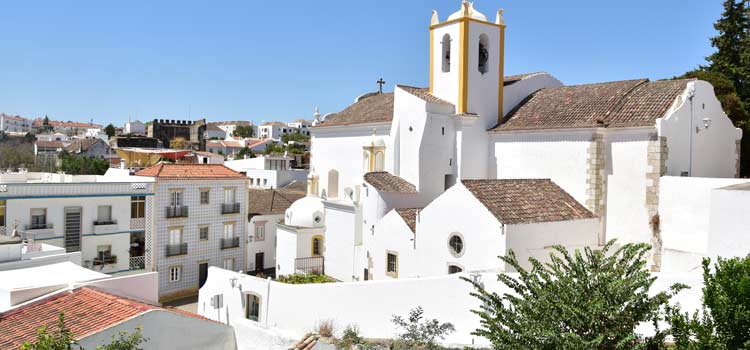 Winter Weather in Portugal
Portugal in the winter is best described as mild but unpredictable. A holiday during the winter could have glorious bright sun but equally it could be wet and grey for the entire time. In the big cities and coastal resorts, the day time maximum is 10-15C and at night drops to a chilly 3-5C. Rarely does the temperature fall below freezing, the exception is the Serra da Estrela, where the exposed mountains are covered by snow and skiing is popular.

The average day max and night low temperature of the Algarve
The south of the country tends to be drier and warmer than the north. The Algarve will always offer the best weather of Portugal, and tends to be 3-5C warmer than Porto during December.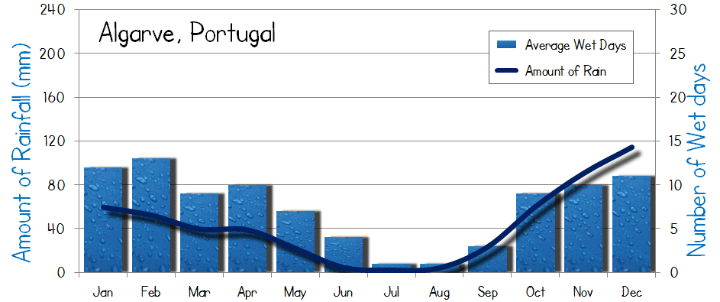 Algarve rain; there will be some rain, on an average of 10-12 days, but not much though!
Porto, the Douro Valley and the north can be very wet; in this region, it is advisable to have flexible plans and not plan long periods outdoors.
Conclusion: There is always the chance of poor weather of Portugal, but it will always be significantly much better than back at home.
Suggested Locations For a Winter Portuguese Holiday
City breaks – Lisbon, Porto
Winter relaxing holiday – Albufeira, Lagos, Vilamoura, Praia da Rocha
Suggested areas for touring holiday – Algarve, Alentejo or Lisbon to Porto
Skiing - Serra da Estrela
Winter City Break - Lisbon and Porto
Lisbon and Porto are the best destinations for a winter city break. Both cities offer a wide range of fascinating tourist attractions and if there is rain there are numerous restaurants, museums or bars to seek shelter in. As the winter is the low season, the main tourist sights will be free of the summer time crowds and provide a more relaxed sightseeing experience. On the days which there is good weather visit the popular day trips, most of which involve walking and time outdoors. The popular day trips are:
Lisbon day trips: Sintra, Cascais, Obidos and Setubal
Porto day trips: Guimaraes, Braga, Douro Valley
Lisbon and Porto are great destinations for the lead up to Christmas, by fully embracing the festive spirit. Streets will be filled with decorations, there are Christmas markets and there is a wonderful atmosphere around the cities.
Our advice: be flexible with city breaks to Lisbon and Porto have ideas and itineraries for both sunny days and wet days.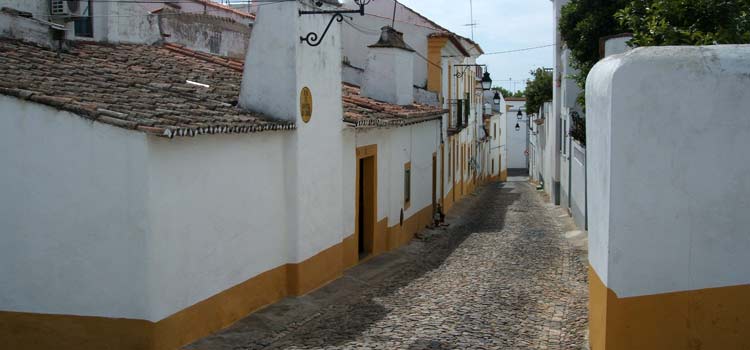 A Winter Relaxing Holiday –
Albufeira, Lagos, Vilamoura, Praia da Rocha
For a winter relaxing holiday, it is best to be based within the Algarve coastline, as this region offers the better weather. The winter warmth of the Algarve is a favourite with retirees and long stay visitors, who make up the majority of the tourists.
During the winter, it is advisable to be based in the larger resort towns, which have either a permanent Portuguese population or expat community. These larger towns have restaurants and tourist facilities that are open year-round, while the smaller resorts may close for winter and will feel very quiet for a holiday.
The larger resorts towns include Albufeira, Lagos, Vilamoura and Praia da Rocha. Albufeira is the largest resort and is a good choice for a winter or Christmas holiday destination, while Lagos offers a mix of history and culture.