Evora or Sintra? Where to go for a day trip or holiday in 2023
Evora and Sintra are two of the most fascinating tourist destinations in central Portugal.
Sintra lies in the cooling hills of the Serra de Sintra and is famed for its 19th-century Romanticism architecture, with its whimsical palaces and majestic villas. This includes the Arabian-inspired Monserrate Palace, the mystical gardens of the Quinta da Regaleira and the stunning Palácio da Pena, arguably Portugal's most famous tourist attraction.
Evora lies in the heart of the arid Alentejo region and is rich in medieval charm and authentic Portuguese character. Found within Evora are a gothic cathedral, a wonderfully-preserved Roman temple and a macabre bone chapel, but the real appeal of the city is the relaxed pace of life and genuine Portuguese ambience.
Both destinations are fantastic in their own right, but will appeal to slightly different styles of tourists. Sintra has many more attention-grabbing sights and attractions, but sadly suffers from over-tourism, while Evora is more authentically Portuguese but has slightly less to see.
If you are a bucket-list-driven tourist, or if this is your first trip to Portugal, then Sintra is for you. If you prefer slower travel with an emphasis on food, culture and a relaxed pace, then Evora should be your destination.
This guide will compare Sintra and Evora and help you identify which is better for you.
Insight: Twelve years ago, before the explosion of Portugal's popularity, we would have recommended visiting Sintra before Evora. Today, sadly, the vast number of tourists that visit Sintra detract from the overall experience, and in summer it can feel like a giant theme park.
Related articles: Evora guide - Sintra guide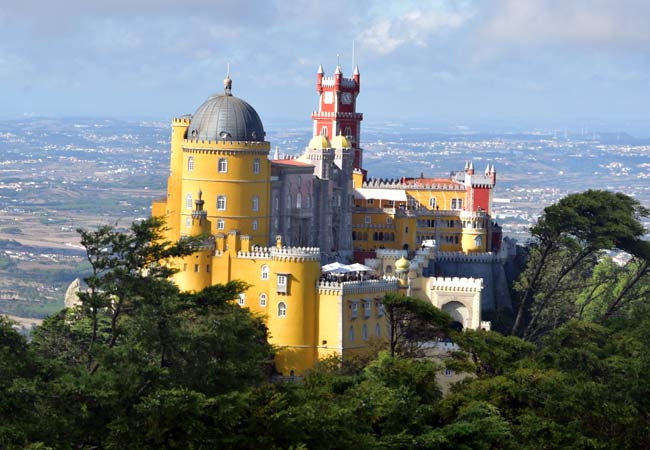 The majestic Palácio da Pena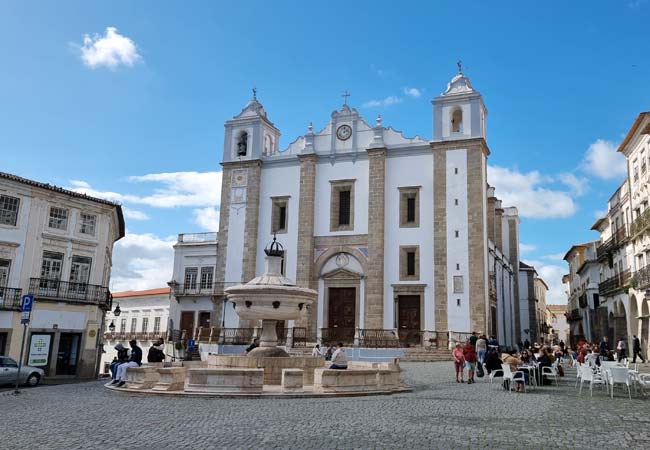 The Praça do Giraldo, the historic centre of Evora
A Quick Comparison of Sintra and Evora
Sintra pros
• The setting of the Pena Palace, Quinta da Regaleira and Castle of the Moors
• Many outstanding tourist attractions
• A beautiful, natural setting
• Close to Lisbon for a day trip
• Refreshingly cool in the summer months
Sintra cons
• Incredibly busy in the peak season
• Long queues for everything, especially if cruise ships are moored in Lisbon
• Much more expensive due to over-tourism
• A limited number of hotels
Evora pros
• Delightful medieval centre
• Fewer tourists than Sintra
• More authentic Portuguese atmosphere
Evora cons
• Incredibly hot during the summer (+40C)
• 120km from Lisbon (90-minute train journey)
• A car is needed to explore the surrounding region.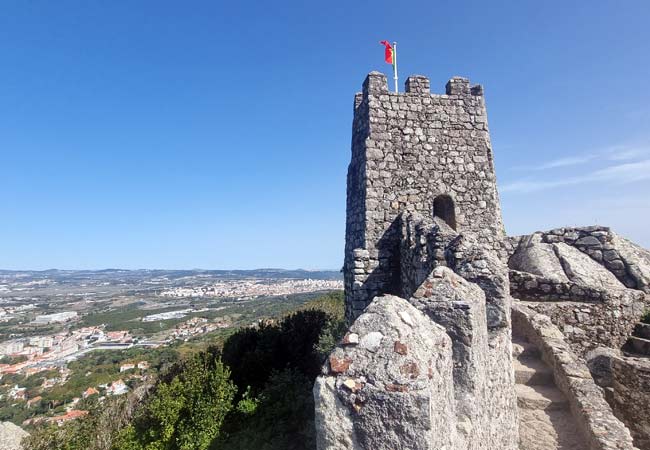 The Castelo dos Mouros standing high above Sintra
Comparison of Sintra and Evora as tourist destinations
Evora and Sintra are unique and equally special in their own ways.
Sintra has more tourist sights and historical monuments than Evora. It takes two or three days to fully see everything in Sintra, whereas a single day's sightseeing is enough for Evora.
Sintra is much closer to Lisbon, so it is better suited for a day trip from the capital. It is only 28km from Lisbon to Sintra (40 minutes by train), while Evora is 135km to the east and a 90-minute train ride away. This makes Evora more suited for an overnight stay, but it is possible to have a day trip to Evora from Lisbon.
Sintra is almost entirely devoted to tourism, with all restaurants, cafes and shops being designed for tourists. This focus on tourism is reflected in the elevated prices for food, transport and gifts, along with the lethargic service often associated with overly-popular visitor destinations.
Evora is a much larger city than Sintra, which just happens to have some tourists passing through. Evora has lost none of its Portuguese appeal to tourism, and has a very different atmosphere to Sintra, Lisbon and the coastal towns.
One consideration for Evora is the intensely hot summertime weather, which routinely gets above 40C (104F) and feels even hotter in direct sun. Evora often needs two days of sightseeing in the summer (Jun to Aug) as it is simply too hot to do anything during the mid-day heat. Sintra, being in the hills and near the coast, is always much more refreshing.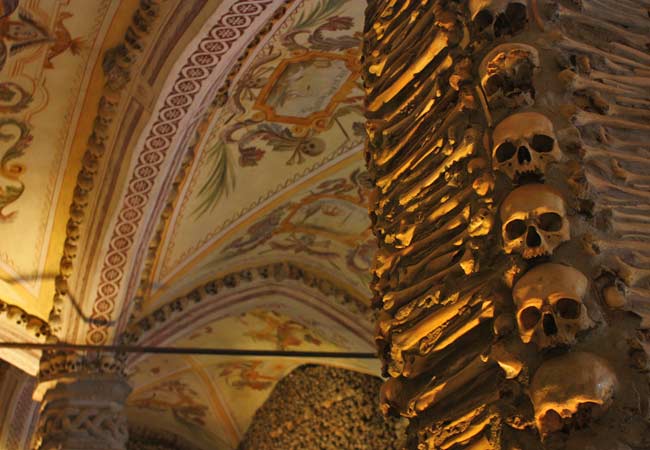 The Capela dos Ossos (Chapel of Bones) is the most unique sight of Evora, and contains the bones of 5,000 skeletons that were exhumed from the cities graves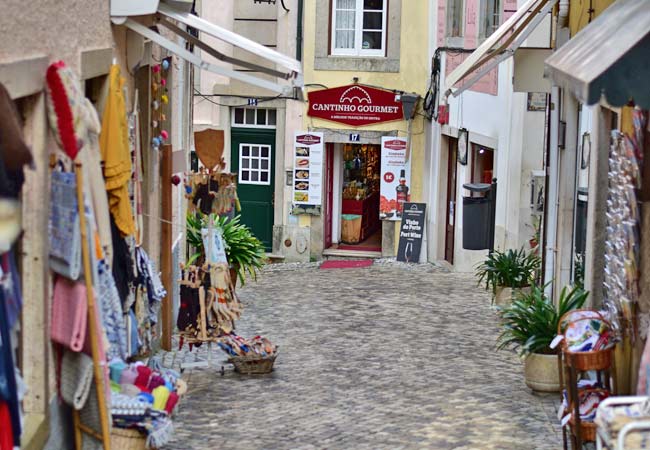 The traditional streets of Sintra, but don't expect them to be this empty!
It's my first trip to Portugal, should I go to Sintra or Evora?
If this is your first trip to Portugal, you will want to visit Sintra first - and there is no question about this.
Sintra boasts many impressive palaces, villas and castles, including the wondrous Palácio da Pena - one of the finest palaces of Europe. This beautiful piece of architecture perches high atop the craggy, pine-forested hills and is a stunning fusion of its colourful exterior, ornamental terraces and lavish interior.
Equally impressive are the Castelo dos Mouros, with its panoramic views over the region, the gothic Palácio Nacional de Sintra, the Quinta da Regaleira and its mystical gardens, the Palácio Biester and the Arabian-inspired Monserrate Palace. Along with the historical buildings of Sintra, the town boasts challenging hiking trails, a pretty town centre and a dramatic coastline, which is just a short bus ride away.
There is so much to see and do in Sintra, and there is a reason the town is so popular with tourists. During your holiday to Portugal, you should not miss the opportunity to visit Sintra - just be prepared to contend with long queues and crowded attractions.
Evora is better visited after Lisbon and Sintra, when you tire of tourists and want to experience the authentic side of Portugal. This is ideal later in your holiday or on your second visit to Portugal, when you will appreciate the slower pace of life.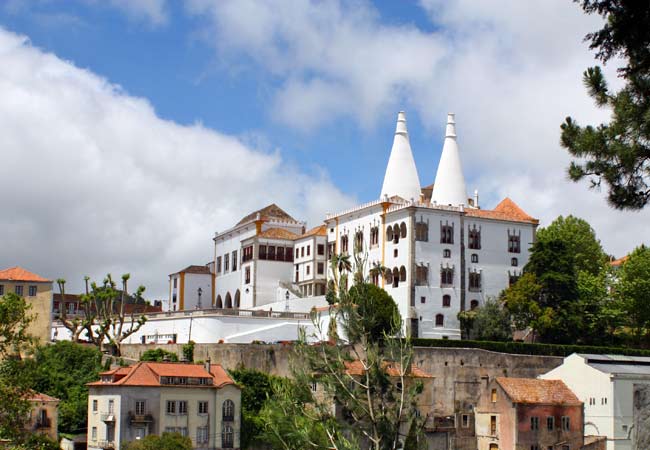 The Palácio Nacional de Sintra
Evora or Sintra for a day trip from Lisbon?
Sintra is the classic day trip from Lisbon, and would be our recommended choice. A lot can be seen in a single day of sightseeing in Sintra, and the direct train service between Lisbon and Sintra means it is easy to travel to.
A typical day would include the gardens of the Quinta da Regaleira and exploring the historic centre of Sintra, before heading into the hills to visit the Palácio da Pena and the Castelo dos Mouros. This is a wonderful day trip, but the sheer number of tourists in the summer can make it much less enjoyable.
Insight: In the summer, it is recommended to pre-purchase your tickets to reduce the length of time standing in queues and to guarantee entrance to the Palácio da Pena.
A day trip to Evora can be equally enjoyable, but the day will be much longer due to the significant amount of travel. Evora is a very walkable city, with all of the main sights relatively close together.
Related articles: Day trip to Sintra - Day trip to Evora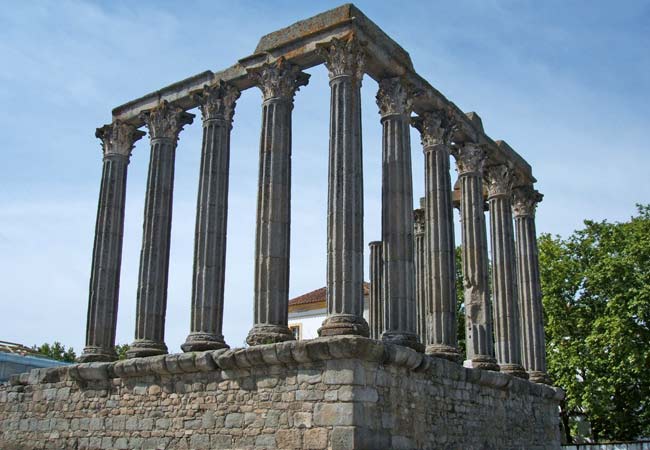 The beautiful preserved Roman temple in Evora
Sintra or Evora for a longer stay?
Evora makes the better destination for a stay of two or three nights. The city has a wide selection of restaurants and surprisingly lively nightlife (in part due to the university), along with a decent choice of hotels to suit all budgets.
The city generally offers great value for money, especially for dining out, as the majority of the patrons are Portuguese. Evora is a destination to relax and embrace the slow pace of life under the hot sun.
Sintra is much smaller than Evora, and the limited number of hotels and accommodation options are more tailored to high-end tourists. Sintra is pleasantly calm after all of the day trippers and coach tours leave for the day (after 5pm), and the standard of service and quality of food generally increases outside of the peak mid-day hours.
If you want to spend longer in Sintra, it is probably better to be based in Lisbon and take day trips using the inexpensive trains.
It is possible to avoid the crowds in Sintra
Sintra is a popular tourist destination, but the constant mention of large crowds should not put you off visiting. With some easy steps, it is relatively easy to avoid the worst of over-tourism and have an enjoyable trip.
The key point for Sintra is to always start early in the day and try to avoid the most popular sights between 11am and 2pm. Try to get to the Palácio da Pena at opening time (9am for the gardens and 9.30am for the palace) and have tickets pre-booked. During the peak hours, head to one of the lesser-known sights, such as Palácio de Monserrate or the newly-opened Palácio e Biester.
The Quinta da Regaleira is better visited later in the day (after 3pm) when the crowds have left, and the cooling water features are refreshing in the later afternoon heat.
Try to have lunch as early as sensibly possible, and aim to be seated before the 12.30pm to 1pm rush time.
Discover more of Evora and the Alentejo with our expert guides