Portugal for a family holiday
Portugal is one of the Europe's best destinations for a family holiday and offers pristine beaches, a wonderful climate and child friendly resorts. Visitors to Portugal will be pleasantly surprised by the level of service and care offered to families, especially when travelling with young children.
Portugal is a very safe country (it is politically stable with virtually no crime), and provides exceptional value for money. Traveling the country is not difficult, as everyone who works within tourism speaks English, while shops are stocked with known products and recognisable brands.
Portugal is a great choice for a hassle-free family holiday and is a fantastic destination for toddlers through to teenagers. This guide will provide tips and advice for families traveling to Portugal and suggest suitable locations.
Where to have a family holiday in Portugal?
Toddlers and young children
The Algarve resort towns of: Carvoeiro, Tavira, Praia da Luz and Alvor are calm and personable.
Cascais, on the Lisbon coastline is worth a visit but go outside of the busy summer season.
Primary School and Early Teenagers
Our recommendation is the central or western Algarve, from Lagos in the west through to Vilamoura in the east, and includes Albufeira. This region encompasses the waterparks, zoos and excitement for which the Algarve is famed.
The Cascais and Estoril coastline (the Lisbon coastline) are other suitable locations.
Lisbon – the capital has a lot of great activities for children from age 7 to 14; great for a city break.
Teenagers
The busier resort towns of Albufeira, Praia da Rocha and Vilamoura will keep them entertained.
The cities of Lisbon or Porto are also worth a visit.
For a city break head to the cities of Lisbon or Porto
When to visit Portugal, for a family holiday?
Portugal in general has hot dry summers, a pleasant spring and autumn and mild but possibly wet winters. The summer months can get very hot, with daytime temperatures exceeding 35°C and a punishingly intense sun.
For young families, the spring and autumn seasons are the best times of year to visit. The weather is suitable for relaxing on the beach from May through to the end of September.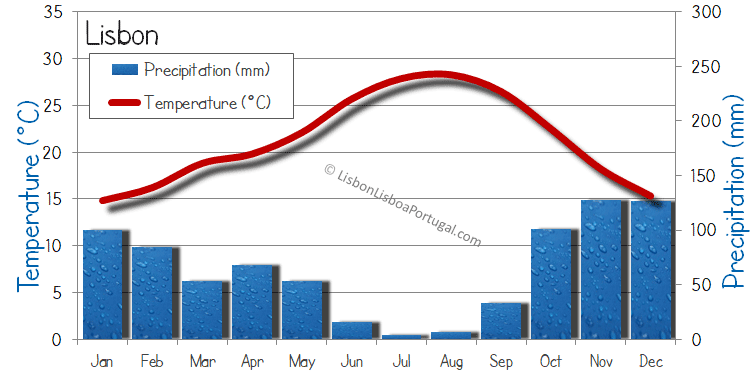 The average weather of Lisbon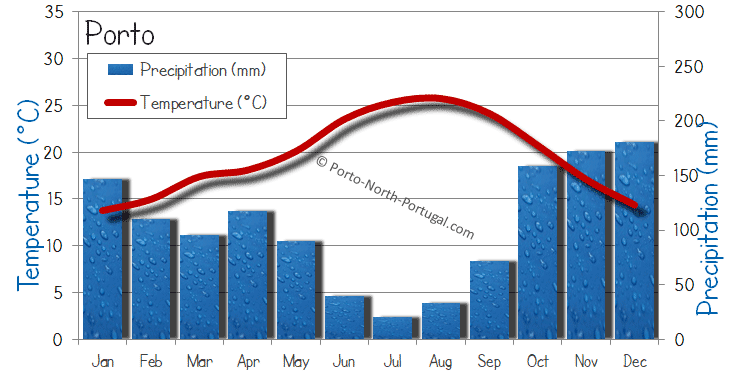 The average weather of Porto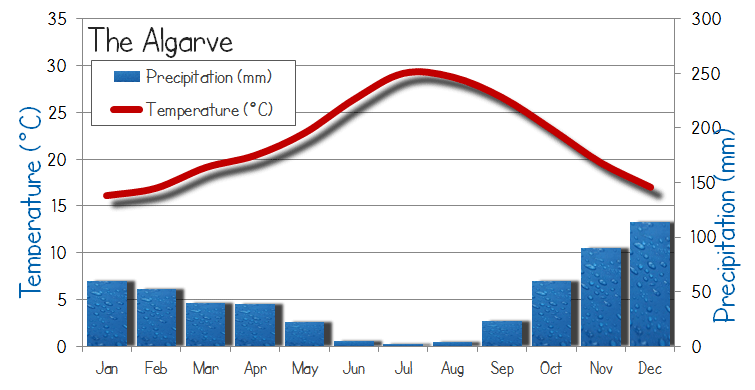 The average weather of Algarve
For those families who are limited by school holidays, always book well in advance to secure the best prices for accommodation and flights. Hotels in the Algarve completely sell out during the summer holidays and prices become inflated closer to these dates.
The Easter holidays and summer half term holiday can be a great time to visit Portugal and offer much better value for money.
Portugal and the Algarve should not be considered as a winter sun holiday destination, but it will always be significantly warmer and drier than northern Europe. If visiting during the winter head to the larger Algarve resort towns (Albufeira, Lagos, Praia da Rocha) or the major cities of Lisbon and Porto, where there are activities for wet days.
General Tips for a family holiday to Portugal
The follow section has hints and tips that we have acquired over years of visiting Portugal, some maybe obvious and some are unique to Portugal.
The Portuguese tend to let their children stay up very late; the evening meal starts around 7 pm and goes on most of the night……
Holiday apartments can therefore be a much better choice than a hotel for families as there will be a small kitchen for preparing meals and extra space to run around in. Holiday homes have the added benefit of no noisy guests and may even have a private pool!
All medicines and suntan cream/lotions are very expensive in Portugal; bring them from your home country.
With all minor illness or issues, usually the best place to start is a Pharmacy. The pharmacists are highly qualified, often speak English fluently and can dispense most medicines.
If flying low-coast airlines or charter flights always try to book a morning flight as these will have the least delays (or cancelations).
Portugal is a very hilly country (Lisbon, Porto, Albufeira) and the decorative calçada cobbled streets are a nightmare for small wheeled buggies.
All cafes will provide free tap water but baby changing facilities may be very limited.
We cannot stress how important it is to have sufficient travel insurance.
Albufeira and Praia da Rocha have a reputation as party holiday destinations, with a diverse range of visitors, very busy centres and nights continuing into the late hours. These towns are still great for families, but it would be a good idea to book a family hotel, which is a little out of the centre.
The Strip in Albufeira (GPS 37.09132, -8.22763) has become popular with groups, stag and hen dos. It is sad to write this, but the area is not a great location for a family holiday with young children.
Rental Car Advice for Families
Public transport throughout Portugal is reliable and inexpensive therefore it may not be necessary to hire a rental car. Driving in the Algarve is very easy but in the cities (Lisbon and Porto) driving is challenging and best avoided.
For all car hires, there will be the option to purchase "extra" insurance to waiver the massive excess (+€700). This extra insurance will be €10-15 per day (possibly doubling the rental cost) and is charged by all rental companies. Car seats are also a con at €5+ per day. Only get a car if you're going to fully use it.
The best airport transfer company in the Algarve is Yellow Fish (link here). For Lisbon, within the city take a taxi or public transport while for longer journeys (Cascais/Estoril) book private transfer or use Uber.
Portugal's best or unique children friendly sights and activities
Best Location for a family Holiday to Portugal
Most family holidays either centre around the coastline on the southern edge of Portugal, known as the Algarve, or the coastline around Lisbon, the capital of Portugal. There are three airports in Portugal; Lisbon, Porto and Faro, which serves the Algarve.
The capital of Portugal offers are a wide range of child friendly tourist activities and there are many good beach resorts in the Cascais-Estoril region. The advantage of being based near Lisbon is that a relaxing beach holiday can be combined with the numerous sights of Lisbon.
Lisbon Aquarium is regarded as one of the best in Europe and is set in the Parque das Nações, with water-based exhibits and cable car. Also, in the area is the Pavilhão do Conhecimento (Pavilion of Knowledge) science museum which is designed for children. Most children enjoy riding the trams, ferries and there is an excellent zoo (Jardim Zoológico).
The Algarve is the most popular location for families and most visitors stay within the western region between Albufeira and Lagos, which incorporates Praia da Rocha, Carvoeiro and Praia da Luz.
Within the region are many popular family activities including the Splash and Slide water park and the fantastic Zoomarine. Albufeira and Praia da Rocha are the larger "busier" resorts that boast excellent beaches while Lagos is a more traditional and historic city.