Where to live in Portugal? Emigrating to Portugal in 2023
Portugal, with its glorious climate, welcoming people and progressive attitudes, is rapidly becoming one of best countries to consider for anyone wishing to emigrate.
If you are in the enviable position of relocating to Portugal, one of your earliest considerations will be choosing which part of the country you'd like to be based in.
While Portugal may be relatively small, its regions are varied and diverse. There are the vibrant and bustling cities of Lisbon and Porto, the tourist-focused Algarve region, the beautiful Silver Coastline or the rural heartland of the Alentejo region – just to name a few.
This article will provide our insight into the best cities, towns and regions in which you could be based.
The best towns and areas of Portugal to live in
The best cities and towns of Portugal to live in are:
1) Lisbon 2) Lagos 3) Cascais 4) Tavira 5) Vila Nova de Milfontes 6) Porto 7) Nazaré 8) Sesimbra 9) Quarteira 10) Ericeira 11) Evora 12) Lagoa area 13) Coimbra 14) Loule 15) Obidos region
The interactive map below shows the location of these towns:
Key: 1) Lisbon 2) Lagos 3) Cascais 4) Tavira 5) Vila Nova de Milfontes 6) Porto 7) Nazaré 8) Sesimbra 9) Quarteira 10) Ericeira 11) Evora 12) Lagoa area 13) Coimbra 14) Loule 15) Obidos region
No town or city in Portugal will be ideal for everyone. The exciting, fast pace of Lisbon won't suit you if you're wishing to retire to a charming and peaceful coastal town, while a remote location might not be the best choice if you're thinking of moving with a younger family.
When considering these best possible areas in which to live in Portugal, they can be loosely grouped into the following categories:
For young professionals wanting to remote work: 1) Lisbon 2) Lagos 3) Ericeira 4) Porto
To retire to: 1) Quarteira 2) Lagoa area 3) Vila Nova de Milfontes
Good value accommodation: 1) Evora (and Alentejo region) 2) Loule (inexpensive for the Algarve) 3) Coimbra
For families: 1) Lagos 2) Cascais 3) Lagoa area
Charming Portuguese areas: 1) Tavira 2) Vila Nova de Milfontes 3) Obidos
Beach lifestyle (relaxed and less touristy): 1) Nazaré 2) Ericeira 3) Sesimbra
While this list provides a good starting point for your move to Portugal, it can never be exhaustive. We would always suggest considering an area first and taking a couple of exploratory trips (in different seasons) to find the best location for you. The best areas of Portugal in which to live are discussed in detail later in this guide.
Consider the weather before moving to Portugal
If you are serious about moving to Portugal, you must also consider the year-round weather.
As with everywhere, the weather is not perfect all year round. The interior of Portugal gets unbearably hot during the summer, while the northern regions are very wet in winter. The best year-round weather is in the Algarve, which is why it is so popular and property so expensive.
The north of Portugal (Porto, the Douro Valley, and the northern Atlantic coastline) gets very wet and chilly in winter. During the winter months, moisture-laden air blows in from the Atlantic Ocean and rains heavily over the hilly interior and along the Costa Verde coastline. Before moving to this region, do spend some time in the winter to experience what it is really like.
How remote do you want to be?
There is a definite allure in moving to the countryside, owning lots of land or living in a tiny hamlet, but in reality this is not always as idyllic as it sounds. Endlessly driving to the nearest village with any services or 30 minutes to the nearest doctors/dentist/supermarket can quickly become tiresome. In addition, being remote can make meeting people extremely difficult – feeling lonely is one of the most common reasons for people giving up on their emigration dreams.
Conversely, it may seem appealing to be based in the centre of the action in Lisbon, Porto, Albufeira or Lagos, but do you really want to listen to rowdy tourists every night during the high season?
Generally, the best idea is to stick to an area, town or city which closely reflects where you live now. You live in this type of area for a reason.
The Golden Visa Process
Many non-Europeans apply to move to Portugal under the Golden Visa program, which requires investment in property or business. The process is handled by Portuguese immigration, the Serviço de Estrangeiros e Fronteiras (SEF). The SEF official website (/www.sef.pt/), is the best resource in terms of starting the process and details can be found here:
SEF overview 1 - www.sef.pt/ en/pages/conteudo-detalhe.aspx
SEF overview 2 - https://imigrante.sef.pt/en/solicitar/residir/art90-a/
Insight: The Golden Visa process has proved so popular, that the areas in which property can be purchased have been severely limited since 2017. The Golden Visa region should now be considered the interior of Portugal and none of the major cities. There are many maps on the internet which display the regions and are based on this directive (https://files.dre.pt/1s/2017/07/13400/0373103734.pdf in Portuguse)
The best regions of Portugal to live
There are six main regions where people come to live in Portugal, they are:
• The Algarve – Year-round amazing weather
• Lisbon – One of the most exciting cities in Europe
• The region around Lisbon – The benefits of Lisbon without living in it
• The Sliver Coast – Beautiful coastline and much better value than the Algarve
• The Alentejo – Inexpensive houses and an undiscovered coastline
• Porto – Amazing city living but cheaper than Lisbon
Each of these regions offer a different style of living, suited to very different types of people.
Living in the Algarve
The southern coast of Portugal has always been a favourite with retirees and long-stay visitors due to the glorious year-round weather and relaxed pace of life (in certain towns).
This area of Portugal feels the least Portuguese – in the summer, English, French and German is more commonly heard in the beach towns than the native language. Its long-standing popularity means there are large ex-pat communities, excellent international schools and an acceptance of foreigners within the region.
The downside is that this is the most expensive area in which to purchase property. There is always high demand for apartments with some sort of sea view and houses within walking distance to amenities. The upside is that it will always be easy to sell your property in the future.
The summer months also become uncomfortably hectic, and this is especially true in Albufeira and Praia da Rocha, which are fast turning into the party towns of Portugal.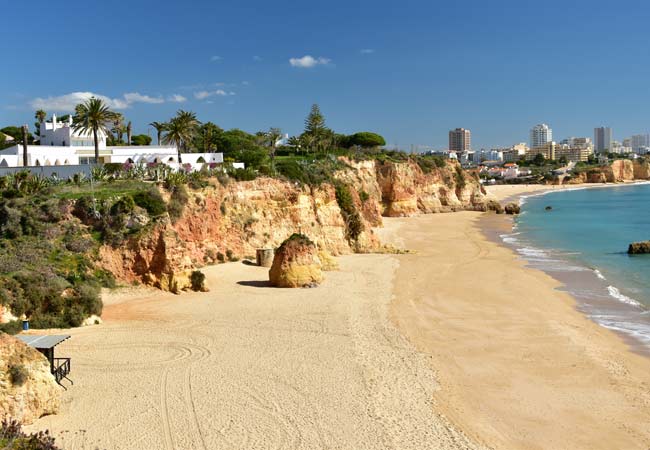 The stunning western Algarve, with it's distinctive golden cliffs
The Algarve's best towns
Tavira – A charming fishing town that still retains its Portuguese character. Being on the eastern Algarve, it is slightly calmer. If you want a mix of authentic Portuguese living while still being based in the Algarve, then this is an ideal location.
Lagos – A historic city with a flourishing artisan/creative/alternative scene, which is a popular destination for Portuguese living. Lagos is highly recommended for the majority of people thinking of moving to the Algarve.
Loule – The best inland town of the Algarve, this bustling market town offers a pleasant mix of Portuguese nationals, tourists and foreigners. You will also find much better priced houses than closer to coastline.
Armação de Pêra and Quarteira – The best value locations for apartments close to the sea. They both benefit from being close to the excitement of major resort towns (Albufeira and Vilamoura) but are far enough away not to experience the summertime chaos (stag or hen parties and rowdy golf trips). Armação de Pêra and Quarteira will feel very quiet in winter, but are a great choice for near-beach living.
To avoid – Albufeira fast becoming the party destination of Portugal, and while it's fun for a holiday, it may be too much to live there full time. It's difficult to predict in the future it authorities will curb the number of stag/hen do's, or let it become even more crazy.
Portimão is a soulless residential city, Lagos is much better. Sagres is a popular surfing destination, but is wet, windy and chilly during the winter.
Best village living: The peaceful village of Cabanas, close to Tavira, is popular for retirees. Ferragudo offers the best village living in the centre of Algarve.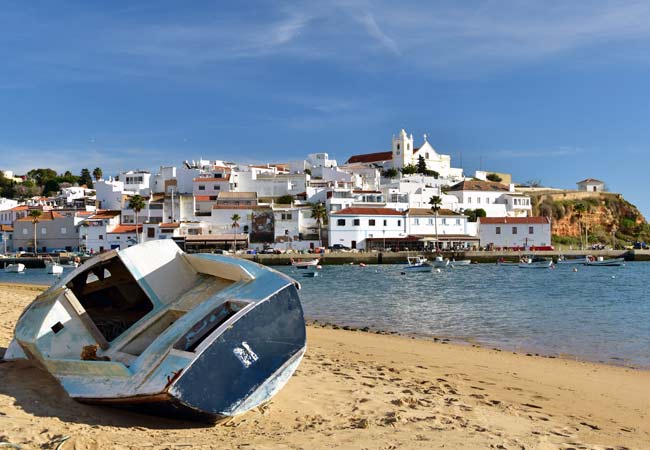 Ferragudo is a pretty village in the central Algarve region
Living in Lisbon
The beating heart of Portugal has undergone a remarkable transformation over the last decade. It is now rightfully regarded as one of the best cities in western Europe, a place of progressive views, a booming tech industry and a flourishing creative and artisan scene.
If two words were used to describe modern Lisbon, they would be 'vibrant' and 'exciting'. The influx of tourists, businesses and creatives means fantastic new food venues, shops and experiences are always opening. While the rest of the world is in a bit of a slump, Lisbon is on the rise. Lisbon is also western Europe's least expensive capital city to live in – think metro rides for €1.60, coffee for €1.20 and lunches for €7.
The downside is the rapidly rising cost of accommodation (both for sale and rental) and the negative effect this is having on locals, with young people having to live in the cheaper Amadora, Almada and Seixal areas. To compensate, the Golden Visa program no longer applies to Lisbon.
As with all cities, there are good and bad areas, and house prices often reflect this. It is always convenient to be within walking distance of the metro, but apartment prices will include a premium for this.
The best areas in Lisbon
Alfama – The oldest district in Lisbon, which is a warren of narrow streets and characterful houses. It is popular with young professionals, however the steep hills and lack of public transport make it a poor choice if you have slightly ageing legs. Houses in Alfama will be very old, so always get an in-depth survey when buying property.
Parque das Nações – The modern side of historic Lisbon, offering many contemporary apartments and a buzzing atmosphere. Parque das Nações is also the business centre of Lisbon, with a wide mix of nationalities and ages based in its residential developments. The area has great connections around Lisbon (red metro) and Portugal (via Oriente train station), and the airport is just 3km away.
Príncipe Real – The most affluent district of central Lisbon has a pleasantly calm atmosphere, which is surprising considering how close it is to Barrio Alto. If you have a very decent budget, this is the area you will probably want to start your search in. The Estrela district close by is very similar, and is as popular with foreigners.
Alcântara – The once artisan area of Lisbon, centred around Lx Factory. However, as with so many creative areas in other cities, it is now extremely expensive, which has pushed out many of the creative people.
Intendente to Alameda - The green metro line was historically a deprived area of the city but now is a young trendy multicultural area perfect for exciting city living.
Marvila - Due to its close proximity to Parque das Nações and great transport links, developers have now realised the potential of this once tough and forgotten area of Lisbon. Once the Prata Riverside Village is completed, the surrounding area will see a dramatic increase in house prices.
Areas to Avoid - Barrio Alto is the party district of Lisbon, and is filled with noise revellers every night. Avoid most of the districts along the Sintra railway line (such as Amadora, Queluz and Reboleira)