Portugal's airports; a visitor guide for 2023
Portugal has three international airports, Lisbon (LIS), Faro (FAO) and Porto (OPO). These airports serve the entire country, providing a multitude of international flight routes, and including many low-cost airlines. The islands of Madeira and the Azores each have their own airports and have regular flights back to the Portuguese mainland.
There has been significant investment in Portuguese airport infrastructure over the last few years, with a new terminal building in Lisbon and a complete modernisation of Faro airport. The investment has greatly improved overall capacity but not always the passenger experience. The low-cost airlines are still plagued with long queues and frequent delays, and passport control is agonisingly slow at peak times. Often the terminals have a stronger emphasis on shopping than travel.
Overall, Portuguese airports are modern, and the arrival process is good, but do expect the departure process to be slow and tiresome - especially with the budget airlines. Always leave plenty of time when planning your return journey.
This guide will provide an overview of the airports in Portugal, along with useful traveller tips and advice.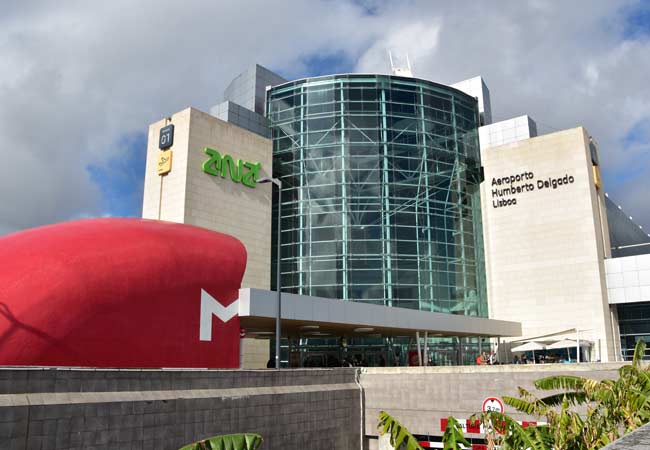 Lisbon Airport is the largest airport in Portugal
Important advice when using Portuguese airports
• On departing Portugal, passport control is after security and the duty-free shopping. It is common for people to almost miss their flights, as they have not expected this additional queue once the gate has been announced. If you want to shop, always give yourself extra time.
• In Lisbon, the low-cost airlines fly into Terminal 1 and depart from Terminal 2. The terminal building you arrive into may not be the same terminal building you depart from. Lisbon Terminal 2 is not connected to the metro; there is a free shuttle bus connecting Terminal 1 to Terminal 2, but this additional bus trip will make your journey by public transport about 15 minutes longer.
• There is very poor public transport from Faro airport. Always have something arranged before landing, otherwise, you will be forced to hire an expensive taxi.
• Madeira Airport occasionally experiences very strong cross winds that are funnelled through the mountains. When this happens, flights are diverted to Porto Santo, or even back to Lisbon. When flying to Madeira, always have travel insurance in case of diversions or cancellations.
• There is no airside connection between Lisbon Terminal 1 and Terminal 2. To reach Terminal 2 from Terminal 1, you will have to exit T1 (passport control and collect bags) and enter T2 (drop bags, pass through security and passport control). This whole process can be extremely time-consuming, and the low-cost airlines that depart from T2 will not put you on the next flight if you miss yours - they will charge you for a new ticket!
• When travelling with low-cost airlines, always book a morning or afternoon flight as there will be fewer delays or cancellations. The short turnaround time of the low-cost airlines means that delays build up during the day, and delays are generally worse at night.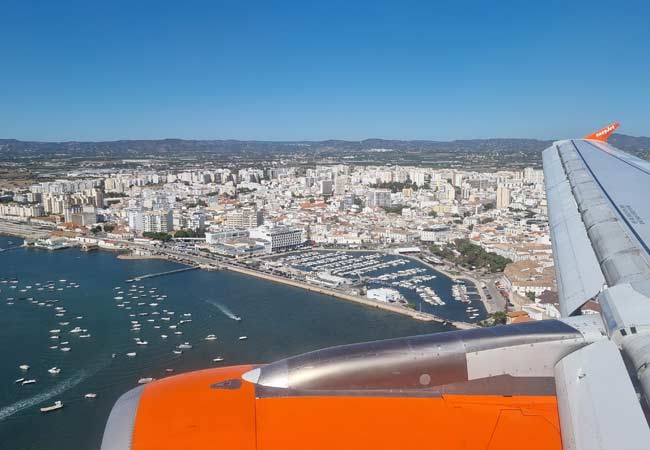 The flight into Faro Airport flies over the city of Faro
The best airport in Portugal
If the Portuguese airport terminals were ranked for travelling experience during the peak season, they would be as follows:
1) Porto 2) Lisbon Terminal 1 3) Faro 4) Funchal 5) Lisbon Terminal 2
Porto is a modern airport, and the least hectic during the peak season. It provides the best experience for travellers using both international and low-cost airlines.
Lisbon Terminal 1 is dated, but has a large range of facilities and shops. Being so big, it can be a bit of a maze to navigate around. Faro Airport is modern, however it gets overly crowded during the summer and the lack of public transport is inconvenient for onward travel. Funchal is modern and easy to travel through. Lisbon Terminal 2 sums up everything bad about budget flying, and many passengers will have a poor experience. There can be endless waiting in lines and not enough seats at peak times.
For your trip to Portugal, the airport experience should only be a minor consideration - way behind the location you're travelling on to and the cost/availability of flights. However, if we were planning a holiday all around Portugal, we would try to fly in and out of Porto Airport.
We would also recommend that you avoid flying through Lisbon Terminal 2 if you can, especially at peak times (Friday, Saturday and Sunday evenings).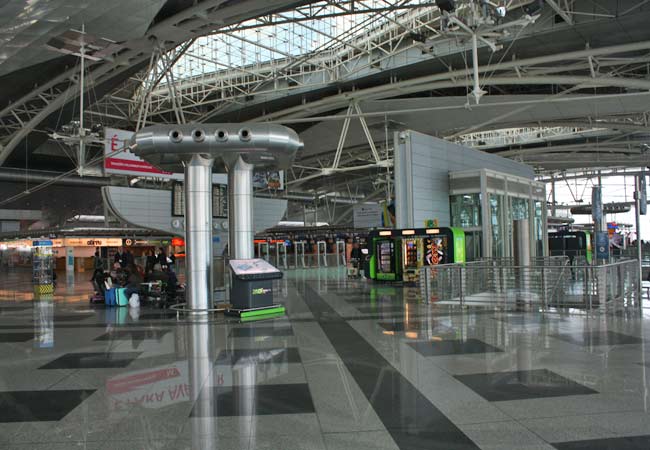 Porto Airport is modern and easy to travel through
Which airport to fly into?
The three main airports of Portugal conveniently cover the entire country.
For any holiday to the Algarve, fly into Faro Airport. For the central region of Portugal (Lisbon, the Alentejo and as far north as Coimbra), fly into Lisbon Airport. For the north of Portugal, fly into Porto Airport.
The interactive map below displays these three regions and the location of the airports.
Insight: Portugal has an excellent and inexpensive train network connecting Porto, Lisbon and the Algarve. It only takes 2.5hours to travel from Lisbon to Porto, or Lisbon to the Algarve. The national train company of Portugal is Comboios de Portugal: https://www.cp.pt
Insight 2: There are direct buses from Faro Airport to Seville, making this is a suitable option if there are no direct flights to the small airport at Seville.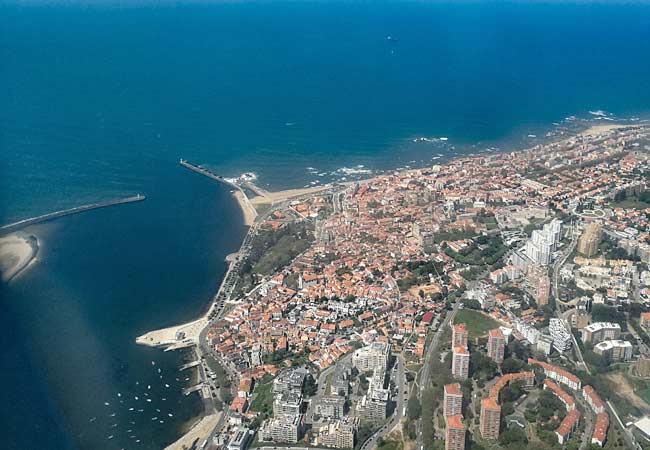 Looking down into Porto, where the Douro River meets the Atlantic Ocean and the Foz district
Portuguese immigration - SEF
Portuguese immigration and border force is the Serviço de Estrangeiros e Fronteiras, who are just referred to as SEF. The SEF official website, which details all matters regarding immigration, can be found here: https://www.sef.pt/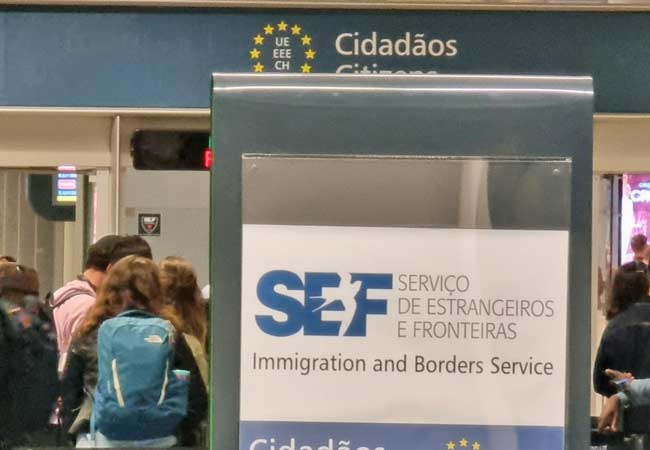 Portugal's airports and onward travel from them
Lisbon
Lisbon Airport (LIS) is the main international airport of Portugal and handles the majority of routes from outside of Europe. It is busy year-round, but there are more flights and passengers during the summer.
There are two terminal buildings at Lisbon Airport. The larger Terminal 1 complex handles all arrivals and the departures of most flights. It has all the expected facilities of a large international airport, and while it may be a little dated it is a decent airport to pass through.
Terminal 2 was originally constructed as the terminal for domestic flights, but now handles the departures of the low-cost airlines (such as easyJet, Ryanair, Transavia and Wizz Air). The transition of the terminal from low-volume domestic flights to high-volume international flights means that the terminal is not really suitable for its role, and there are issues with queues, facilities and seating.
These are exacerbated at peak times or if a number of flights have been delayed. If departing from T2, always leave plenty of time to go through the terminal - and expect to be bored and standing in queues the entire time. There is a McDonald's once past security, providing inexpensive food and drinks.
Lisbon Airport lies within the city limits and is conveniently connected to the red metro line. The metro is the recommended means of onward travel if your accommodation is based within the city, so there is rarely a need to pre-book an airport transfer. A single metro ticket costs €1.50 and is charged to the reusable 'Navegante' card, which costs €0.50 for the initial purchase.
If your holiday is in Cascais or Sintra then you may wish to book a transfer, however there are good train services to both. Head to Rossio station for Sintra, or Cais do Sodre station for Cascais. The main train station of Lisbon, for services to both the north and south of Portugal, is 'Oriente', which is connected to the red metro line.
If you do choose to take a taxi from the airport, always ensure that the meter is used so you don't get overcharged.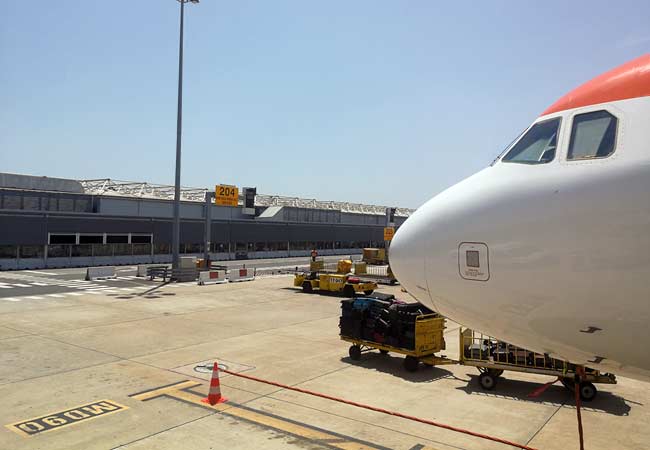 On arrival in Lisbon, the low-cost airlines disembark at Terminal 2 - but a bus will take you to Terminal 1
Porto
The north of Portugal is served by Porto Airport (OPO). This is a medium-sized regional airport that is popular with the low-cost airlines as an alternative to Lisbon, however the number of flights from outside of Europe is increasing. There is not generally a significant seasonal variation in numbers at Porto Airport, and it will be the least hectic to fly into or out of during the summer.
Being smaller than Lisbon Airport, there is considerably less walking involved - and Porto boasts far better facilities than Lisbon Terminal 2. If it fits your holiday plans, we recommend flying in and out of Porto.
Porto Airport is 12km north of the city centre and the metro is the best means of travel into the city. A single ticket costs €2 and is charged to the 'Andante Azul', a reusable public transport ticket that costs €0.60. The metro connects to the main train station of Porto, Campanhã, which offers services to all over the north of Portugal.
Faro
Faro Airport (FAO) serves southern Portugal, including the popular holiday destinations of the Algarve. The airport is similar in size to Porto, but passenger numbers fluctuate massively during the year - with fewer during the winter and vast numbers in summer (June to September). If you are traveling during summer, expect long queues for everything.
Faro Airport has very poor public transport links. There is just a single bus service to the city of Faro and a single summertime bus service to Albufeira, Portimao and Lagos.
Most visitors pre-book a private or shared transfer, or hire an expensive taxi or Uber/Bolt on arrival. There are many transfer companies in the Algarve, but the largest and most highly rated is Yellowfish. You can find their website here: www.yellowfishtransfers.com
Insight: There is a regional train service connecting most of the towns of the Algarve, but the nearest train station to the airport is in Faro. To get to the train station from the airport, you will need to catch the number 16 bus or use a taxi.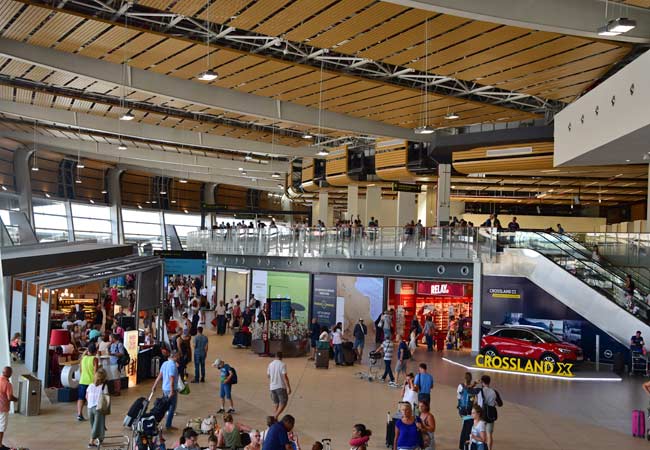 Faro airport in May, but it will be much busier in the summer!
Funchal, Maderia
The main international airport of Maderia is situated on the eastern side of the island, 17km from Funchal. There is a direct bus service called the Aerobus that takes 35minutes, costs €5, and is operated by Sociedade de Automóveis (SAM) www.sam.pt
Lisbon connections
If booking connections, ensure the flight is with the same airline (or alliance of airlines), so that if a flight is missed you can be booked on to the next available flight. Be very wary of booking a connection between Lisbon Terminal 1 and Terminal 2, as there is no airside connection. It takes a surprisingly long time to pass through immigration, collect bags and then catch a bus to Terminal 2.
Related articles: Lisbon airport