Portugal Airports
Portugal has three international airports, Lisbon, Faro and Porto. These three airports cover the entire country, and provide numerous international routes, which are flown by a variety of airlines including national and low-cost airlines. The islands of Madeira and Azores each have their own airports and have regular flights back to the Portuguese mainland.
There has been significant investment in the Portuguese airport infrastructure over the last few years, with a new terminal building in Lisbon and a complete modernization Faro airport. The investment has greatly improved overall capacity but not always the passenger experience. The low-cost airlines are still plagued with long queues and constant delays, passport control is agonisingly slow and the terminals have a stronger emphasis on shopping than travel. This guide will provide an overview of the airports in Portugal, provide useful traveller tips and advice.
Quirks of Portuguese airports…..
• On departing Portugal; passport control is after security and the duty-free shopping. Many people have nearly missed flights, as they have not expected this additional queue once the gate has been announced. If you want to shop give yourself extra time.
• In Lisbon, the low-cost airlines arrival is handled by terminal 1 but passengers depart from terminal 2. The only way to go from Terminal 1 to 2 is by a free bus.
• Lisbon Terminal 2 is a large shed, and most passengers experience is poor, with endless queues and waiting. At least there is a Macdonald's once past for security for inexpensive food and drinks.
• English is widely used in all of the airports; all signs are in English and most people who work in the airport speak English fluently.
• Lisbon airport is one of Europe's few airports which is within the city limits, this is great for onward travel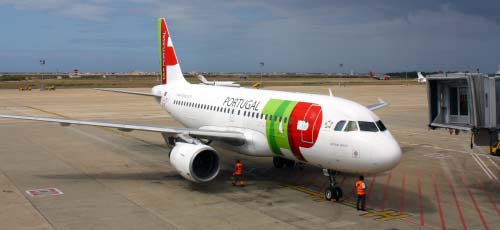 A TAP flight landing at Faro airport
• Pilots flying into Funchal (Madeira) require a special license as automated system cannot be used due to the steep descent and high mountains. The airport was once considered one of the most dangerous to land at, but since the runway extension it is perfectly safe, unless…..
• Madeira Airport occasionally experiences strong cross winds and flights are forced to divert or are even cancelled – always have travel insurance.
• At Faro airport, a major tourist hub, there is almost no public transport, just an irregular bus service. Onward travel is by taxi (to Faro), or private transfer or shared transfer – pre-book to avoid more long queues
• Porto airport is the furthest from the city but is connected to the metro.
• When traveling by low cost airlines, always book an early flight as there will be the fewest delays (or cancelations).
An Overview of Portugal Airports
Lisbon airport (LIS) is the main international airport of Portugal and this is the airport to fly into for the entire central region. The airport handles the highest number of international flights and most flights from outside of Europe fly into Lisbon. Lisbon airport is conveniently located within the city limits and is connected to the metro and bus network for easy onward travel. There are two terminal buildings, with Terminal 2 opening in 2010.. For a guide to Lisbon airport please click here.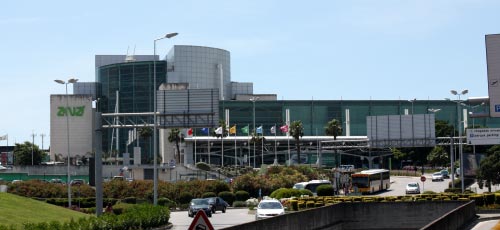 The international terminal at Lisbon airport
Faro airport (FAO) serves the southern side of Portugal and this region of stunning beaches and enjoyable resort towns is referred to as the Algarve. The number of flights and passenger levels fluctuates during the year, with most travellers passing through the airport during the long summer season (June-September). There is almost no public transport from Faro airport, so pre-book onward travel.
The north of Portugal is served by Porto airport (OPO). The airport is becoming a hub for low cost airlines and the number of flights outside of European is increasing. Generally, there is not massive seasonal variation as experienced by Faro airport. The airport is outside of the city limits but is connected to the metro and is easy for onward travel
There is no airport which serves the eastern side of Portugal, for central Portugal fly into Lisbon and for the north eastern side of Portugal fly into Porto. The Algarve regional railway serves the entire southern coastline but is very slow, pre-arranged transfers are recommended for resorts not close to Faro airport.
Regional Flights
There are regional flights between LIS/OPO/FAO but considering the short distances these are impractical. There is an excellent rain service connecting all three towns and it is much quicker and cheap to take the train.
Lisbon connections
If booking connections ensure the flight is with the same airline (or alliance of airlines), so that if a flight is missed you can be booked on to the next available flight. Be very warry of booking a connection between Lisbon terminal 1 and terminal 2, as there is no airside connection. It takes a surprisingly long time to pass through security, collect bags and then catch bus to terminal 2 .
Portugal Airports for Passengers
The majority of tourists to Portugal fly into either Faro airport (for a beach holiday) or Lisbon (for a city break or touring holiday). The two main industrial and commercial centers of Portugal are at Lisbon and Porto with the Algarve receiving very little business flyers.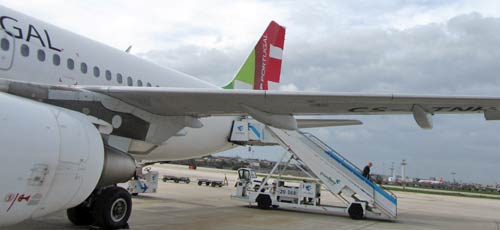 Lisbon Airport
All of the airports have facilities that reflect the size of the airports and include car rental, money exchanges, ticket sales and duty free lounges. There are numerous taxis outside of each airport but the drivers are notorious for charging too much for new arrivals, always ensure the meter is used.
Warnings about Portugal Airports
Portugal airports have a non-standard lay out for departures. Passport control is after the duty free lounge and this adds a significant amount of time after the shops. Many passengers end up missing flights as they do not appreciate that there is an additional stage after the shops. The low cost airlines can have massive queues during the height of the season always leave plenty of time at the airport.