Portugal in December, a guide to Lisbon, Porto and the Algarve
Portugal is a fantastic destination to visit during December.
Lisbon is always a highlight during the Christmas holidays, with a vibrant and exciting atmosphere, while Albufeira in the Algarve boasts some of Portugal's best New Year's celebrations.
At the beginning of December, there are very few tourists in Portugal, so this is the perfect time of year to find a bargain flight and book a heavily discounted luxury hotel. This is also a wonderful season in which to discover authentic Portugal and explore the many wonderous sights of the country without the tourist crowds.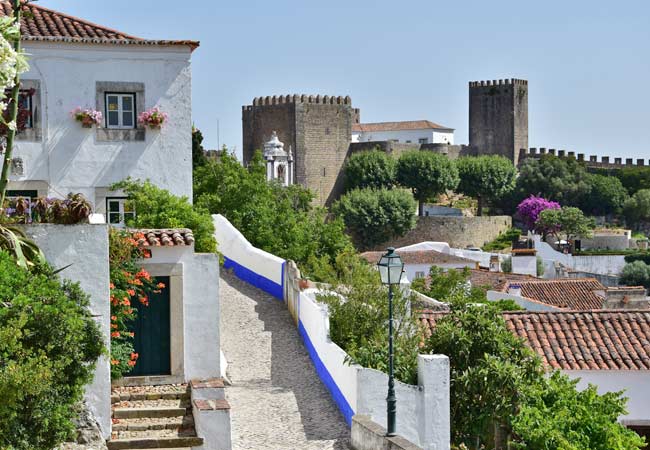 The pretty town of Obidos will be completely free of tourists in December
One of the most unique sights in December will be the Serra da Estrela mountains, which will be snow-covered in winter. It is even possible to ski on them, although they are not comparable to the Alps!
Visiting Portugal in December does require some flexibility, as there can be some very poor weather - especially in the north of the country. The mild weather of southern Portugal and the Algarve is ideal for a touring or activity-based holiday, or you might want to consider the eastern side of Portugal if you'd prefer somewhere completely different.
There are bargain city breaks to be found in Lisbon and Porto up until December 18, as long as you're happy to leave your decisions until the last moment (so as to check the weather). Flexibility and last-minute plans are the best ways to get the most from a trip to Portugal in December, with the obvious exception being the Christmas holidays (December 22 to January 2) when accommodation prices increase, and flights do sell out.
This article provides a guide to Portugal in December and will help you to get the most from your holiday.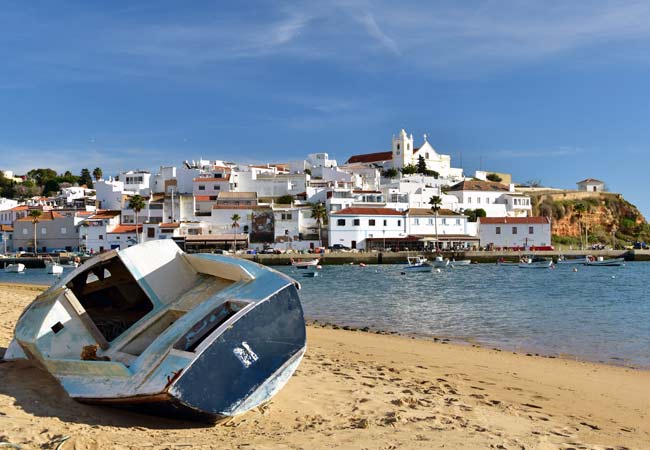 The Algarve will be peaceful and relaxing in December, such as the little village of Ferragudo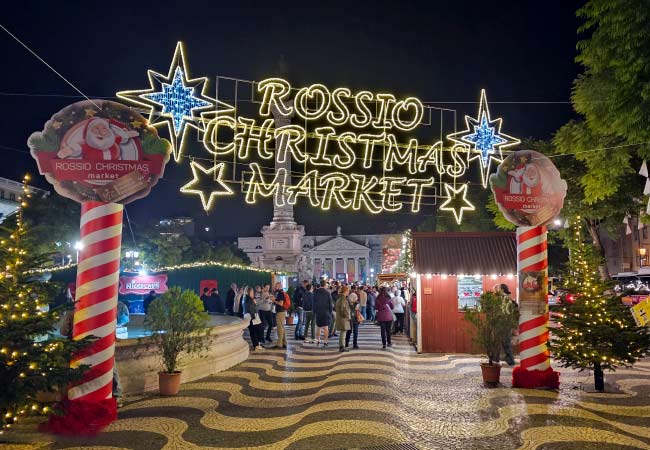 The Rossio Christmas market in Lisbon
Portugal's weather in December
December is the coolest and wettest month in Portugal, but the weather will definitely be better than in your home country. The weather in Portugal in December can be divided into three areas:
• Porto and northern Portugal – Cool days, chilly nights and possibly very wet weather.
• The Algarve – Mild and dry, with an equal number of grey days and bright sunny days – there is very little rain.
• Lisbon and central Portugal – An unpredictable mix of bright and sunny days and grey days – there will be some wet days.
The Algarve will offer the best weather in Portugal and will be similar to a mid-spring day at home. This is not warm enough for sunbathing on the beach, and you will need a jacket at night, however it is pleasant for sightseeing and activities.
The lush and green north of Portugal is green for a reason. It can be very wet in December with moisture-laden winds blowing in from the Atlantic Ocean and dumping heavy rain over the mountainous region. It'll also be chilly in Porto, only struggling to reach a maximum daytime temperature of 14°C.
Lisbon is more of a mix between the north and the Algarve. It will be cool (daytime maximum of 16°C and down to 8°C at night) but will have considerably better weather than Porto.
The far eastern side of Portugal, close to the Spanish border, tends to be much drier than the western coastline and can provide a fantastic alternative holiday destination.
Holiday suggestions for December in Portugal
With the unpredictable weather, for a December holiday it is best to choose a destination in either the south or east of Portugal - or in Lisbon. Suggested tours and holidays for December include:
A touring holiday of the Algarve – Fly into Faro (1 night), 2 nights in pretty Tavira, 2 nights in Albufeira or Vilamoura, and 3 nights in Lagos (with a day trip to Silves). A rental car is not needed for this trip.
1 week in Lisbon – 3 days exploring Lisbon, with day trips to Sintra, Cascais, Setubal and Obidos. A rental car is not needed.
A relaxing holiday in the Algarve – Either in Albufeira (the largest resort town), Vilamoura (an upmarket centre for golfing), Lagos (a historic and artisan city) or Tavira (a charming Portuguese town). All of these towns will be very quiet in early December.
A tour of central and eastern Portugal – Fly into Lisbon (2 nights), 2 nights in Evora, 1 night in Elvas, 1 night in Marvão or Castelo de Vide, 1 night in Monsanto (then the option to visit the Serra da Estrela mountains), Almeida for 2 nights (which includes the surrounding regions of Trancoso, Figueira de Castelo Rodrigo and Marialva), then drive back to Lisbon - possibly including Viseu and Coimbra. A rental car is needed.
A tour along the Alentejo coastline – Fly into Lisbon (2 nights) – Setubal (1 night) – Comporta or Melides - Vila Nova de Milfontes or Porto Covo (2 nights) – Odeceixe – Sagres – Lagos (2 nights). You can expect to see stunning scenery on this tour, but as it is quite remote you will need a rental car
The interactive map below displays these tours. The green line shows the Lisbon 1-week holiday, the blue line is the tour of the Algarve, the yellow line is the east Portugal tour and the red line shows the Alentejo coastline route. (Note: Zoom in to see all of the points)
Algarve tour (blue) 1) Faro 2) Tavira 3) Albufeira 4) Vilamoura 5) Lagos
1 week in Lisbon (green) 6) Lisbon 7) Sintra 8) Cascais 9) Setubal 10) Obidos
East Portugal tour (yellow) 6) Lisbon 11) Evora 12) Elvas 13) Marvão 14) Monsanto 15) Serra da Estrela 16) Almeida
Alentejo coastline tour (red) 6) Lisbon 9) Setubal 17) Comporta 18) Vila Nova de Milfontes 19) Odeceixe 20) Sagres
Insight: Portugal is a relatively small country and has an excellent express train network. It takes only 2.5 hours to travel from Lisbon to the Algarve if the weather becomes poor, or 3 hours from Lisbon to Porto if the weather is dry and sunny. Flexible plans are the best way to get the most from a holiday to Portugal in December.
Areas of Portugal to avoid in December
The areas to avoid during December are the Douro Valley and the northern coastal towns.
The Douro Valley can be extremely wet in December. Although there may be bargains available for the boat cruises, the (possibly wet) weather can make them much less enjoyable.
The northern coastal towns (north of Costa Nova and Aveiro) experience strong winds, possible rain and are mostly closed for winter. Many of the towns along the Atlantic coastline can appear rather gloomy and bleak in December.
Insight: The one exception is Nazare, which can have waves up to 30m high during the winter months. These colossal waves attract daredevil surfers, and the town is bustling with surfers and spectators who come to watch from the surrounding cliffs.
Skiing at the Serra da Estrela
During winter, snow falls over the Serra da Estrela mountains, and there is a ski resort at Torre - the highest point in Portugal (1,997m). These are only a small set of ski slopes (5.9km of slopes and 3 chairlifts), and certainly not comparable to the Alps, but it is an enjoyable activity if you're based in Portugal. For further information and prices, see the Serra da Estrela skiing website: https://www.skiserradaestrela.com/
Christmas in Portugal
Christmas is a fantastic time of year to be in Portugal. The Portuguese adore the Christmas holidays and the cities are alive with the build-up to the festivities.
The main Christmas meal is celebrated on Christmas Eve (December 24) and children often stay up till midnight to open their presents - this also allows parents a bit of lie-in on Christmas morning!
Christmas day is a public holiday, so most tourist activities and shops will be closed. Boxing day (December 26) is not a public holiday, so most things will be open as normal.
The demand for flights and accommodation during the Christmas holidays (December 22 to January 2) will be similar to that of the summer peak season. It is always advisable to book flights as soon as possible, as the most popular routes do sell out with Portuguese citizens returning home for the holidays.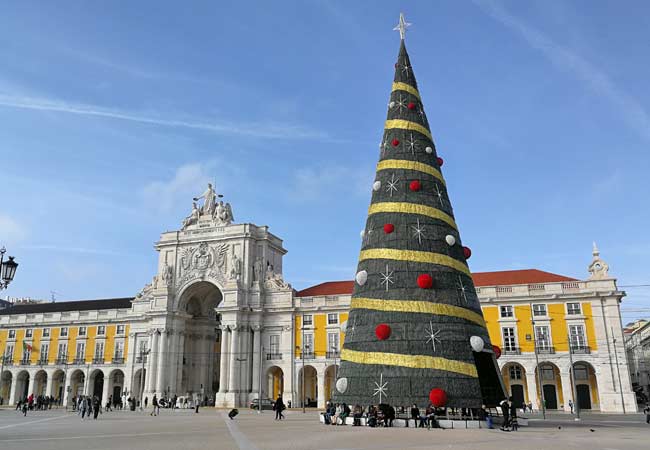 Lisbon's Christmas tree in the Praça do Comércio plaza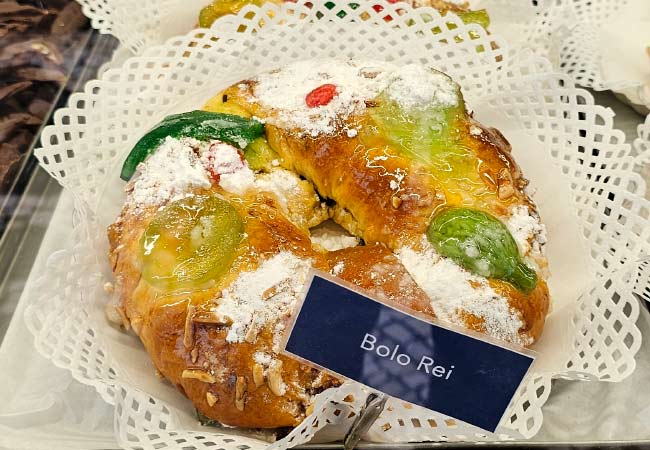 Bolo Rei – The traditional Portuguese Christmas cake
Getting a bargain hotel in early December
There can be some real bargains during December, as hotels slash their prices to attract the few visitors to the country.
One of the best methods for finding a bargain is to use hotel comparison websites and only book rooms with free cancelation. This allows you to continue looking for something better - or change your plans if the weather deteriorates.
Insight: There will be more bargains in the coastal towns, with fewer in Lisbon or Porto.
Personal opinion: We always recommended that visitors stay in locally-owned hotels, which employ local people and keeps tourist money within the country. Rental apartments may seem appealing, but are often owned by foreign investors and push up house prices for locals – this is a real problem in Lisbon, Porto and certain areas of the Algarve.
The Algarve in December
The Algarve is a fantastic destination in December, as long as you accept that the resort towns will be very quiet, and the weather is not warm enough to sunbathe.
Our advice is to stick to the larger resort towns, such as Albufeira, Lagos, or Vilamoura, , which have large permanent populations and will have a decent selection of restaurant and bars open. To experience some Portuguese culture during your holiday, consider being based in the charming town of Tavira or having a day trip to Faro or Silves.
December is the best time to find a bargain hotel in the Algarve. Searching the hotel comparison websites can find you last-minute 5-star luxury for the price of 3-star mediocrity. We would strongly advise hiring a car so that you can explore the region and are not just tied to your deserted hotel complex or quiet town.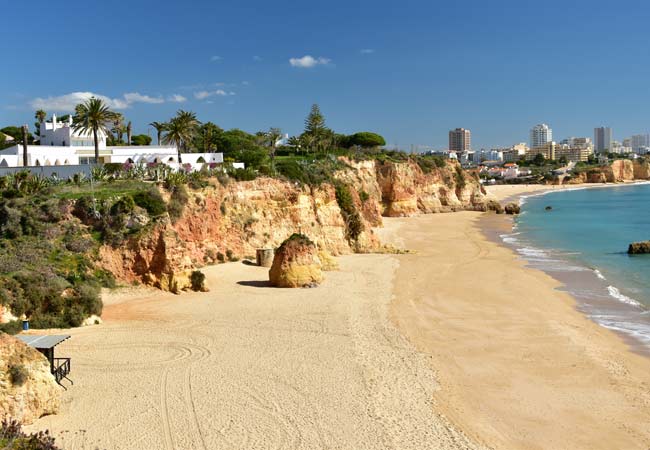 The western Algarve has lively resort towns and golden cliffs
December is surfing season in the western Algarve, with the town of Sagres having a great surfing vibe along with some amazing surfing beaches.
Some good ideas for activities in December include hiking along the Praia do Vale de Centeanes trail, joining a boat tour from Albufeira or Vilamoura (when the seas are calm!), or cycling the quiet roads around Burgau or Tavira
December is a popular season for golfing holidays in the Algarve. It offers bright, dry weather without the intense summer heat, and December is also much cheaper for golf than in September and October when prices are at their highest. Vilamoura is a great base for a golfing holiday.
Lisbon in December
Lisbon is a good option for a European-based city break or holiday during December, and this is due to the huge variety that this vibrant city has to offer. For inclement days, there are numerous museums and indoor activities to visit, along with hundreds of trendy bars and stylish restaurants to choose from.
If the sun does show itself, hop on the train to the magical town of Sintra, with its whimsical Pena Palace and the ruins of the Moors castle. If it is warm head to the characterful resort town of Cascais or the traditional beach town of Sesimbra.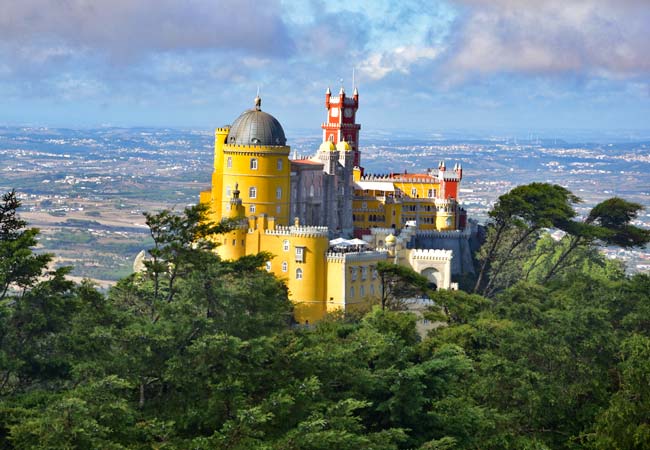 If the sun shines head to the Pena Palace, which is magical with few tourists about
If it does rain, there is the wonderful oceanarium, the Mosteiro dos Jerónimos and the Calouste Gulbenkian art museum. If it stays wet, head to the artisan area of LX Factory, sample Portugal's finest foods in the Timeout Market and end the day in the trendy bars of the Bairro Alto district.
In the low season, the main tourist attractions will be almost deserted, so you'll be able to visit at your own pace without enduring the summer crowds.
Related articles: Our Lisbon guide
Porto in December
Porto in December is difficult to predict. The weather could be good, or it could be very wet. If it is raining, the city has significantly fewer indoor activities and sights to offer than Lisbon. The main indoor experience is Port wine tasting in the many cellars that line the banks of Douro River - and with over 14 different Port cellars, there's a lot of Port tasting!
If the weather is dry take a day trip to the pretty city of Guimarães or the religious centre of Braga. If the sun does come out hire a car and explore the Douro Valley.
Our advice: If you are thinking about visiting Porto in December, leave your planning to the last minute and base your decision on the long-term weather forecast. If it seems wet, head to Lisbon or the Algarve. If its dry, book Porto and get yourself a bargain trip!
Related articles: Porto guide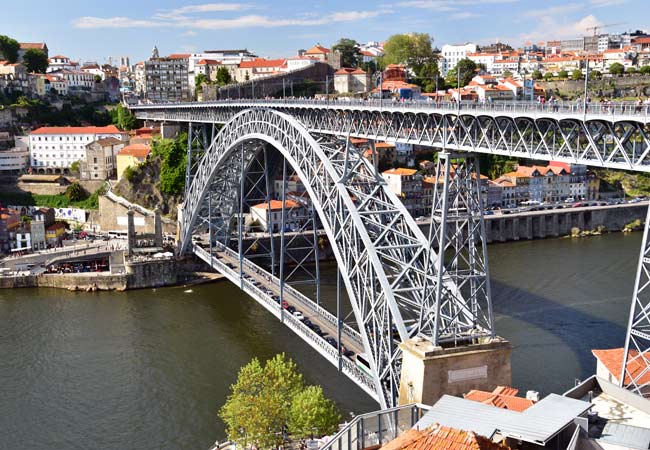 The Ponte Luís I in Porto, crossing the Douro River