Lisbon to Porto – Suggested 1 Week Itinerary and Tours
For a guide to travelling between Lisbon and Porto by public transport, please see this article
The central region of Portugal, between Lisbon and Porto, makes for a wonderful touring holiday. This is an area filled with picturesque towns, stunning beaches, magnificent palaces, and contains one of the most important pilgrimage destinations of Western Europe.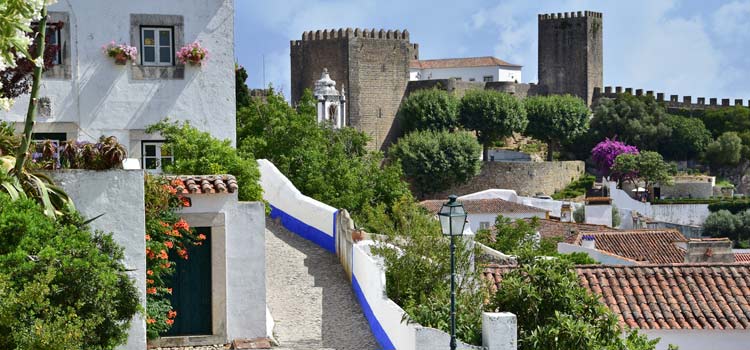 The pretty walled town of Obidos
The diversity of the region will appeal to a variety of tourists; from the history of Tomar, the surfing vibe of Nazaré, the heritage of Coimbra, or the beautiful scenery of the Schist Villages. With a region that has so many outstanding towns and attractions, it can be difficult trying to create a route that incorporates all of these highlights. Therefore, we have created this guide to provide ideas and inspiration, for a touring holiday of central Portugal. The suggested itineraries are:
• An intensive 1-week, see everything tour
• A leisurely 1-week route (ideal for hot summers)
• 1-week tour, designed for visitors who are new to Portugal
• A cultural and historic 1-week route using public transport
• A 1-week beach tour using public transport
• Lisbon to Porto, via the interior and east of Portugal
Highlights Between Porto and Lisbon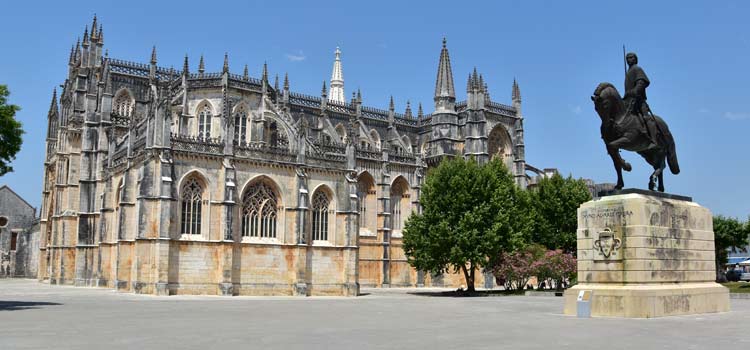 Batalha Monastery
Please Note: This article covers the region directly between Lisbon and Porto (and the western coast), it does not focus on the the eastern side of Portugal or Serra da Estrela. At the end of this article are links to destination guides for each of the towns listed the tours.
Suggested tours for a 1-week holiday between Lisbon and Porto
An intensive 1-week, see everything tour
This is a packed itinerary, ideal for those visitors who want to see and experience everything, in just one week. A rental car is a must for this busy itinerary.
Depart Lisbon
•Day 1 -Mafra (half day)
• Day 1 - Obidos (half day)
• Day 1 & 2 - Peniche (stay two nights)
•Day 2 - Berlengas Islands (day trip from Peniche)
• Day 3 - Alcobaça (half day )
• Day 3 - Batalha (half day)
• Day 3+4 - Nazaré (spend night)
• Day 4 - Fatima (half day )
• Day 4 & 5 -Tomar (Spend the night)
• Day 5 & 7 Coimbra (Spend two nights)
• Day 6 - Schist villages or Mata Nacional do Buçaco as a day trip from Coimbra
•Day 7 - Aveiro and Costa Nova
•Day 7 - Drive to Porto
Arrive in Porto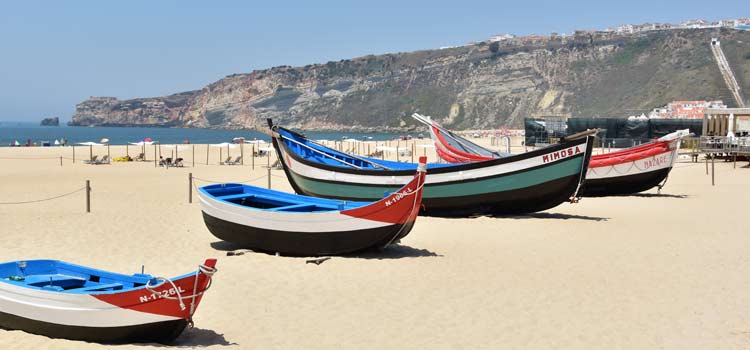 The massive beach and fishing boats of Nazaré
For this tour, two nights are spent in Peniche, one night in Nazaré, one night in Tomar, and two nights in Coimbra. The above itinerary could be extended to 10 days or two weeks for a much more relaxed tour.
A More Leisurely 1-Week Route of Central Portugal
This tour is ideal for the summer when the region can get incredibly hot (+35C). Spending one or two days in each destination allows for early morning sightseeing, when the sights are less crowded and the sun less intense. The suggested route is:
Depart Lisbon
• Obidos (Day 1)
• Peniche (Day 2 and 3)
• Berlengas Islands as a day trip from Peniche
• Alternatively, Nazaré (Day 2 and 3)
• Tomar (Day 4 and 5)
• Castelo de Almourol or Fatima as a day trip from Tomar
• Coimbra (Day 6 and 7)
• Schist villages or Mata Nacional do Buçaco, as a day trip from Coimbra
Arrive in Porto
For this tour, one night is spent in Obidos, two nights in Peniche (or Nazaré), two nights in Tomar, and two nights in Coimbra. Unfortunately, a rental car is needed due to the limited public transport between Peniche/ Nazaré and Tomar.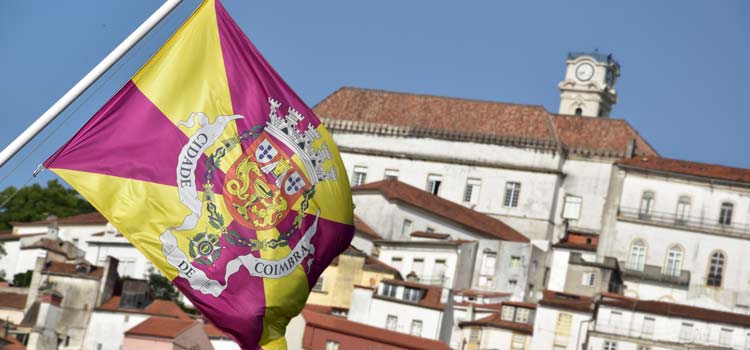 Coimbra university
Tour for visitors new to Portugal
This tour is designed for visitors who are new to Portugal and provides time to discover Porto and Lisbon.
• Lisbon - Alfama and Baixa districts (Day 1)
• Lisbon – Belem district (Day 2)
• Sintra, day trip from Lisbon (Day 3)
• Obidos (Day 4)
• Tomar (Day 4 – spend night in Tomar)
• Coimbra Day 5
• Porto (Day 6)
• Guimarães, day trip from Porto (Day 7)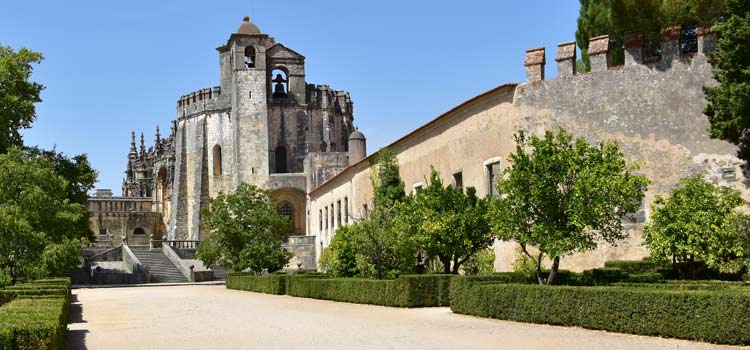 The Convento do Cristo in Tomar
The for this tour three nights are spent in Lisbon, one night in Tomar, one night in Coimbra and two nights in Porto. The above route needs a rental car as there are poor public transport connections between Obidos and Tomar. If using public transport remove Obidos and spend the whole of the fourth day in Tomar.
Public Transport Tours of Central Portugal
Public transport in the region has excellent services to the main cities (Lisbon, Coimbra and Porto) but is much more limited between the smaller towns. Generally, it is easier to travel north-south than east west. The following tours provide suggested routes for a one-week touring holiday using public transport;
The main intercity bus company is Rede Expressos (www.rede-expressos.pt) and train company is Comboios de Portugal (www.cp.pt).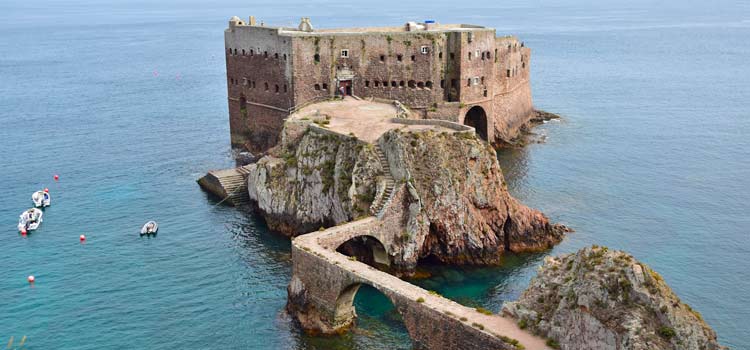 The Fort of São João Baptista on the Berlengas Islands, Peniche
Lisbon to Porto via the interior and east of Portugal
All of the previous tours have followed the same general direction, along the western coastline of Portugal. For a truly different route head eastwards, and explore the fortified towns along the Spanish border. For this route, a minimum of nine days is required but could be easily extended to 2 weeks. A rental car is essential as there is very limited public transport.
Destination Guides
The following are in-depth destination guides for each of the towns detailed in the tour above:
(please note all links open new tabs)
All of these tours are to provide suggestions and ideas for a region which has surprisingly little literature or good advice. We have followed each of these routes using our car, and all details are provided to the best of our knowledge at the time of writing.
Details of the Tour for Visitors New to Portugal
Day 1-2 Discovering Fascinating Lisbon
Lisbon is a historic yet vibrant city, with a crumbling charm surrounding it. The first day in Lisbon is often spent exploring the Alfama and Baixa districts, which includes the cathedral, the castle and four of the capital's grand plazas.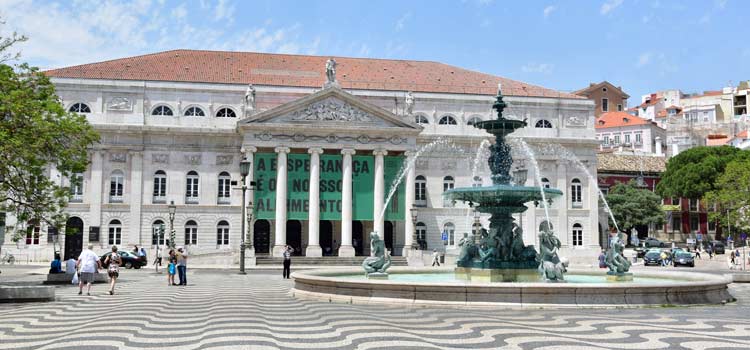 One of the grand plazas in the Baixa district
During the second day the pretty Belém district should be visited and tourist sights include, the Torre Belém, the Discovery Monument and the magnificent Monastery de Jerónimos. Evenings in Lisbon are busy affairs, with fine cuisine restaurants in Rossio square, lively bars in Bairro Alto or haunting Fado singing performances in Alfama.
Day 3 Day Trip to Sintra and Cascais
Sintra is the most popular day trip from Lisbon and is a tourist destination that should not be missed. Sintra lies within a series of pine covered hills and hides three unique royal residences, the gothic national palace, the ruinous Moors castle and the flamboyant Pena Palace.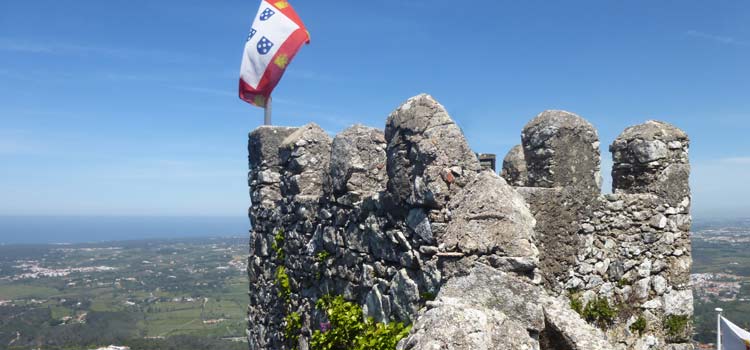 The top of the Moorish castle in Sintra
For those visitors still with energy could combine the visit to Sintra with the pretty fishing village of Cascais, which boasts a selection of grand residences. Lisbon is close to a selection of fine beaches and the best is Praia de Carcavelos only a short train ride from the capital. All of these day trips can be easily reached from Lisbon and there is no need to book different hotels for Sintra, Cascais or the beaches.
Day 4 Fatima, Tomar or Nazaré
The fourth day heads north from Lisbon to one of the following locations; Fatima, Tomar or Nazaré. Fatima is an important religious pilgrimage destination where the Virgin Mary appeared to three young shepherds in 1917.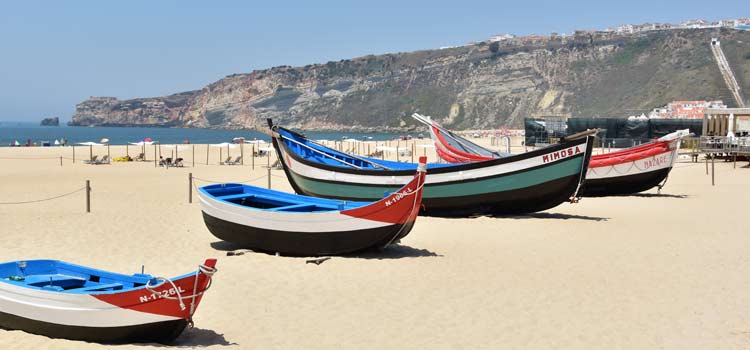 La plage de Nazaré
Historic Tomar was founded by the knights Templar in 12th century and is one of Portugal's most fascinating towns. Nazaré is a pretty beach resort that is famed for the largest surfed waved (30m!). All three locations can be easily reached via the excellent coach network.
Day 5 Coimbra
Coimbra is Portugal's ancient university town and makes for an enjoyable destination on the route to Porto. The town is a blend of historic sightings (like the cathedral, the castle or university) and youthful vigour from the students who dress in their traditional black robes. Close to Coimbra is Conímbriga the largest Roman remains in Portugal.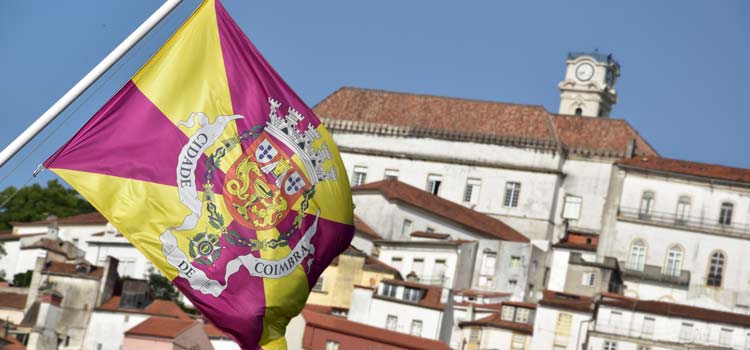 Pretty Coimbra is set over a steep hill
For those wishing more of a beach tour should instead visit the resort of Figueira da Foz, the location of Portugal's widest beach and amazing surfing waves. Coimbra is connected to Porto by the express Alfa Pendular train service, which is the recommended means of onward travel.
Day 6-7 – Porto
Porto is Portugal's second city and is famed for the port drink which is manufactured in the cellars that line the Douro River. Porto is a city that has been rejuvenated, partly due to the increase of mass tourism and cheap flights. The first day should be spent exploring the historic centre while enjoying in the afternoon a leisurely ferry ride down the Douro River into the wine region with the stepped terrace vineyards.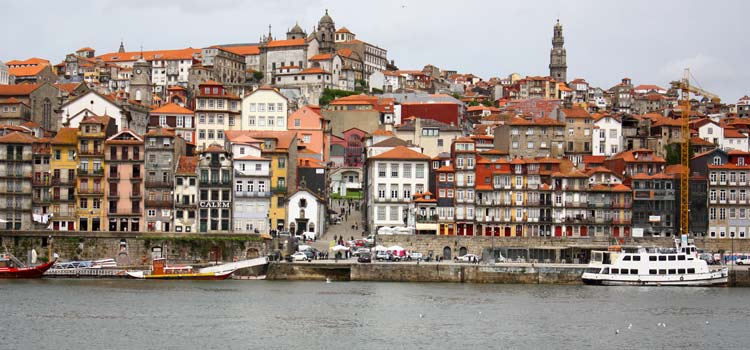 For the second day take a day trip to either historic Braga or charming Guimarães. Guimarães is regarded as the birth place of Portugal while Braga contains the most famous site of north Portugal, the Bom Jesús church. For a guide to the day trips of Porto please click here.