Ericeira Portugal; a tourism guide for 2023
Ericeira is a delightful fishing town which is also the premier surfing destination in Portugal.
The region's magnificent coastline faces the might of the Atlantic Ocean, and the huge waves that roll onto Ericeira's beaches have led to the town's transformation into Portugal's go-to destination for surfing and surf culture.
Found among Ericeira's cobbled streets and traditional whitewashed houses are surf schools, trendy restaurants and hostels packed with surfers of all nationalities and ages. Ericeira has readily embraced surf culture, and is welcoming and relaxed, while also being a popular centre for yoga, creatives and artisans of all styles.
This evolution of Ericeira into a world-class surfing destination has been harmonious with the character and heritage of the town. The town still retains its charming town centre, where surf-inspired bars sit next to traditional Portuguese cafes, and locals and visitors can be found strolling the cliff-tops at sunset.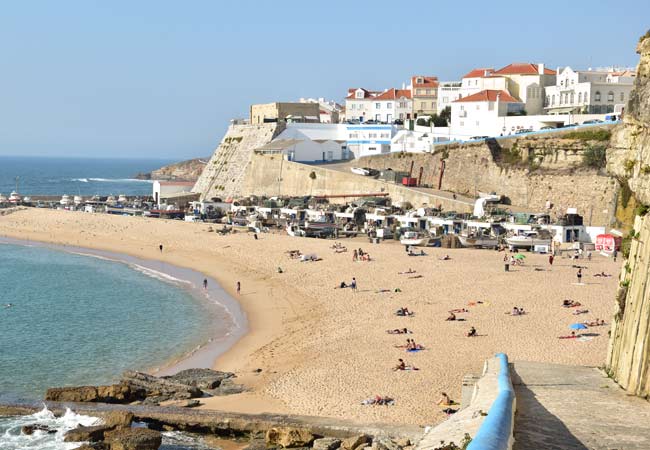 Ericeira fishing harbour and the Praia dos Pescadores beach
For a holiday, there is a lot to love about Ericeira. In addition to its renowned beaches, surfing and chilled ambience, the town also offers unspoilt countryside, a vibrant food scene, along with day trips to Sintra or Mafra.
Ericeira is also highly recommended for a day trip if you are on holiday to Lisbon or Sintra. An enjoyable day can be spent exploring the characterful historic centre of Ericeira, seeing the beautiful beaches and watching the skilled surfers in action. The town may not be as popular for a day trip as Sintra, Cascais or Setubal, but it is equally as good.
This article will provide an introduction to Ericeira and help you get the most from your day trip to holiday to the town.
Highlights of Ericeira
Highlights for a day trip to Ericeira are:
• Strolling along the Largo das Ribas with its stunning cliff-top views over the fishing harbour and Praia dos Pescadores beach.
• Watching experienced surfers ride the huge Atlantic waves of the Ribeira d'Ilhas beach from the Ribeira d'Ilhas viewpoint.
• Embracing surf culture in one of the many excellent restaurants or cafes on the Largo do Jogo da Bola.
• Relaxing on the beautiful Praia do Sul beach.
The highlights for a holiday to Ericeira are:
• Learning to surf on Europe's finest waves while being taught by some of Portugal's best surfers.
• Spending a day on the glorious Praia da Foz do Lizandro beach.
• Taking a day trip to Sintra, with its many splendid palaces and castles.
• Hiking along rugged and dramatic coastlines, which are completely free from tourists.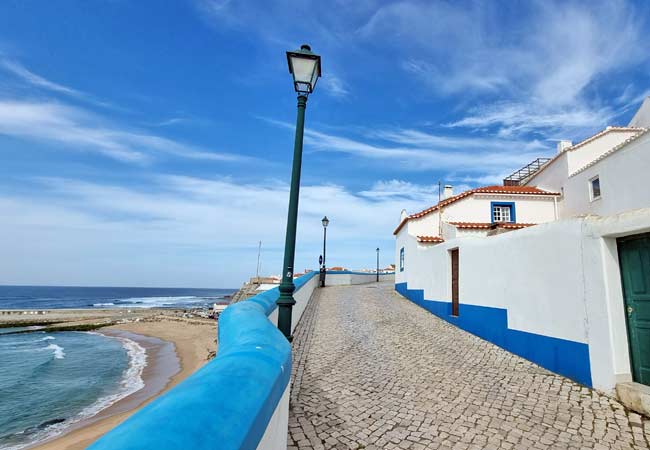 The Largo das Ribas as it skirts the cliff tops above the Praia dos Pescadores beach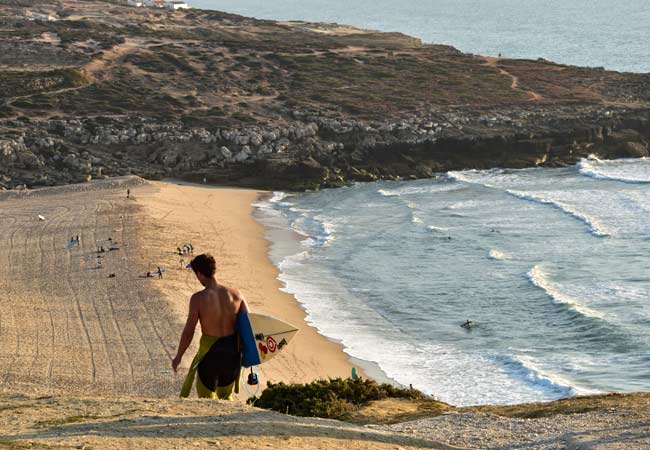 Heading for an evening surf at the Praia da Foz do Lizandro
Ericeira for a day trip
Ericeira is a fantastic destination for a day trip, especially in the summer when the likes of Sintra or Cascais are overcrowded with tourists. An enjoyable day can be spent exploring the town centre then walking the cliff-top trails to either the Ribeira d'Ilhas beach (to the north) or the Foz do Lizandro beach (to the south).
Ericeira doesn't have the same attention-grabbing sights as other popular day trip destinations, but its appeal comes from its quaint historic centre and the dramatic natural scenery surrounding the town. A day trip to Ericeira could be regarded as a calmer version of Cascais and comparable to Sesimbra.
For your day trip to Ericeira, there are direct bus services from Lisbon (80 – 110 mins) and Sintra (55 mins) - details are found later in this guide. Frequently, a trip to Ericeira is combined with a visit to the Palácio Nacional Mafra. or this day trip, it is suggest visiting Mafra in the morning, and then head to Ericeira for lunch and the afternoon.
Insight: The sunsets at Ericeira are amazing, and it is worth staying in the town (if you have the energy) until the early evening.
The interactive map below shows the sights of Ericeira (green markers), the beaches (yellow markers) and a suggested tour of the town. The tour begins at the bus station, which is inconveniently located on the far eastern side of Ericeira. The red line is the coastal walk to the Ribeira d'Ilhas viewpoint, which you may want to add t the day (Note: zoom out to see all of the points)
Sights of Ericeira: 1) Largo do Jogo da Bola 2) Capela da Boa Viagem 3) Fishing harbour (Doca Pesca) 4) Ermida de São Sebastião 5) Igreja de Santa Marta 6) The Furnas da Ericeira 7) Skate Park Boardriders 8) Miradouro Ribeira d'Ilhas viewpoint
Beaches of Ericeira: 9) Praia de Ribeira d'Ilhas 10) Praia de São Sebastião 11) Praia do Norte 12) Praia dos Pescadores 13) Praia do Sul 14) Praia da Foz do Lizandro 15) Praia de São Julião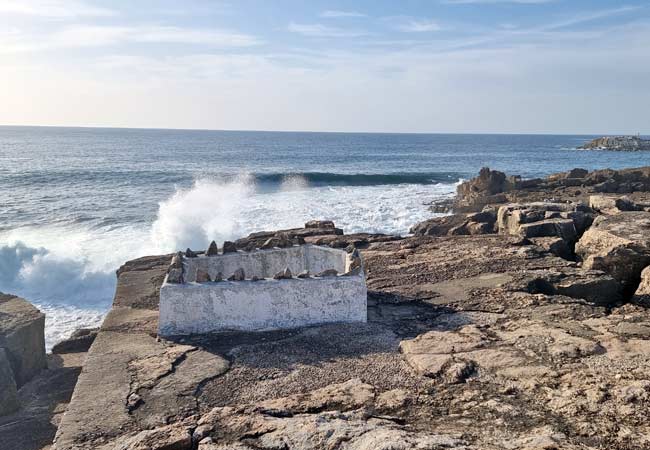 The 'Furnas' where a series of natural saltwater pools in the rocky headland that would store the freshly caught fish until it sold.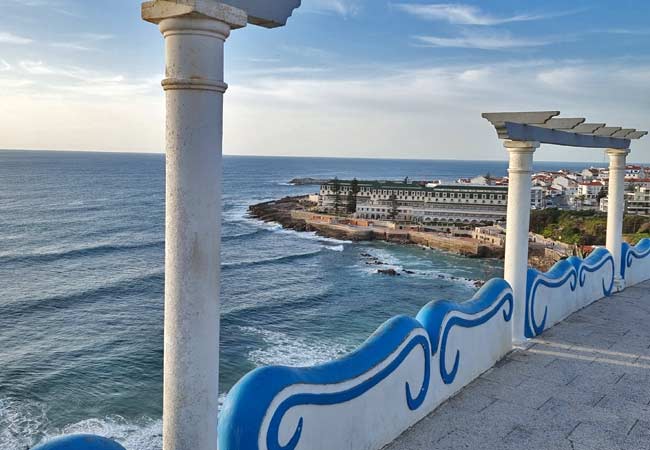 The Miradouro Sala das Visitas viewpoint overlooking the Praia do Sul and Vila Galé hotel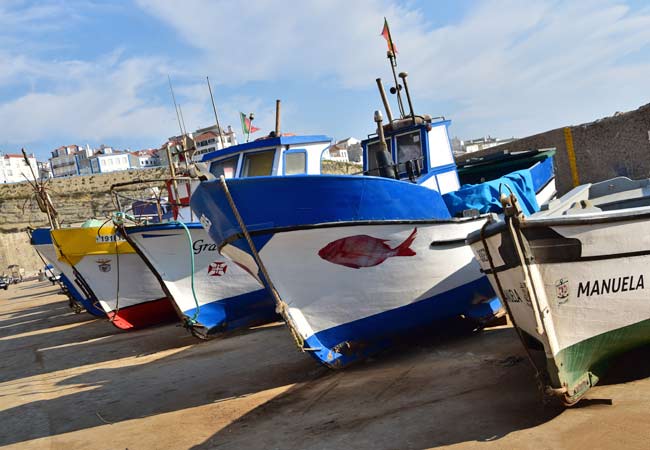 Ericeira's fishing fleet in the Porto de Pesca
Why have a holiday to Ericeira?
Ericeira is a fantastic, if slightly alternative, holiday destination.
The town tends to attract surfers, as well as visitors who seek authenticity and culture over conventional mass tourism. Even with the increased popularity of Lisbon and its coastline, Ericeira has been overlooked - and its style of visitor has barely changed. That said, Ericeira will be packed during the summer with an equal mix of Portuguese holidaymakers, foreigners and long-stay residents. The surf culture of Ericeira does give the impression of attracting younger visitors, but in reality, the town attracts people of all ages.
Ericeira is a wonderful holiday destination if you are an outdoor person, who appreciates nature's raw beauty and wishes to embrace Portuguese culture. Ericeira benefits from being close to Lisbon and its airport (43km away) and is surrounded by many interesting towns and villages to discover (such as Praia das Maçãs, Mafra, Sintra, and Azenhas do Mar).
Generally, any visitor who has sought to find out how good Ericeira is will adore their time here.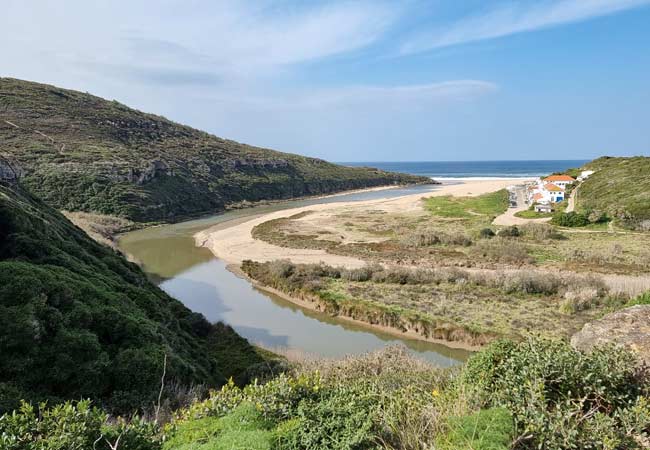 The Rio Lizandro and the unspoilt countryside south of Ericeira
How many days do you need for Ericeira?
Ericeira is one of those destinations where you can spend as long as you like – and many people have chosen to make it their full-time home!
The main sights of the town can be easily seen within 3 hours of sightseeing, which could be extended to a whole day if you include visiting the beaches.
If you are planning to include Ericeira as part of a touring holiday of Portugal, you would want to spend at least two nights here, giving a whole day to explore the town. If you wish to surf (which most visitors do), include a further two or three days.
For a longer 1-week holiday a suggested itinerary could be:
• Day 1 – Explore Ericeira town
• Day 2 – A beach day (either relaxing or surfing) at Praia da Foz do Lizandro
• Day 3 – A day trip to Sintra
• Day 4 – A coastal hike to the Praia de São Julião
• Day 5 – A day trip to Mafra
• Day 6 – A day trip to Azenhas do Mar and Praia das Maçãs*
• Day 7 – A relaxing beach day on the Praia do Sul
*A car is needed for this day
As with anywhere in Portugal, if you are planning a holiday to Ericeira, always book accommodation well in advance.
The map below shows the location of hotels and rental rooms in Ericeira. By altering the date to your holiday, the map will display current prices:
Ericeira for families
Ericeira is also a great destination for a family holiday. The town has a calm and welcoming atmosphere and is ideal for children of all ages.
The Praia dos Pescadores beach is sheltered from the region's strong currents and powerful waves by the harbour wall, and its waters are clean for swimming. For older children, there are the skate ramps at the Boardriders Quiksilver, while many of the surf schools are suitable for children.
Just outside of Mafra is the Aldeia Típica José Franco, a rural museum and traditional village made out of clay by the artist José Franco.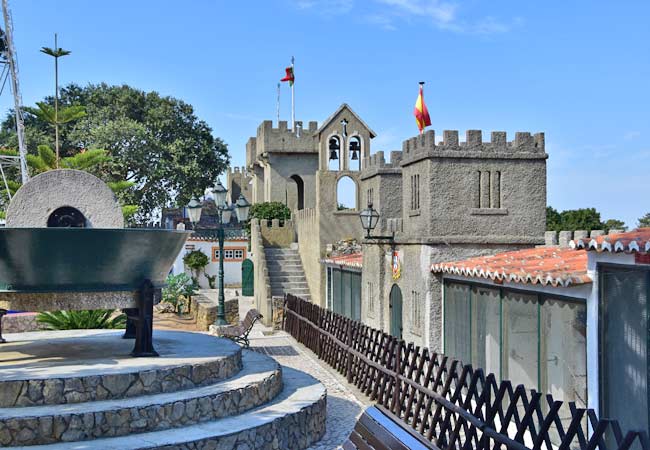 The clay model buildings at Aldeia Típica José Franco
Have you considered a small group tour to Ericeira?
The standard of tours in Portugal is very high, with knowledgeable and enthusiastic guides, and tours that are designed for modern tourists. An organised tours provides the opportunity to fit so much sightseeing into a single day, while removing the hassle of public transport. We have worked with GetYourGuide for the previous five years, and some of their best tours which include Ericeira are:
• Ericeira, Mafra rural beach and wine tour (€95)
• Mafra and Ericeira private tour
• Coastal villages and Mafra Palace (€70)
Surfing at Ericeira
The majority of visitors to Ericeira come here for surfing, which is some of the best in Portugal - if not the whole of Europe.
The entire 2.5km coastline of Ericeira has been designated as a World Surf Reserve (WSR). The region offers every type of wave conceivable, from beginner-friendly deep breaks over sand, through to challenging reef breaks over flat rock ridges.
The two most popular surfing beaches are the Praia de Ribeira d'Ilhas and the Praia da Foz do Lizandro, found at either end of Ericeira. The Praia de São Julião is another fantastic beach for experienced surfers, which lies to the south of the town.
For a surfing holiday, Ericeira boasts outstanding facilities, including numerous hostels, inexpensive eateries and cool bars.
Ericeira is also a popular location for learning to surf, with a variety of surf schools providing excellent tuition. Lessons for beginners start from €40 for a half-day tuition, or you can join week-long surf camps. Some of the best surf schools in Ericeira include:
Ericeira Surf school: http://ericeirasurfschool.pt/
Surf Riders: https://www.surfriders.pt/
Extra Surf School: https://www.extrasurfschool.com/
If you wish to just hire a board for half a day, it will cost €15, but you will definitely need to hire a wetsuit (€15) for the year-round chilly water.
Warning: There are strong rip tides along the coastline. When choosing a location to surf, always follow local advice.
Ericeira also has many excellent beaches if you wish to relax rather than surf. These include the Praia dos Pescadores or the Praia do Sul. If you are on a holiday where one person wants to surf and another doesn't, then the Praia da Foz do Lizandro is the best choice of beach – it has great waves, but is also sheltered from the winds and contains many great beach restaurants and cafes.
Related articles: Ericeira beach guide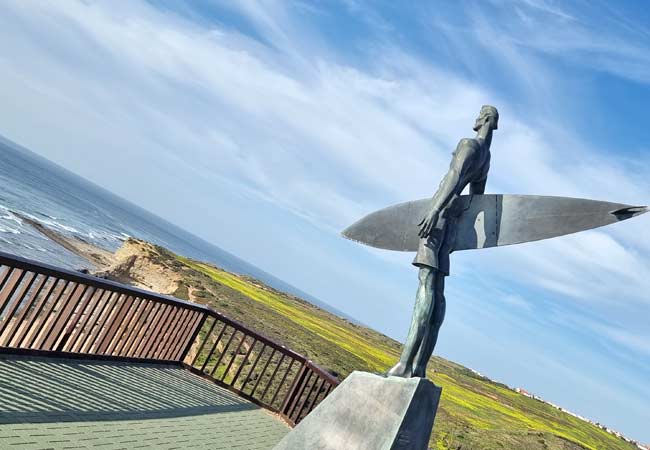 Eating out in Ericeira
Ericeira has no shortage of excellent restaurants catering to all budgets and styles. Being a fishing town, the specialities of Ericeira tend to be freshly-cooked fish or seafood-based dishes.
For traditional Portuguese food, Tasquinha do Joy is always highly regarded, while O Gafanhoto is a favourite with the locals of Ericeira.
For somewhere a bit more special, try the excellent Mar das Latas or the Esplanada Furnas, which offers the best dining view in Ericeira. If you fancy non-Portuguese food, there is the excellent Uni Sushi or the ever-so-popular Tik Tapas.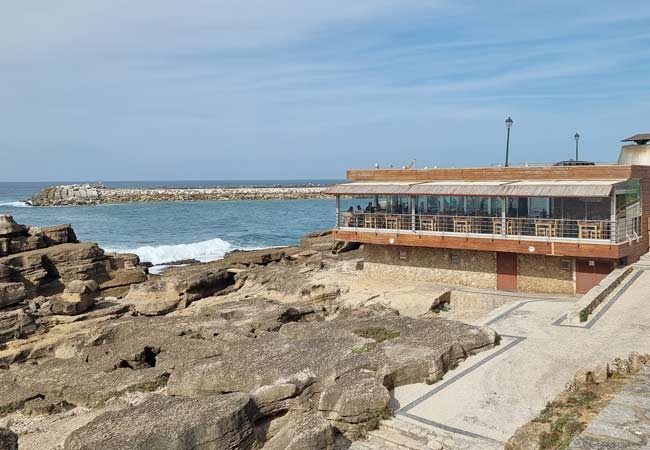 The Esplanada Furnas
Ericeira Nightlife
The nightlife of Ericeira is the perfect blend of relaxed and social – ideal after a day of surfing. It's much calmer than the nightlife in other destinations such as Lisbon or Cascais, as visitors come to Ericeira for the surfing or chilled ambience rather than to party all night long.
The town still offers plenty of night-time fun, with the trendy bars of Tubo, Lebre and Adega Bar 1987, or the craft beer taproom of 5 e Meio. For a decent sports bar with pool tables, there is Tiro Taco, or for a late night there is Ouriço, the oldest nightclub in Portugal that has entertained revellers for over 60 years.
Insight: Sunsets in Ericeira are magical. Just before sunset, perch yourself on one of the cliff-top benches with a beer or wine, and watch as the sun descends over the ocean.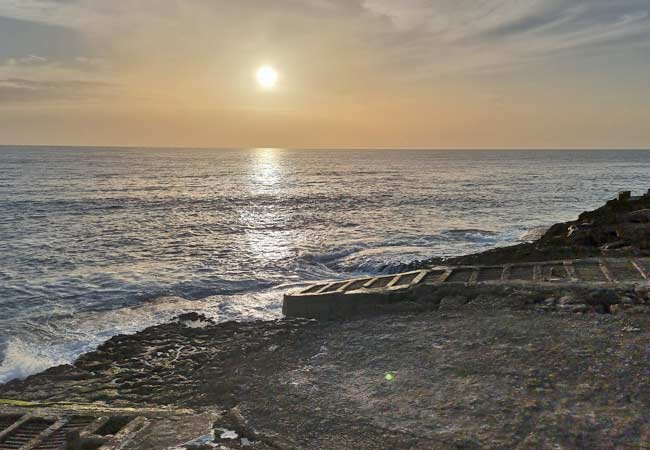 Sunset watched from the Furnas da Ericeira
Travel from Lisbon
Lisbon is connected to Ericeira by a regular bus service that departs from the Campo Grande bus station in Lisbon. A single ticket costs €4.50 and the journey can take anything from 80 minutes through to 110 minutes, depending on the service. The latest timetables can be seen on the Carris Metropolitana websites:
www.carrismetropolitana.pt/
In Ericeira, the bus station is poorly located on the far eastern side of the town (GPS: 38.968253, -9.405161) and is a 1.5km walk to the historic centre. This is a very demanding uphill walk when returning back to the bus station.
Ericeira has no railway station, and there are few intercity bus services. As annoying as it is, for any onward travel to or from Ericeira, it is best to head into Lisbon first. The one exception is the 1633 bus service that connects Sintra to Ericeira (45 minutes, €2.60), which makes visiting Sintra as a day trip possible.
Related articles: Lisbon to Ericeira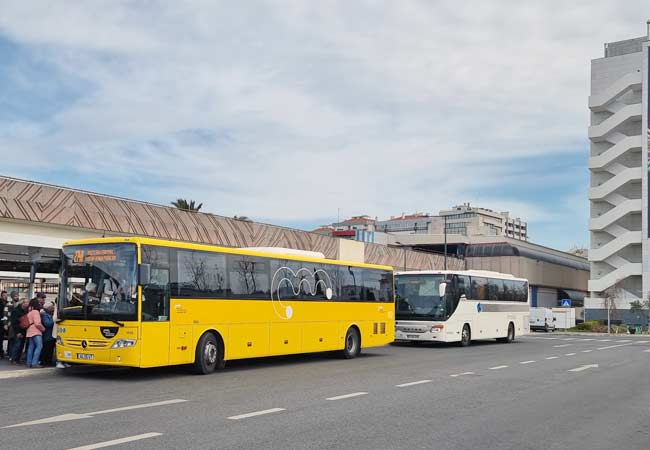 The Carris Metropolitana bus to Ericeira in Campo Grande bus station
The beaches of Ericeira
Ericeira has four sandy beaches within the town itself, two great surfing beaches slightly further out, and a selection of additional, more challenging surfing beaches within the WSR (World Surf Reserve) coastline.
Pescadores beach is the central beach of Ericeira and is very scenic, overlooking the fishing harbour and surrounded by sheer cliffs. The beach is popular with families and sunbathers as it is sheltered from the strong regional winds that often buffer the coastline.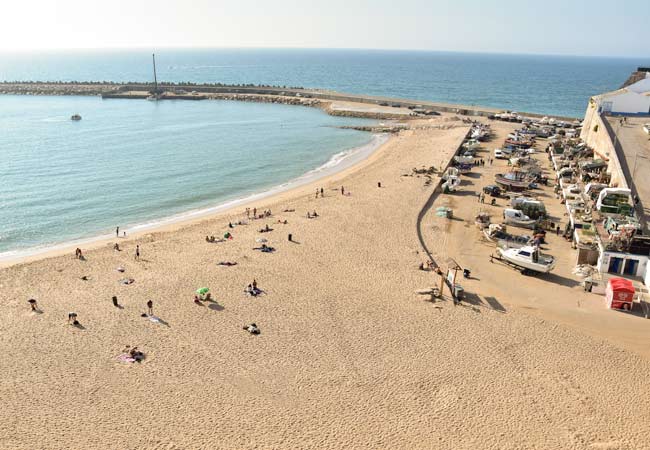 The Pescadores beach, at the centre of Ericeira
Ribeira d'Ilhas is considered as the best surfing beach of Ericeira and is 2km north of the town. The Ribeira d'Ilhas provides consistent and powerful waves, and is where most surfers head for a day in the water.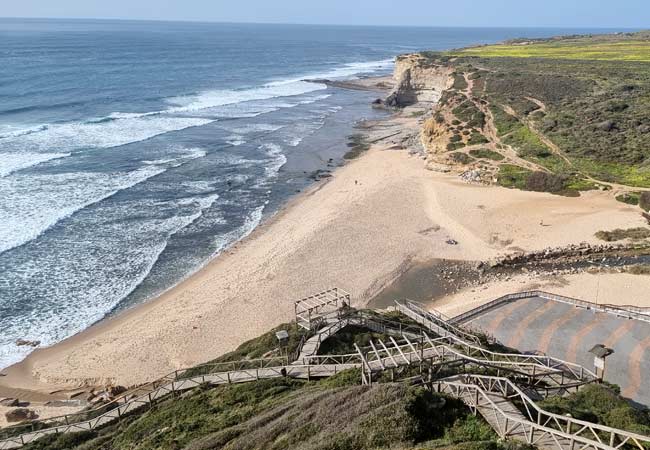 The Ribeira d'Ilhas on the only day in the year when there were poor waves and few surfers!
Lizandro beach is another fantastic location for surfing, but is a great alternative to Ribeira d'Ilhas. It lies at the mouth of the Lizandro river, 3km south of Ericeira, and is the largest sandy beach of the region.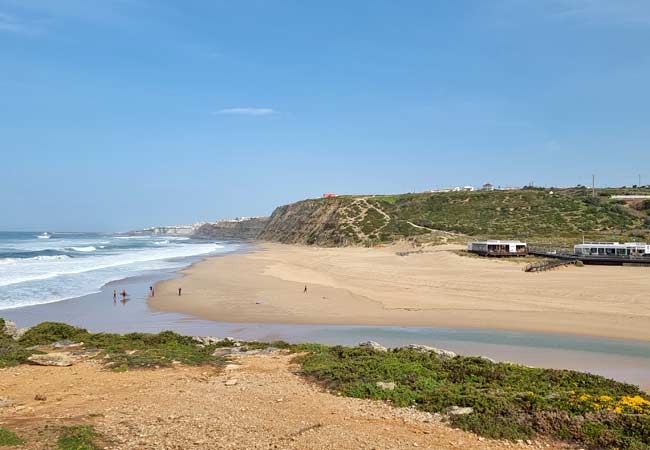 Lizandro is a huge beach, but a little way out of town
Just a short walk from the town centre is South Beach (Praia de Sul), Ericeira's most popular beach, which offers golden sands and clean bathing waters.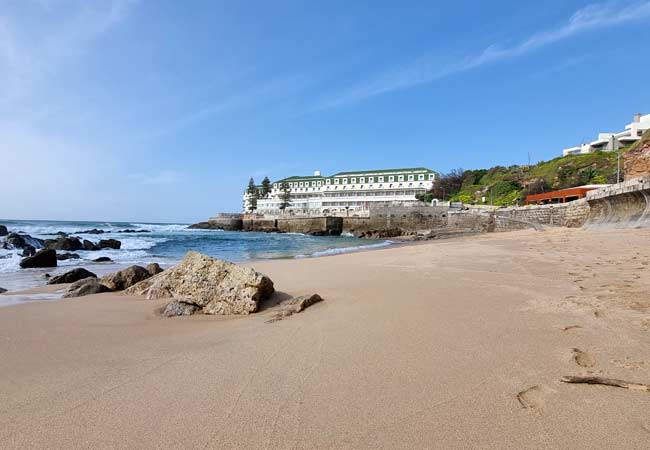 Beautiful Praia de Sul, ideal for a relaxing day on the beach
Sao Sebastiao beach has a beautiful natural setting and moderate waves. It is again close to the town centre of Ericeira, making it popular with a range of visitors.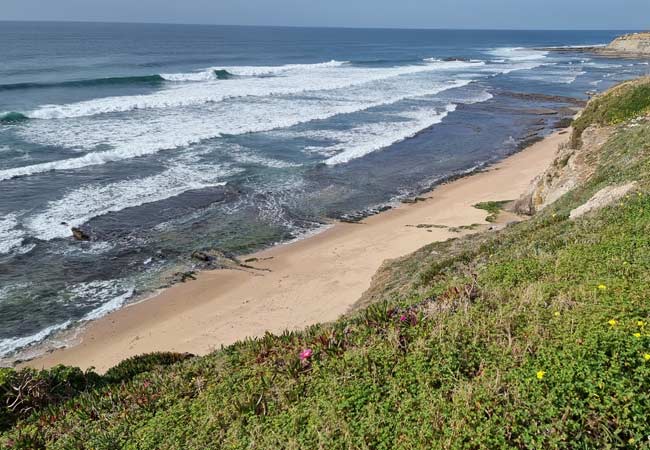 The pristine beach of Sao Sebastiao is less than a 5-minute walk from central Ericeira
Praia do Algodio is the smallest beach of Ericeira, and is ideal for a day relaxing on the beach.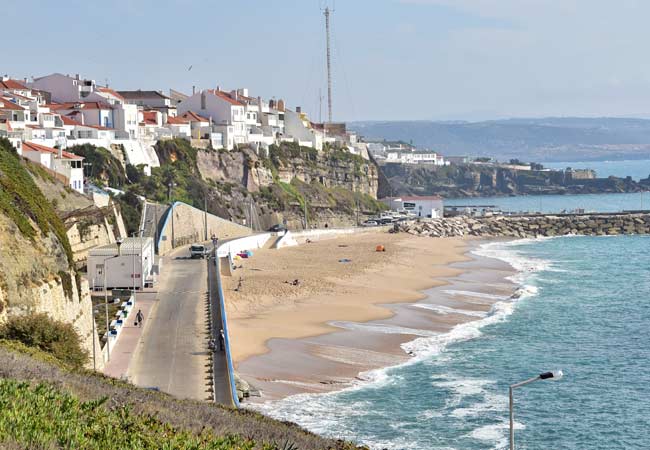 The Praia do Algodio
If you are spending extended periods in the sea, you will need a decent wetsuit, as the sea temperatures are always cold. The water temperature is regulated by the Atlantic Ocean, meaning there is little seasonal variation, rising to just 21C in the height of the summer, while only dropping to 18C in winter.
Related articles: Ericeira beach guide
Discover more of central Portugal with our guides