Ericeira Portugal; a tourism guide for 2023
Ericeira is a charming Portuguese fishing town that is situated along a coastline of outstanding surfing beaches.
This powerful and reliable surf has transformed peaceful Ericeira into a surfing mecca; boasting both a chilled daytime scene and a lively nightlife, along with excellent accommodation options and top-rated tourist facilities.
Today Ericeira is a perfect fusion of Portuguese heritage with an ultra-cool surfing ambience, where traditional fishermen's cottages nestle amongst trendy lounge bars and cafes. Ericeira is adored by the Portuguese, who flock to the town in the summer months, drawn by the beautiful beaches and delicious seafood - for which the town is renowned for!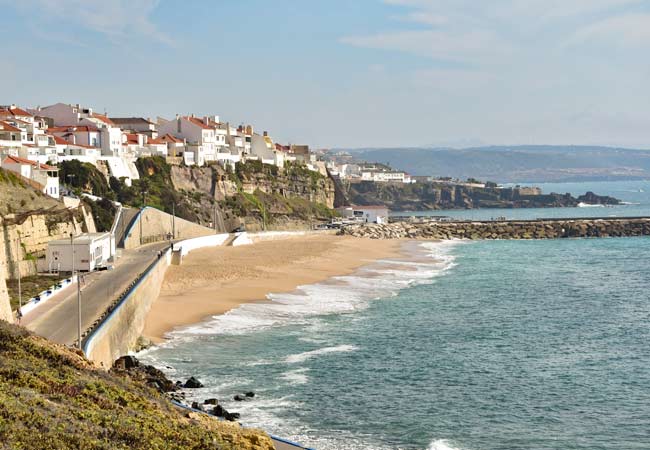 The pristine coastline of Ericeira
The majority of foreign visitors travel to Ericeira for the surf, but during the summer it also becomes a lively and buzzing holiday destination; ideal for young couples and families. Ericeira can be visited as an enjoyable day trip from Lisbon and is often combined with the magnificent monastery of Mafra.
This guide will provide an introduction to Ericeira, one of central Portugal's finest resort towns.
Highlights of Ericeira
• The pristine coastline and glorious beaches
• The traditional fishing harbour
• The seafood restaurants that specialise in the freshly caught fish
• The traditional town centre of cobbled streets and whitewashed houses
Highlights for a holiday to Ericeira
• Mafra Palace & Convent (as a day trip)
• The Ericeira World Surf Reserve (WSR)
• The pretty town of Sintra (as day trip)
• The excellent surf schools
• The dramatic coastline, ideal for hiking or cycling
Why have a holiday to Ericeira?
Ericeira makes for a great, if slightly alternative, holiday destination. The beaches are world-class, there's a lot to see within the region, and it's not too far Lisbon airport.
Luckily, Ericeira has not yet been discovered by mass tourism, and it still retains its delightful Portuguese charm while still providing excellent tourist facilities. Ericeira offers exceptional value for money, especially for food and drink, and this is because the town is geared for surfers and Portuguese tourists.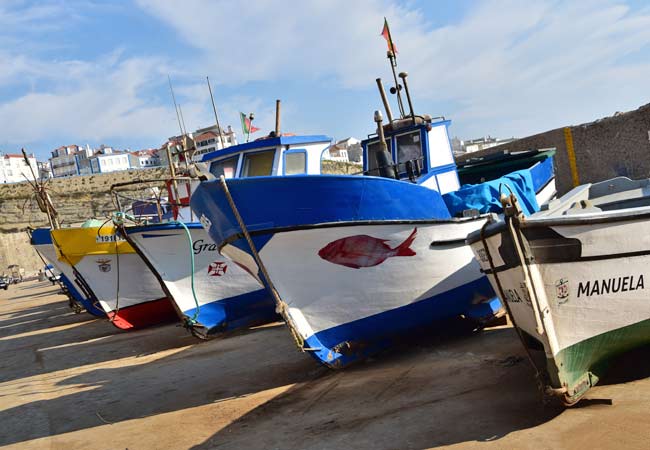 The fishing fleet of Ericeira in the Porto de Pesca
The best activities in Ericeira
Ericeira is a centre for surfing and outdoor activities, some of the best activities offered by GetYourGuide include:
• 2-hour surfing lesson (only €40)
• E-Bike tour from Ericeira to the Cabo da Roca
• Stand Up Paddle Lesson (€80 for two people)
Who should visit Ericeira?
During the summer Ericeira attracts a younger, mainly Portuguese crowd but with all destinations popular with the Portuguese tourists, there will be many families with young children and older relatives.
Outside of the summer, a diverse selection of European nationalities and ages can be found within Ericeira, either drawn by the surf or the relaxed ambience.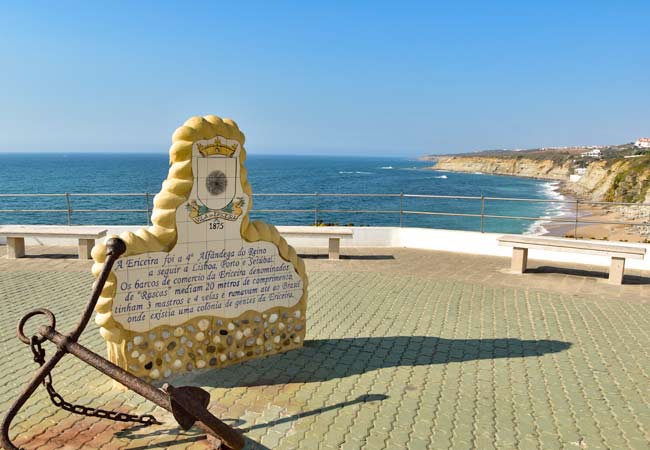 The Largo de Sao Sebastiao viewpoint
Ericeira as a day trip
Ericeira may not have a lot of tourist sights but a very pleasant half day can be had wandering the fishermen's quarter and the coastal footpath. Below is a map of a suggested tour of Ericeira along with all of the region's beaches.
Sights during the day trip 1) Praia de Ribeira d'Ilhas 2) Praia de São Sebastião 3) Capela de São Sebastião 4) Praia do Norte 5) Doca Pesca (fishing docks) 6) Praia dos Pescadores 7) Praia da Baleia 8) Igreja de São Pedro 9) Praia da Foz do Lizandro
Ericeira can be easily visited as a day trip from Lisbon, either by public transport or rental car. Our suggestion for a day trip is to combine Ericeira with Mafra, and visit the Mafra Palace in the morning and Ericeira in the afternoon.
The Mafra Palace is outstanding, but there is not much else to do in the town, while Ericeira is ideal for lunch (or dinner) and a charming place to explore.
Both towns are served by the same bus route, which goes; Lisbon - Mafra - Ericeira.
Related articles: Mafra guide
Have you considered a small group tour to Ericeira?
The standard of tours in Portugal is very high, with knowledgeable and enthusiastic guides, and tours that are designed for modern tourists. An organised tours provides the opportunity to fit so much sightseeing into a single day, while removing the hassle of public transport. We have worked with GetYourGuide for the previous five years, and some of their best tours which include Ericeira are:
• Ericeira, Mafra rural beach and wine tour (€95)
• Mafra and Ericeira private tour
• Coastal villages and Mafra Palace (€70)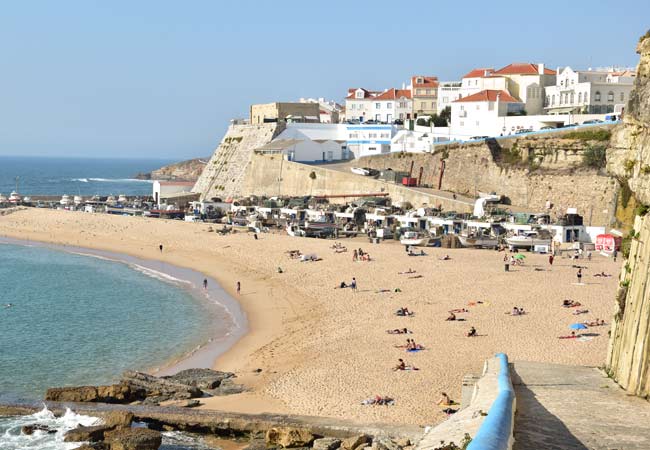 The town of Ericeira is perched on the cliffs above the harbour
Ericeira in the Summer
During the summer Ericeira is extremely popular with Portuguese holiday-makers, and there is a fantastic holiday atmosphere around the town. As it is so popular, expect all hotels sold out and the beaches close to the town to be very crowded.
If you are planning a summer holiday to Ericeira, always book accommodation well in advance, and this is true for the whole of Portugal. The weather is suitable for spending time on the beach from May until the end of September.
The map below shows the location of hotels and rental rooms in Ericeira, and by altering the date to your holiday, the map will display current prices:
The beaches of Ericeira
Ericeira has four sandy beaches within the town, two great surfing beaches slightly further out and a selection of other more challenging surfing beaches within the WSR (World Surf Reserve) coastline.
Pescadores beach is the central beach of Ericeira and is very scenic overlooking the fishing harbour and surrounded by sheer cliffs. The beach is popular with families and sunbathers as it is sheltered from the strong regional winds that often buffer the coastline.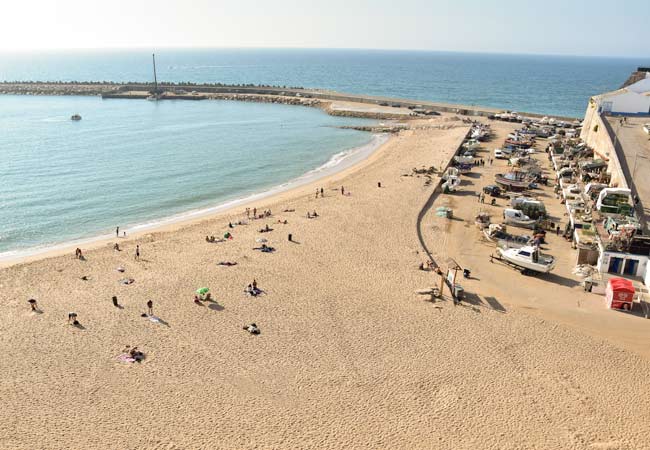 The Pescadores beach, at the centre of Ericeira
Ribeira d'Ilhas is considered as the best surfing beach of Ericeira and is 2km north of the town. The Ribeira d'Ilhas beach provides consistent and powerful waves, and is where most surfers head for a day in the water.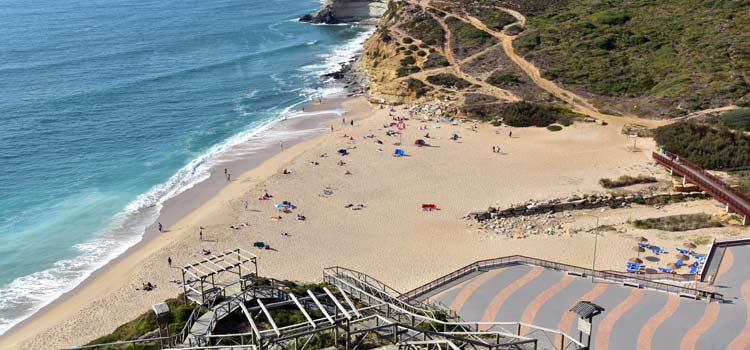 The Ribeira d'Ilhas on the only day in the year when there were poor waves and few surfers!
Lizandro beach has less challenging waves but is a suitable alternative to Ribeira d'Ilhas. Lizandro beach is at the mouth of the Lizandro river, 3 km south of Ericeira and is the largest sandy beach of the region.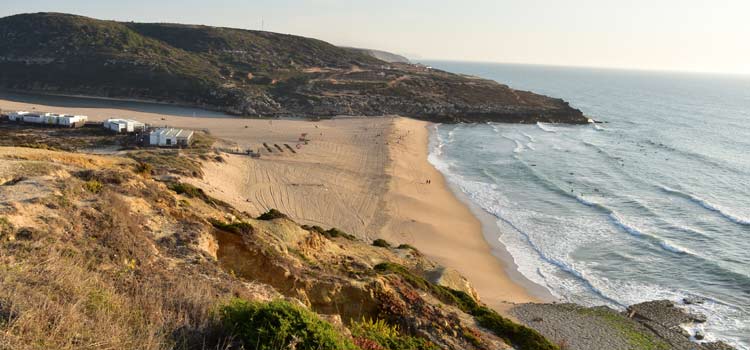 Lizandro is a huge beach, but a little way out of town
South Beach (Praia de Sul) is Ericeira's most popular beach boasting golden sands, clean bathing waters and a just a short walk from the town centre.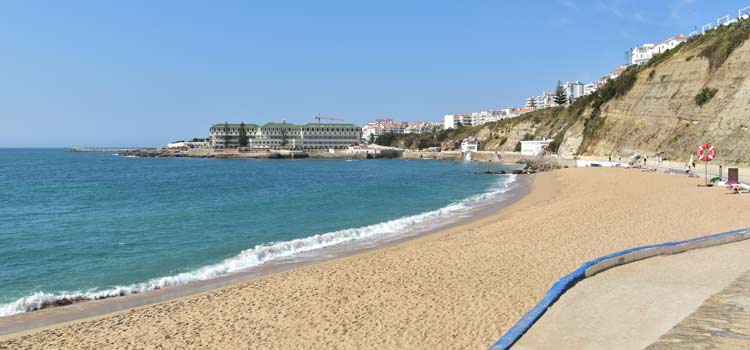 Beautiful Praia de Sul, ideal for a relaxing day on the beach
Sao Sebastiao beach has a beautiful natural setting and moderate waves. It is again close to the town centre of Ericeira so is popular with a range of visitors.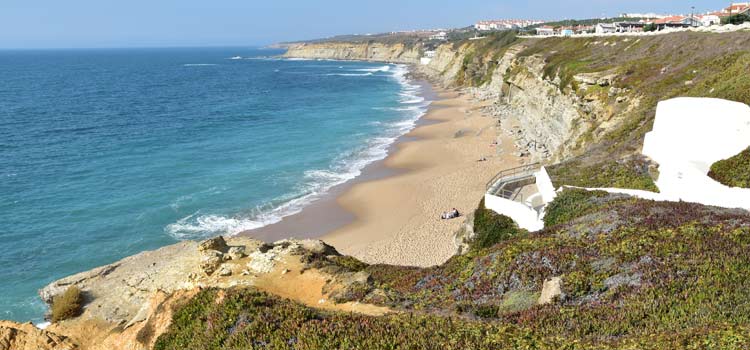 The pristine beach of Sao Sebastiao is less than a 5-minute walk from central Ericeira
Praia do Algodio is the smaller beach of Ericeira, and is ideal for a day relaxing on the beach.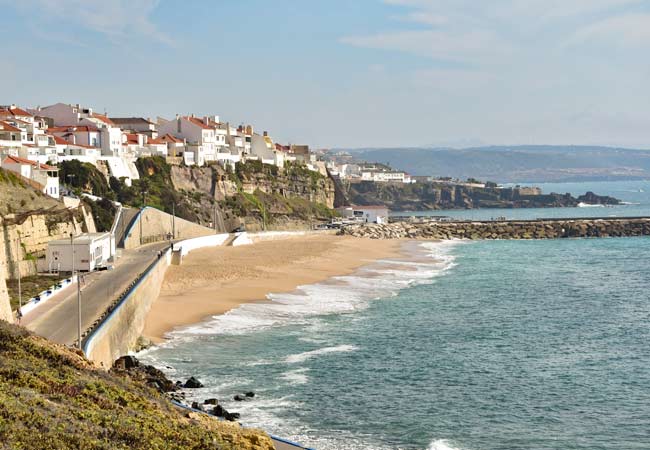 The Praia do Algodio
If you are spending extended periods in the sea, you will need a decent wetsuit as the sea temperatures are always cold. The water temperature is regulated by the Atlantic Ocean, meaning there is little seasonal variation, raising to just 21C in the height of the summer, while only dropping to 18C in winter.
Surfing at Ericeira
The main tourism of the region is surfing, and for this there are excellent facilities, including numerous hostels, inexpensive eateries and cool bars. Ericeira is a popular location to learn to surf, and there are surf schools providing tuition or surf camps. Lessons for beginners start from €40 for a half-day tuition or there are weeklong surf camps. Some of the better surf schools in Ericeira include:
Ericeira Surf school: http://ericeirasurfschool.pt/
Surf Riders: https://www.surfriders.pt/
Extra Surf School: https://www.extrasurfschool.com/
If you wish to just hire a board for half a day it will cost €15, but you will definitely need to hire a wetsuit (€15)
Warning: There are strong rip tides along the coastline; when choosing a location to surf always follow local advice.
Travel from Lisbon
Lisbon is connected to Ericeira by a regular and inexpensive bus service which is operated by the Carris Metropolitana bus company. The latest timetable can be seen on the Carris Metropolitana website:
www.carrismetropolitana.pt/
(link opens new window)
In Lisbon, the bus departs from Campo Grande and is connected to the yellow and green metro lines. The actual bus stop is poorly signed so always allow sufficient time to locate departure stand.
Lisbon airport is the closest international airport to Ericeira.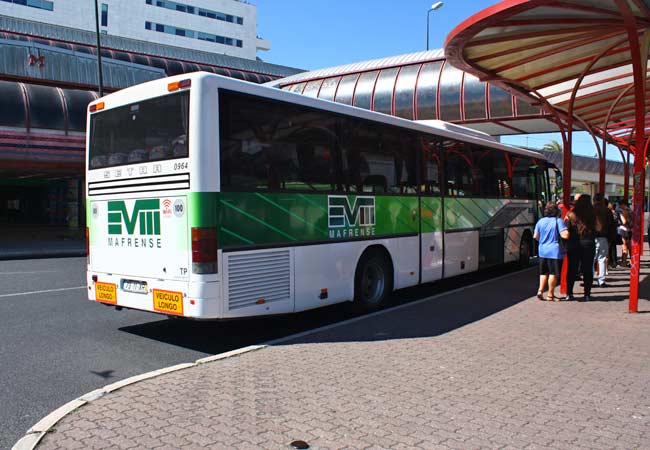 The Carris Metropolitana bus to Ericeira in Campo Grande
Discover more of central Portugal with our guides