Portugal in July; travel ideas for Lisbon, Porto and the Algarve in July
July is a fantastic month to visit Portugal.
This is the hottest month of the year for the majority of Portugal, and is a wonderful month for a beach holiday or city break. July is regarded as the peak season for Portugal, but it will be significantly less busy than in August.
For a beach holiday, there are the lively resort towns of the Algarve or the Costa de Prata with its traditional coastal towns. For a city break, there is vibrant Lisbon or characterful Porto, both of which are fantastic in July. If you wish to visit somewhere completely undiscovered, there is the Alentejo coastline or the far north of Portugal.
July is also the perfect month for a touring holiday, taking in the central region between Lisbon and Porto, or the picturesque Algarve region.
This article will provide a guide to Portugal in July, and includes suggested tours and holiday ideas.
Related articles: 1 week in Portugal – Portugal best beach - Lisbon guide
Portugal weather in July
The weather in July is glorious, with hot, dry weather covering the entire country. The intense summer sun means that the interior of Portugal will be very hot, and any sightseeing is best done early in the day.
You can expect temperatures in southern Portugal to soar above 30C, and this will feel even hotter if you are out in the sun.
The temperature is slightly cooler along the western Atlantic coastline, and there are often cooling evening breezes in Lisbon and Porto. The Algarve is at its finest in July, with an average of 12 hours of sunshine per day – perfect for a beach focused holiday.
Insight: You will definitely want air conditioning in your accommodation during July.
Where to go for a Portuguese holiday in July – our opinion
The best Portuguese holiday in July is either a beach holiday to the Algarve or a city break to Porto.
July is a wonderful month for a beach holiday to the Algarve. The weather is glorious, every activity and sight is full open, but there are not the crowds or hecticness of August.
Porto is outstanding for a city break or holiday. The city has many interesting sights, there are many fascinating day trips, and there are even sandy beaches close by. Porto is just as good as Lisbon, and will be much less crowded in July.
Related articles: Our guide to Porto - Guide to the Algarve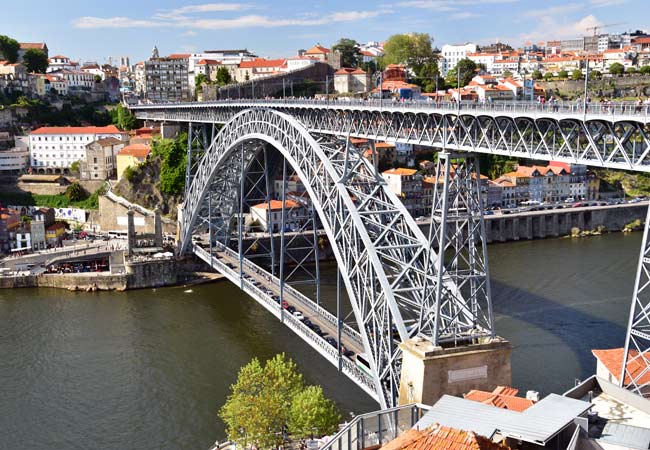 The Ponte Luís I bridge spanning the Douro River in Porto
Portugal holiday ideas in July
The following sections will provide ideas for your July holiday to Portugal.
The first section details touring routes of Portugal that are great in July. The second section details the best beach destinations in Portugal, and includes towns that are ideal for a relaxing, lively or family holiday. The third section provides ideas for a short break to Portugal during July.
Suggested touring routes for Portugal in July
With July's fantastic weather, you could choose any part of the country for your holiday. Three outstanding tour routes of Portugal in July are; Lisbon to Porto, The Algarve, and North Portugal. The suggested tour routes are:
Lisbon to Porto (2-week route) – Lisbon (4 days) with day trips to Sintra and Cascais - Mafra and Ericeira (1 day) – Peniche and Berlenga islands (1 day) - Obidos and Nazare (1 day) – Tomar and Fatima (1 day) - Coimbra (2 days) with a day trip to the schist villages – Aveiro and Costa Nova (1 day) - Porto (4 days) with day trips to Guimarães and Braga
Lisbon to Porto (1-week route) – Lisbon (1 day) – Sintra (1 day) – Cascais (1 day) – Obidos, Nazare and Batalha monastery (1 day) – Coimbra (1 day) - Porto (1 day) - Guimarães (1 day)
Tour of the Algarve - Faro (1 day) - Tavira (2 days) – Albufeira (2 days) with a day trip to Loule – Portimão/ Praia da Rocha (2 days) with a day trip to Silves – Lagos (2 days) with a day trip to Sagres
North Portugal tour - Porto (2days) - Vila do Conde and Viana do Castelo (2days) – Valença & the far north west coast (1day) - Parque Nacional Peneda-Gerês (Castro Laboreiro and Peneda) 1 day driving tour - Ponte de Lima (1 day) - Braga (1 day) - Guimarães (1day) - Lamego (2 days) with Douro Valley tour along N222 road - optional Viseu (1 day) – Aveiro and Costa Nova (1 day)
If this is your first-time visiting Portugal, we would suggest either the 'Algarve Tour' or the 'Lisbon to Porto' route. The 'North Portugal' visits less well-known locations and provides a more authentic Portuguese experience.
The interactive map below displays these routes. The green pins are the 'Lisbon to Porto 2-week tour', the yellow markers is the 'Algarve tour', and the blue markers is 'North Portugal' route. (Note: zoom in to see all of the markers)
Lisbon to Porto (2weeks) 1) Lisbon 2) Sintra 3) Cascais 4) Mafra 5) Ericeira 6) Peniche 7) Obidos 8) Nazare 9) Tomar 10) Fatima 11) Coimbra 12) Aveiro 13) Porto - Additional 28) Braga 29) Guimarães 31) Douro Valley
Tour of the Algarve 14) Faro 15) Tavira 16) Loule 17) Albufeira 18) Portimão 19) Silves 20) Lagos 21) Sagres
North Portugal 13) Porto 22) Vila do Conde 23) Viana do Castelo 24) Valença 25) Castro Laboreiro (Parque Nacional Peneda-Gerês) 26) Peneda (Parque Nacional Peneda-Gerês) 27) Ponte de Lima 28) Braga 29) Guimarães 30) Lamego 31) Douro Valley - Additional 32) Viseu 12) Aveiro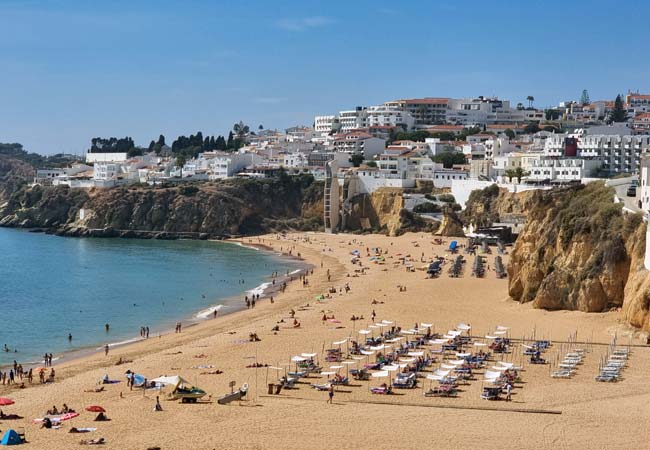 Albufeira is an fantastic holiday destintion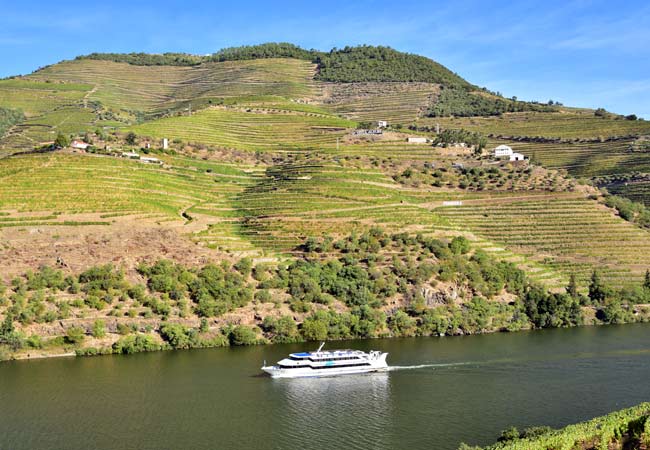 A cruise down the picturesque Douro Valley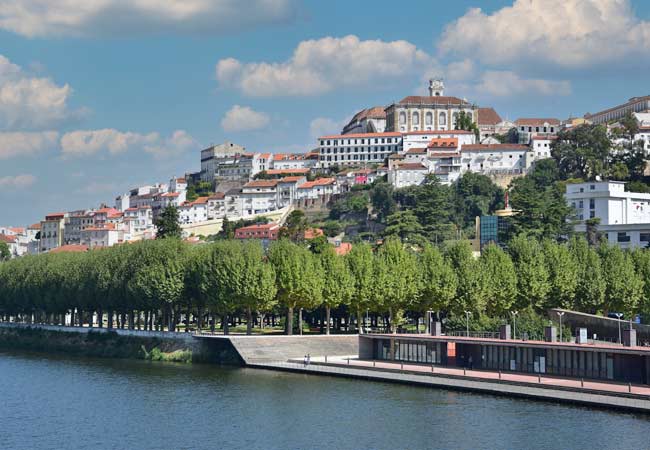 The university city of Coimbra
Beach holiday destinations to Portugal in July
(for an in-depth guide to each destination, do click on the underlined links)
There are so many wonderful beach destinations to choose from in Portugal.
During the peak season, the majority of foreign visitors wanting a beach holiday head to the south of Portugal, and the Algarve region. The main tourist area of the Algarve, is between Lagos and Vilamoura, and this is where all the water parks and theme parks are found.
Albufeira is Portugal's largest resort town, and is a favourite with those seeking a lively holiday with a party atmosphere. For a golfing holiday, or for a more refined getaway, the town of Vilamoura makes an ideal choice. Lagos is a historic city that is situated on a beautiful stretch of coastline, and provides the perfect blend of Portuguese culture and holiday fun.
For a calmer family holiday in July, an ideal choice would be one of the smaller towns in the Algarve region, such as Alvor, Carvoeiro and Olhos de Água.
Note: The Algarve is always extremely busy throughout the summer months. We'd recommend booking flights and accommodation early to ensure you get the best deals.
If you're looking for a more authentic Portuguese experience, consider the town of Tavira in the eastern Algarve. This is a delightful town, and is much more traditional than the tourist-focused towns of the western Algarve.
Our opinion: For a lively holiday go to Albufeira, for a cultural holiday choose Tavira, and for a mix of both styles head to Lagos.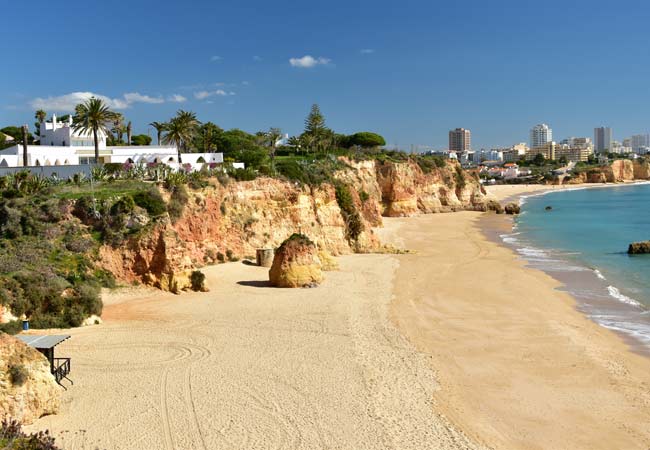 The beautiful western Algarve coastline, this is the Praia dos Careanos just to the west of Praia da Rocha
Atlantic coastline beach resorts
There are also many stunning beaches and characterful resort towns along Portugal's western Atlantic coastline.
In July, the beaches here will be less crowded than those in the Algarve region, with a welcome cooling breeze providing a break from the intense summer heat.
The finest resort town of the Lisbon coastline is Cascais. Known for its stunning beaches, Cascais also offers a lively atmosphere and an authentic taste of Portuguese culture. Also close to Lisbon, and offering a more laid-back alternative, is the town of Sesimbra, which is a popular destination for the Portuguese.
The Atlantic Coast is famed for its surfing, and Ericeira is regarded as the surfing capital of Portugal. To the north of Ericeira is the delightful town of Nazaré, which in winter has waves greater than 30m high.
To the north of Portugal is the pretty beachside village of Costa Nova, with its colourful striped beach houses. The modern resort town of Povoa de Varzim lies to the north of Porto and is a popular summer destination for the city's residents.
Smaller beach towns include Foz do Arelho situated on the mouth of the tranquil Lagoa de Óbidos lagoon, or São Martinho do Porto, with its sheltered cove beach.
The pristine Alentejo coastline provides some of Portugal's quietest and least visited beaches. Along this coastline are vast sandy beaches and picturesque fishing villages, including Vila Nova de Milfontes, Porto Covo, Zambujeira do Mar and Odeceixe. To the northern side of the Alentejo coastline are the paradise beaches of the Troia Peninsula.
The Alentejo coastline is one of the best-undiscovered regions of Portugal - just avoid Sines, the location of a huge oil and gas port.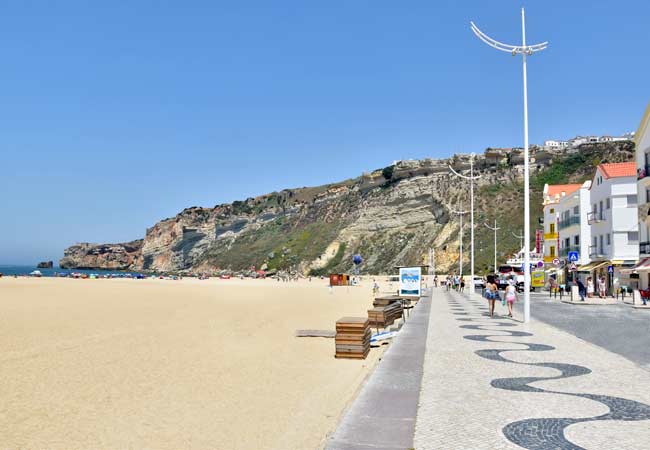 The beautiful beach of Nazaré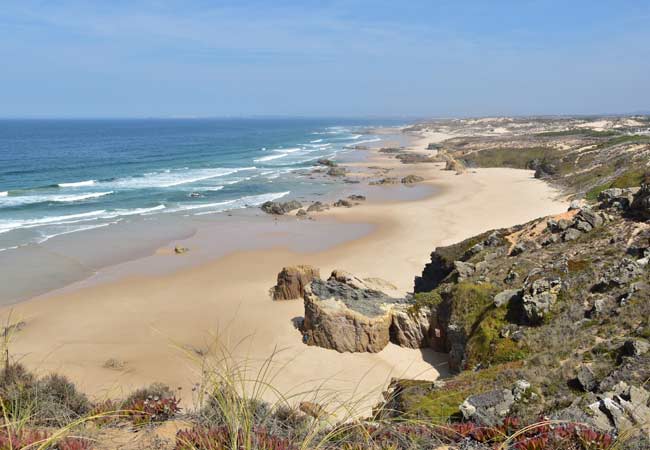 The pristine and deserted Alentejo coastline – this is the Praia do Almograve close to Vila Nova de Milfontes
The map below displays the location of the best beach resort towns in Portugal – the yellow marks are for the Algarve coastline, and the green pins are for the Atlantic coastline.
Beach holiday destions in the Algarve: 1) Albufeira 2) Vilamoura 3) Lagos 4) Alvor 5) Carvoeiro 6) Olhos de Água 7) Praia da Luz 8) Tavira
Beach holiday destions along Atlantic coastline: 9) Cascais 10) Sesimbra 11) Ericeira 12) Nazaré 13) Costa Nova 14) Povoa de Varzim 15) Foz do Arelho 16) São Martinho do Porto 17) Vila Nova de Milfontes 18) Porto Covo 19) Zambujeira do Mar 20) Troia
Weekend trips and city breaks to Portugal in July
If you want a short break, or a weekend away, Portugal makes for a fantastic choice.
Lisbon and Porto are Portugal's two largest cities, and these are popular for short trips. Each offers a vibrant atmosphere, with a huge variety of activities and fascinating sights. They are also within easy reach for many visitors, as each city has its own airport with regular flights to many destinations across Europe.
Porto is the better destination to visit in July. It will be less crowded than Lisbon, with the cooling waters of the Douro River helping to refresh the city.
With three days in Porto, you'll have ample time to explore the historic city centre, enjoy a boat cruise along the Douro River or even try port wine tasting. Day trips from Porto could include Guimarães or Braga.
Lisbon is an amazing city and is always popular during the summer months. During a three-day break in Lisbon, you could visit the Baixa, Alfama and Belem districts. You could also take a day trip to Sintra or spend time relaxing on one of the region's many beautiful beaches.
Another option for a short break, is the Algarve, but you will find that flights and accommodation are expensive if left to the last minute. The resort towns of Albufeira, Vilamoura and Praia da Rocha are ideal for a short dose of sun and holiday fun.
Very few visitors consider Faro as a weekend destination. However, it has a picturesque, historic centre to explore, with day trips to Loule, Olhão, or a visit to the beach at Praia de Faro on offer.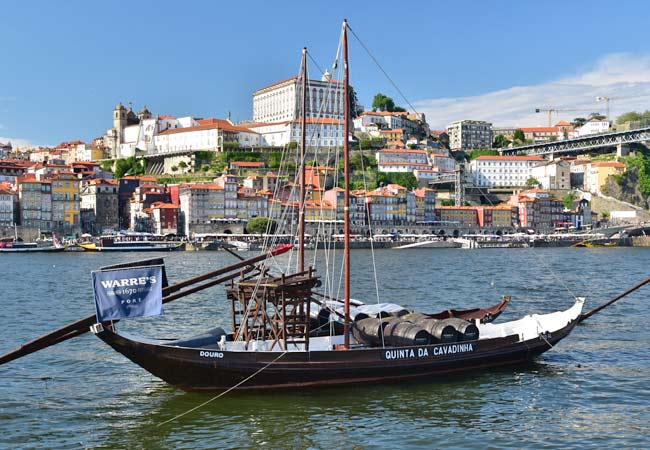 Porto sits on the Douro River and historically boats transported barrels of Port wine to be stored in the huge cellars that line the river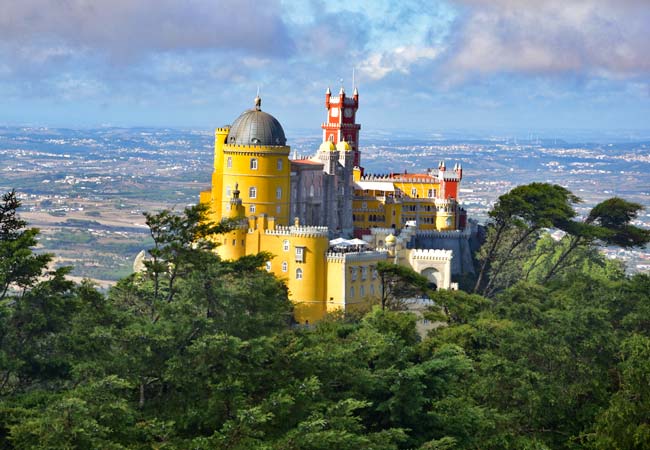 Sintra just outside of Lisbon is the setting of the whimsical Palácio Nacional da Pena