Diana Roman Temple, Evora
The most famous tourist attraction of Evora is the Roman temple, incorrectly dedicated to Diana, the goddess of hunting. The temple is regarded as the best preserved Roman structure on the Iberian Peninsula, having been miraculously preserved by being incorporated into multiple buildings since the demise of the Romans.
Related articles: Introduction to Evora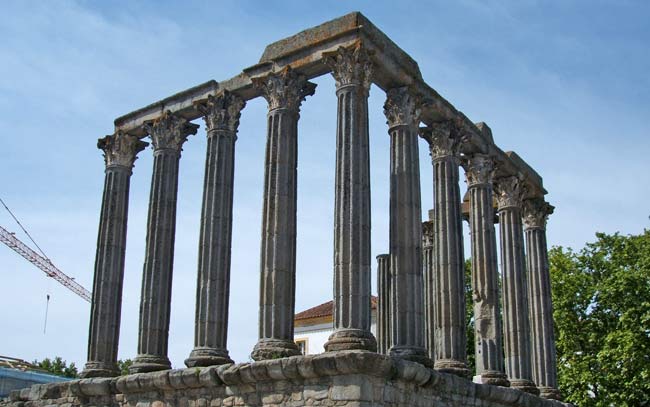 The 12 columns of the Roman temple
These buildings included Evora Castle, an abattoir and finally a humble wood store. Considering the varied history of the Diana temple, it is quite amazing that 12 stone Corinthian columns and the connecting architraves still remain standing and intact. For visitors the Diana temple is a notable sight of central Evora, but it requires only a very brief visit to fully explore.
Tourist Information about Diana Roman Temple
The Roman Temple of Evora is situated in the Largo Conde de Vila Flor square. The temple was constructed at the highest point of the city, so it is very easy to locate, just walk up hill. As the temple is the central feature of the square, it can be viewed at any time of the day and there is no entrance fee.
The temple can be walked around but cannot be entered or climbed over, this means that visits are very brief. To the north of the square is the Jardim de Diana gardens, the Palacio da Inquisiçao and the Museum of Evora, all of them under the shadow of the Sé Cathedral.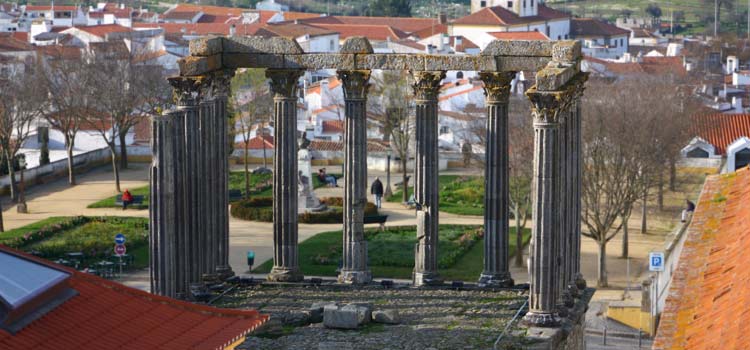 The Diana Roman Temple
History of the Roman Temple of Evora
The original temple had pillars on three sides, as partially seen today, and a wide stair entrance which extended the width of the south side. The importance of the temple in the Roman town of Evora was signified by being constructed on the highest point of the region (300m).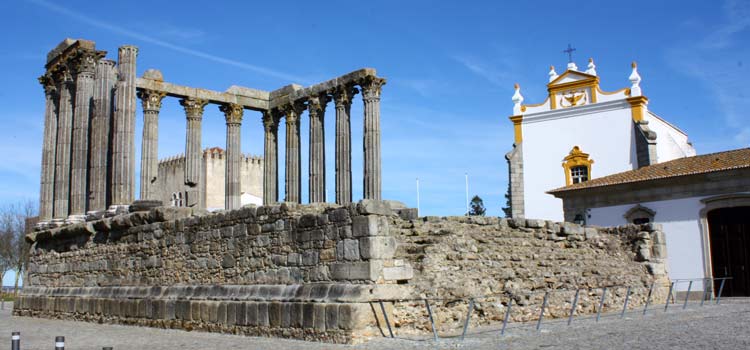 The Diana Roman Temple
The temple was originally constructed in the 1st century, but it was later converted into a temple dedicated to the Roman cult that worshipped the Emperor Augustus. Most of the damage to the temple occurred in the 5th century and was probably due to marauding central European tribes.
In the 11th century Evora castle was constructed around the temple with the base, columns and architraves embedded into the walls of the medieval tower. Later on, the importance of Evora waned and the castle was slowly dismantled, with the tower being converted into a butcher's.
In 1836, the temple was identified and a restoration project was undertaken. This involved the removal of medieval brickwork, which was completed in 1871 under the direction of Giuseppe Cinatti.
Discover more of central Portugal with our guides