Obidos, Portugal; a tourism, day-trip and holiday guide for 2022
Obidos is the finest example of a Portuguese walled town, and is one of the best tourist destinations of the Lisbon region.
Historically, Obidos was presented to the Queen of Portugal on her wedding day, a tradition that began with Queen Urraca in 1214 and continued until the 19th century. This royal patronage has left an enduring legacy of pride within the town, and today it is one of the most characterful towns of central Portugal.
For visitors, Obidos is a charming town to explore; there are narrow-cobbled streets, traditional painted houses, and an imposing medieval castle. Obidos may be just a small town, but there is no better example of a traditional Portuguese town than Obidos.
The region surrounding Obidos is as equally fascinating, there is the working fishing port of Peniche, the pristine beaches of Lagoa de Obidos and even Europe's largest collection of Buddha statues, at the Buddha Eden. Obidos is a great base from which to exploring this enthralling region, and the town is rapidly becoming a popular destination for a holiday.
This article will provide a tourist guide to Obidos, and provides links to further in-depth information.
Highlights of Obidos
Related articles: Sights and tourist attractions of Obidos
Quick details for a day trip to Obidos
Quick Details for a day trip to Obidos
• The typical length of time in Obidos: 2-3 hours
• Expected cost for a day trip: €35 per person
• Lisbon to Obidos bus ticket: €8.00/€15.9 (single/return)
• Length of bus journey: 60 min
Related articles: Day trip to Obidos – Day trips from Lisbon
Our honest and independent opinion of Obidos
Obidos is one of the best day trips from Lisbon, but the town suffers from its own popularity. During the summer Obidos is crowded with coach tours and day-trippers, and visitors have to push their way through the masses up to the castle. We always suggest visiting early in the day, before the arrival of the coach tours, or to spend a night, which has recently become a popular option.
You should also be aware that Obidos is only a small town, and it can be fully seen within a couple of hours. There is much less to see in Obidos than in Sintra or Cascais, but this does not detract from the main appeal of the town: it's charm.
If you do join a multi-destination tour, be aware that these coach tours do not provide enough time for Obidos (as they rush on to Fatima, Batalha or Nazaré), and only allow enough time to walk along the main street, see the castle, and have a glass of Ginjinha d'Obidos.
Obidos may be small and is often crowded with tourists, but it is still one of the most enchanting towns of Portugal, and we highly recommend that you visit.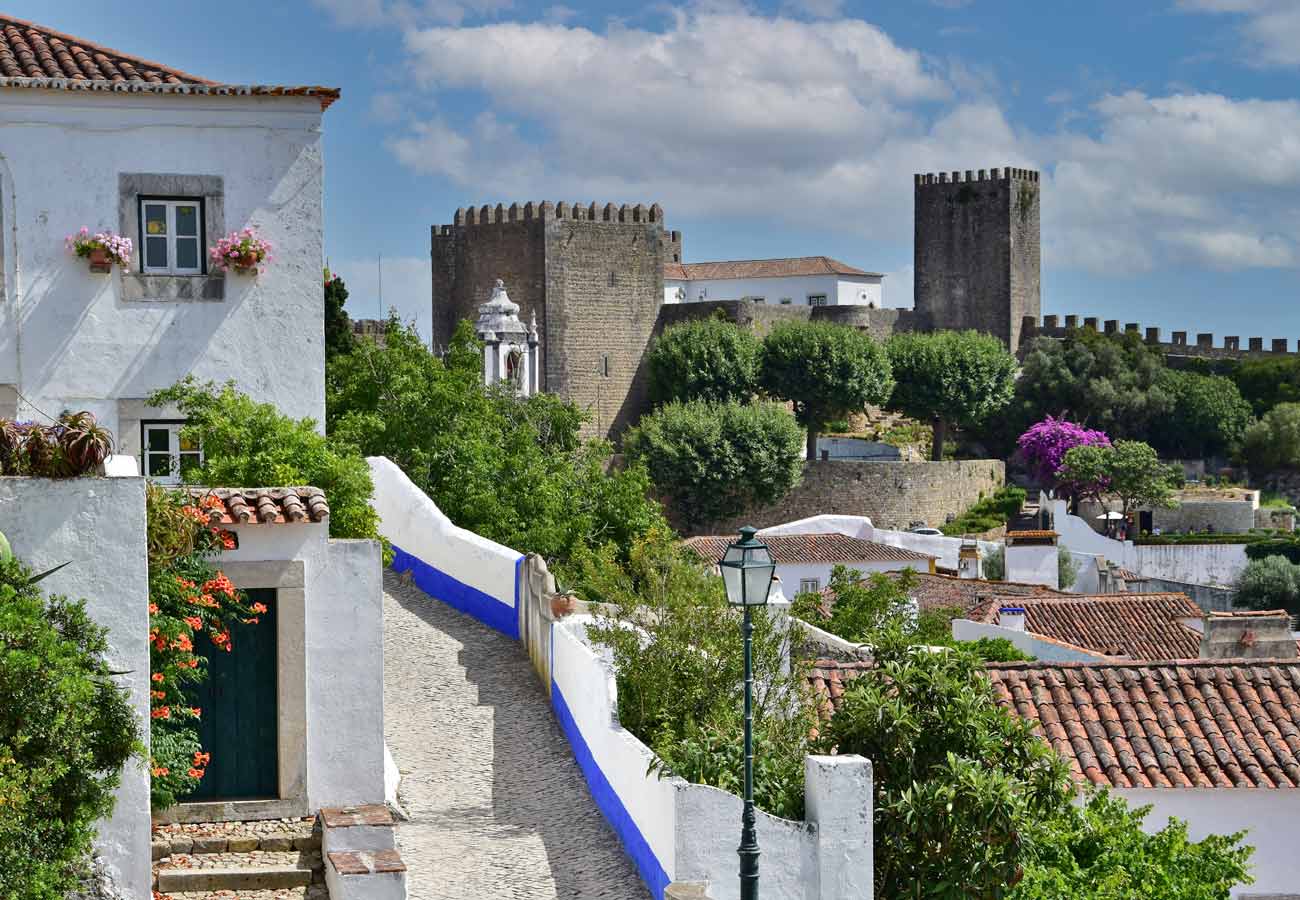 Obidos is one of the prettiest towns of Portugal
Obidos as a part of your holiday
Obidos is one of the best day trips from Lisbon and is highly recommended if you are on holiday in the Lisbon region for five or more days. Our suggested order for day trips from Lisbon is:
1) Sintra, 2) Cascais, 3) Obidos (or Evora) 4) Setubal 5) Mafra/Ericeira.
Obidos can also be included as a side excursion when driving between Lisbon and Northern Portugal (Coimbra or Porto), as it is very close to the A8 expressway.
Related articles: 1 week in Lisbon – Sintra guide – Cascais guide – Setubal guide
Obidos as a day trip
The day trip to Obidos is hassle-free and suitable for all ages. There is a direct express bus service connecting Lisbon to Obidos, and the town is compact and easy to explore, with sufficient sights to fill a half day of sightseeing.
The main advantage of visiting Obidos independently (instead of joining a guided tour) is that the day can be planned to avoid the main peak hours and longer time can be spent within the town. This extra time could be used to walk around the city walls or explore the backstreets.
Related articles: A day trip to Obidos
Warning: The city walls have no railings and are very uneven – they are not suitable for children.
Organised tours to Obidos
Organised tours are ideal if you are limited for time or do not want the hassle of public transport. The general standard of organised tours in Portugal has vastly improved over the last few years, and tour guides are enthusiastic and knowledgeable.
We have worked with GetYourGuide.com over the last five years and these are some of their better tours which include Obidos:
• A Popular tour of Fatima, Obidos, Batalha and Nazaré (€65)
• Fátima, Nazaré, Óbidos & São Martinho do Porto Full-Day Tour (€60)
• Óbidos, Fátima and the Atlantic Coast (€65)
Do note: Multi-destination tours will only spend 30-60 minutes in Obidos.
Obidos as a holiday destination
Obidos is ideal for visitors who are seeking a calm and authentic Portuguese experience, far removed from the hecticness of Lisbon or the beach towns. Once all of the day-trippers leave Obidos, the town has an infectious relaxed and peaceful ambience, where long evenings are spent in the family-run restaurants eating traditional home cooked food.
Highlights of the Obidos region include; the surfing beaches of Baleal (near Peniche), the monastery of Batalha, the traditional resort town of Nazaré, and the Berlenga islands. To get the most from a holiday to Obidos a rental car is recommended.
Related articles: Nazaré Guide - Batalha Guide
Hotels and accommodation in Obidos
Obidos has a very limited number of hotels, which makes accommodation always in high demand. This is especially true during the peak season when the town and surrounding region will be fully sold out. Our advice is to book accommodation as soon as possible, before the best locations are gone.
Undiscover highlight: Foz do Arelho is a delightful beach town only 7km from Obidos.
The map below shows the location of hotels and rental rooms in Obidos; by altering the date to your holiday, the map will display the current prices:
Hint: Zoom in to see more hotels....
Public transport between Lisbon and Obidos
The best method to travel to Obidos from Lisbon is by the express bus. The bus service departs from Campo Grande bus station, which is located on the green and yellow metro line. The journey takes 1 hour and a single ticket costs €8.00 (there are no return tickets so two single tickets must be purchased).
The express bus to Obidos is operated by the Rodojejo bus company, and the route (which is called the "Rapida Verde") connects Lisbon to the city of Caldas da Rainha. There are many bus departures Monday to Friday but fewer services at the weekend.
There is a train station in Obidos, but the train is a slow regional service and has a very long journey time, of over 2hours, so is it not a sensible option.
Related articles: Lisbon to Obidos
What to combine a day trip of Obidos with?
Obidos can be easily seen within a couple of hours, and the day trip could be combined with Caldas da Rainha, Peniche, c or the Buddha Eden.
For a day trip which takes in multiple towns a rental car is recommended, but there is a regular bus service between Obidos and Peniche (25km, 40 min €2.75 fare, see http://rodoviariadooeste.pt/), or express bus to Caldas da Rainha (10km 15min). Another option with a car is to visit Mafra palace on the way back to Lisbon.
A glass of Ginja
The Obidos region is famed for the cherry liqueur called Ginjinha d'Obidos and no trip to Obidos is complete without savouring this sweet tasting drink in one of the town's small bars.
Ginja is produced by infusing Morello cherries in Aguardiente (hence the strength of the drink!) and is served with a cherry in the glass. A modern twist is to serve the drink in a chocolate cup.
Interesting fact about Obidos
Up until the 15th century there was a natural harbour on the western side of Obidos and ships would moor at the base of the battlements. The coastline was altered dramatically from the 15th century due to a tsunami and ferocious winter storms.
These powerful natural forces formed sandbars that reduced the flow of water to the harbour and formed the present coastline which is 10km to the west of Obidos. From the city walls in Obidos there clear views over the much-depleted harbour, which forms the Lagoa de Obidos.
Buddha Eden
Hidden within the rolling farmland and vineyards of the Obidos region is Europe's largest collection of Buddha statues. This unique collection includes terracotta statues, pagodas and Buddha statues, and are set amidst the grounds of a traditional Portuguese farm. The Buddha Eden is 10km south of Obidos, the entrance fee is €3 and a typical visit is 1 hour.
The Buddha Eden should be included in day trip to Obidos for those visitors with a car and is found in the Quinta dos Loridos, 10km south of Obidos. The entrance fee is €3 and typical visits last 1 hour.
Obidos for golf
Obidos is in a region of outstanding golf courses. The West Cliffs Golf Links, which opened in 2017, was named the World's Best New Golf Course, while the Bom Sucesso course is part of the exclusive European Tour Properties network. The links to the websites are:
• Bom Sucesso - http://guardiangolf.net/EN
• West Cliffs Golf Links - http://www.westcliffs.com/en/golf
(links open new tabs)
Our most popular Obidos articles