Central Portugal and the Silver Coast Tourism Guide
Central Portugal and the Silver Coast is the fascinating and diverse region situated between Porto and Lisbon. This varied and historic region incorporates the remote mountains of the Serra da Estrela, the stunning beaches of the Silver Coast, the historic cities of Tomar and Coimbra and the pilgrimage destination of Fatima.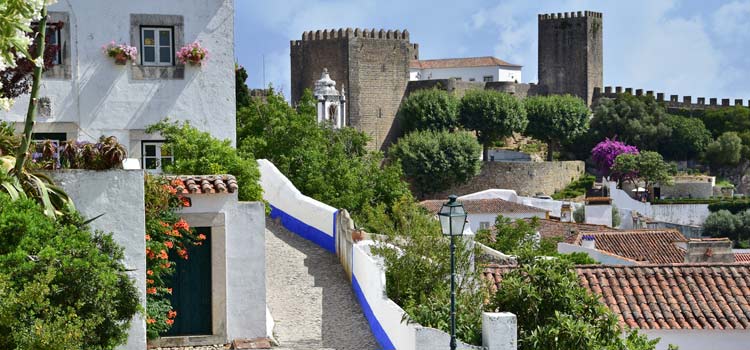 The pretty walled town of Obidos
The extensive selection of sights and activities will appeal to a range of visitors but sadly this region is rare considered as a holiday destination or simply rushed through. For those intrepid tourists who take the time to discover this varied region will be rewarded with a land rich in culture, history and beautiful natural scenery. This guide will provide an introduction to the Central Portugal region and summarises the main tourist attractions, the best natural scenery and suggested tour routes.
Top Monuments and Buildings of Central Portugal
• The Covent of Chirst (Tomar)
• The walled town of Obidos (Click here for a guide to Obidos)
• Almourol castle (10km south of Tomar)
• Mosteiro da Batalha
• The university of Coimbra
• Bucaco Palace and grounds
• Piodao the prettiest (and remote) of the schist villages
• The canals and water ways of Aveiro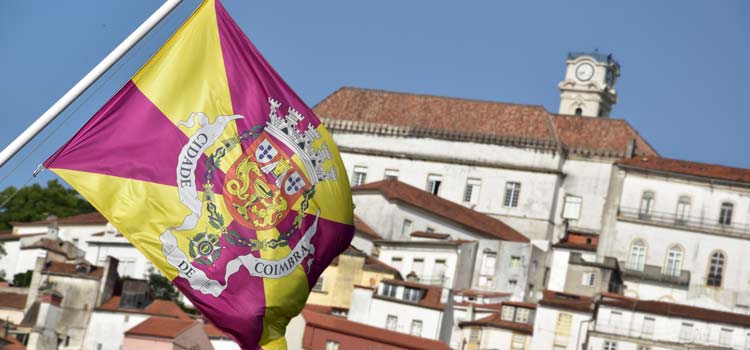 The university complex of Coimbra
Natural Scenery Highlights of Central Portugal
• Berlengas islands – dramatic natural scenery, weather cliffs and barren island which is a haven for marine life and birds. (Guide to Berlengas)
• The beach of Praia de Mira or Praia Tocha
• Serra da Estrela the highest mountain range in Portugal
• The view from Sitio cliff in Nazaré.
• The colossal autumn waves at Praia do Norte (Nazaré)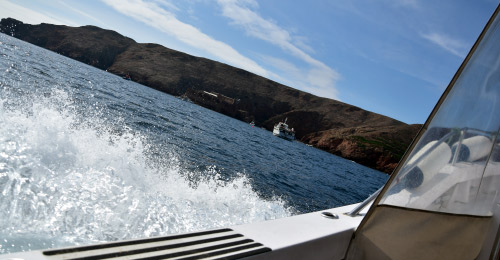 On the boat to the Berlengas islands
Average weather for Central Portugal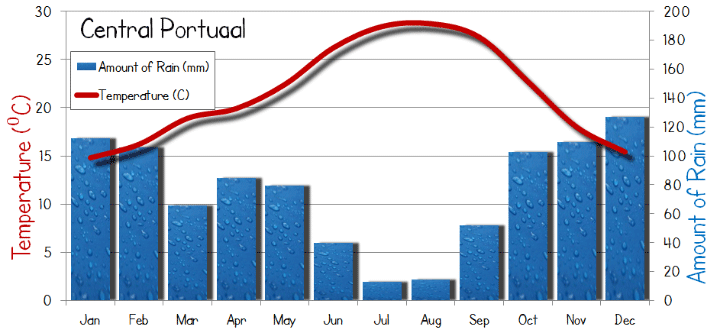 The average weather condistions for Central Portugal and Silver coast
Best Beaches of the Silver Coast
• Medão (Supertubos Beach) beach with the perfect tube surfing waves (Peniche)
• Praia do Carreiro do Mosteiro (Berlengas Island), small beach surround by huge cliffs with turquoise waters teaming with fish overlooking the pretty harbour.
• Baleal beach, popular surfing beach north of Peniche
• Praia Tocha (north of Figueira da Foz) unspoilt sand dunes beach with great surfing waves.
• Praia da Nazaré – The beach on the front of Nazaré is one of the best of the Silver coast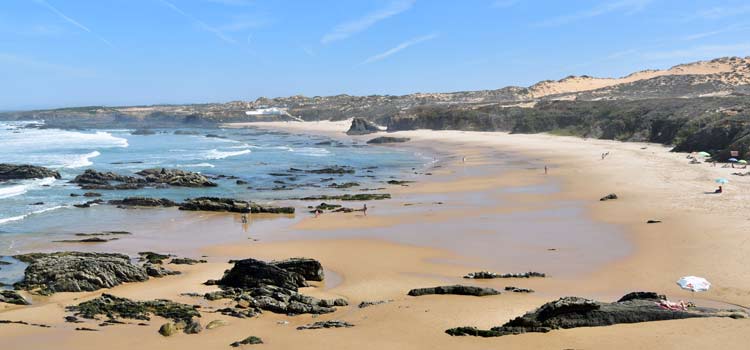 The Silver Coast has amazing surfing beaches
A suggested tour of Central Portugal using public transport
This the following list provides a suggested tour route of central Portugal and this route is possible via public transport.
• Lisbon (Lisbon Guide)
• Tomar (1 night – journey by train) (Tomar Guide)
• Fatima (1 night – journey by bus)
• Nazaré or Peniche (1 night - journey by bus) (Peniche Guide)
• Coimbra (2 nights - journey by bus) (Coimbra Guide)
• Aveiro (1 night - journey by train)
• Porto (journey by train) (Porto Guide)
Notes: The stay could be longer in Nazaré or Peniche as these are both great beach resorts with fabulous beaches. The second night in Coimbra could allow for a tour of the schist villages or trip to Bucaco Palace. To include Lisbon requires 3 days, Porto 2 days and while in Lisbon visit Sintra for1 day.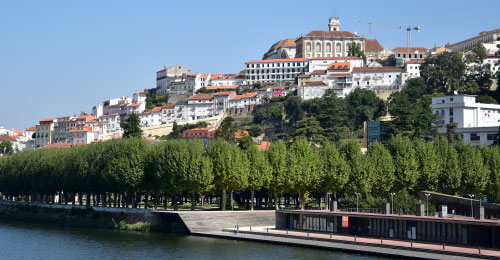 Coimbra is sitauated on the banks of the Mondego river
A suggested Tour from Lisbon to Porto with a rental car
• Day 1 – Odidos and Batalha
• Day 2 - Tomar
• Day 3 - Fatima
• Day 4-5 - Peniche or Nazaré (include relaxing day on the beach)
• Day 6 - Coimbra
• Day 7 - The schist villages
• Day 8 - Serra da Estrela
• Day 9 - Aveiro
• Day 10 - Porto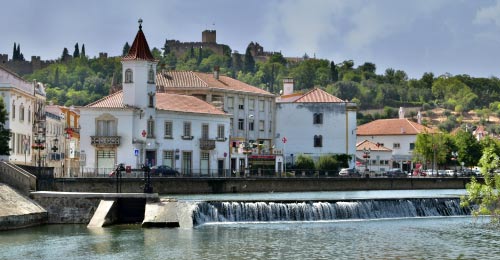 Tomar is a pretty and historic town
Where to have a base for a holiday?
For those tourist who prefer to have one central location and not to be constantly touring the recommended base city is Coimbra. Coimbra is a historic and lively city that has great facilities and even better public transport connections. From Coimbra it is possible to explore most of the central Portugal region.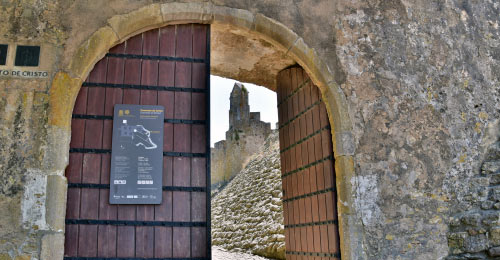 Tomar castle and Covent of Chirst
Discover more of central Portugal with our guides