Igreja de Nossa Senhora da Consolação, Elvas
One of the hidden gems of Elvas is the Igreja de Nossa Senhora da Consolaço, that over looks the pretty Largo de Santa Clara. From the outside the bland church appears no different from the surrounding buildings but inside church are a myriad of beautiful painted objects.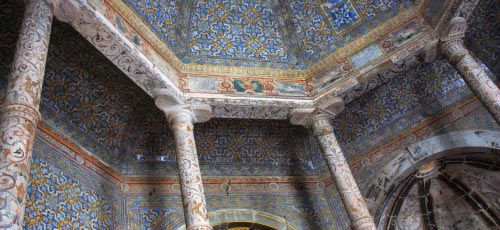 The beuatiful tiles of the church
These features including wall and ceiling tiles (azulejos), beautiful marble support columns and lavish gilded alters. The Consolaço (Consolation) church may be one of the smallest in Elvas but it is by far the most visually stunning while its history is intertwined with the mysterious Knights of the Templar.
Consolacao Church Tourist Information
The Igreja da Consolaço lies to the north of Elvas and is on the Largo de Santa Clara. There is no entrance fee to visit the church. The Consolation church is open Tuesday to Friday (closed Monday) between 9:30 until 12:30 and 14:30 through to 17:30. Due to the size of the church visitors will spend only a short while in the church.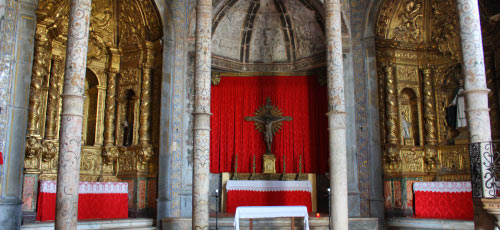 The alter in the unique eight sided church
Details About the Igreja Consolacao
The very bland exterior of the church is painted in the traditional colours of the Alentejo (white and yellow) and the main portal is of Renaissance design. The first feature which visitors notice on entering is the strange shape of the church, which does not follow the common Latin Cross design as with the majority of churches in Portugal adhere to. The design is of an octagonal shape and the reasoning is attributed to two similar theories.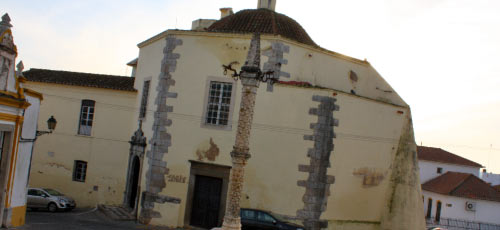 The bland exterior of the church
The first hypothesis is that, as the church was constructed on the old Knights of the Templar church and the original layout was simply amalgamated into the newer church. The second theory is that the architect was inspired by the grand Templars cathedral in Tomar but both theories have links to the Templars and this was probably their secular base within the region.
There are three gilded alters dedicated to Saint John the Baptist, Saint Thomas Aquinas and Saint Dominic while the walls are cover in 17th century azulejos. Raising from the floor are the painted marble pillars that support the stunning doomed roof that contains 5 painted panels.
History of the Igreja da Consolaço
The Igreja da Consolaço was constructed in 1557, on the site of the old Templar church, as a section of the city's convent. In 1590 a new convent was added to the cathedral and the old convent was demolished leaving the Igreja da Consolaço to stand on its own.
Discover more of Portugal with our guides