Portugal on a budget
Portugal is an outstanding holiday destination especially if you are travelling on a tight budget or are a backpack traveller. Portugal is one of the cheapest countries in Western Europe, but still offers stunning beaches and fascinating cities.
Overall Portugal has inexpensive public transport, reasonably priced accommodation (if booked well in advance) and good value food, if you know where to look.
This article will provide a guide to visiting Portugal on a budget, along with practical tips to make your money stretch that bit further.
Travel like a local, not act like a tourist…..
Portugal can be an inexpensive country for a holiday, this is due to the average wage being only €620 a month.
The key point for an inexpensive holiday to Portugal is not to act as a tourist but live like a local. Travel by public transport, shop at local markets and eat in cafés or supermarkets.
Insight: English is much more widely spoken in Portugal than in Spain, France or Greece. Language will rarely be a barrier when trying to live like a local.
It is very possible to visit Lisbon or Porto on a budget of €40 a day (€17 dorm room, €15 food and €8 entertainment & transport) or find an out of season holiday to the Algarve for less than €300 (two people, 1 week, flights and accommodation).
The season is important for budget travel
Portugal along with the whole of southern Europe, is a summer holiday destination. At the height of the summer flights will be at their most expensive, hotels fully booked, and good value rental rooms/villas sold out.
If you are forced to have a holiday in the summer, due to work or school commitments, always book everything as far in advance as possible. Another summer tip is to look for lesser known holiday locations, or places the Portuguese go on holiday. Why head to the expensive Algarve when the western Portuguese coastline offers much better value (places such as; Sesimbra, Nazaré, Espinho, Costa Nova or Povoa de Varzim).
Note: The Algarve is still considered as one of the cheapest package holiday destinations in Europe. Research conducted by the Post Office (UK) concluded it was the second cheapest holiday destination, only being beaten by Sunny Beach in Bulgaria:
https://www.postoffice.co.uk/dam/jcr:3fc064dc-67b8-4df7-a956-2a906ea6877e/holiday-costs-barometer-2019-tables.pdf
(link opens new tab and is a PDF so it may download on certain mobile phones)
A much cheaper season to visit Portugal is during the spring or late autumn. May and June are a great time for a beach holiday while the spring months and October are an ideal time for a city break or touring holiday. Lisbon and Porto are bustling cities and can be visited almost year-round, so long as you can accept the possibility of the odd day of rain in the winter months.
Advice: The weather is suitable for spending time on the beach from late May until the end of September. The Algarve should never be considered as a winter sun holiday destination, but it does have the best weather of mainland Europe in December and January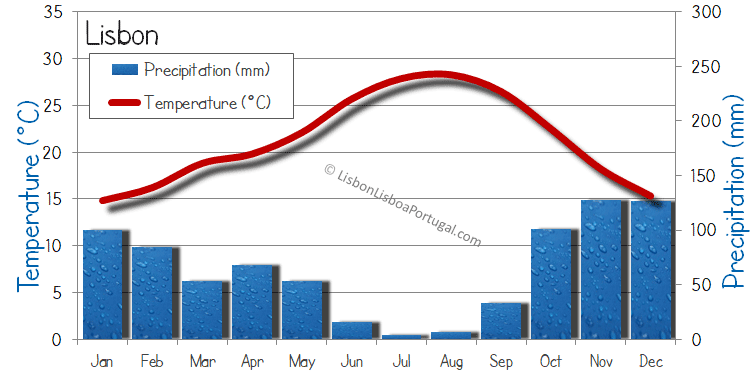 The average weather of Lisbon
Where to go on a budget?
There are three main tourist centres of Portugal, focused around the three airports; the Algarve, Lisbon and Porto. The beautiful southern coastline, known as the Algarve, is the most popular destination with tourists but tends to be the most expensive, especially in the summer.
Outside of the summer there are fantastic deals in the larger resorts, and it is possible to have a budget holiday.
Our personal favourite destinations in the Algarve are Tavira (charming and traditional) and Lagos (lively beach resort).
Related articles: Tavira gruide - Lagos guide
The beautiful beaches near Lagos
Lisbon has a surprising amount to offer visitors: historical monuments, great nightlife, wonderful beaches and interesting day trips. Year-round Lisbon offers a range of good value hotels/hostels and it is possible to eat cheaply. Overall Lisbon is a good destination for budget travellers and probably the best location if you wish to visit during the summer.
Porto is rapidly becoming a popular tourist destination, in part due to the number of low-cost airlines flying into Porto. Porto is either unknown or under rated as a holiday destination but Porto is a good budget destination for a holiday with beaches, sights and enjoyable day trips.
Lisbon is regarded as having the better beaches, weather and sights but Porto does make for a good budget destination for the more intrepid visitor.
Related articles: Lisbon guide - Porto guide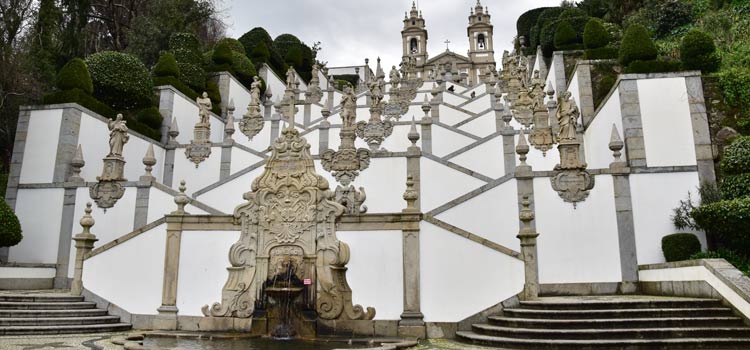 Braga a popular day trip from Porto
Tips for a cheap holiday to Portugal
The following section details our hints and tips for a budget holiday to Portugal:
Never hire a rental car, even if it seems like a bargain price. Portugal has excellent and inexpensive public transport around the main tourist areas. There is a regional railway that extends the length of the Algarve and Lisbon/Porto's metro and railways serve all the interesting locations.
For all car rentals in Portugal there is always additional "option" insurance to cover the €6,000 excess, this hidden fee works out at €15 per day.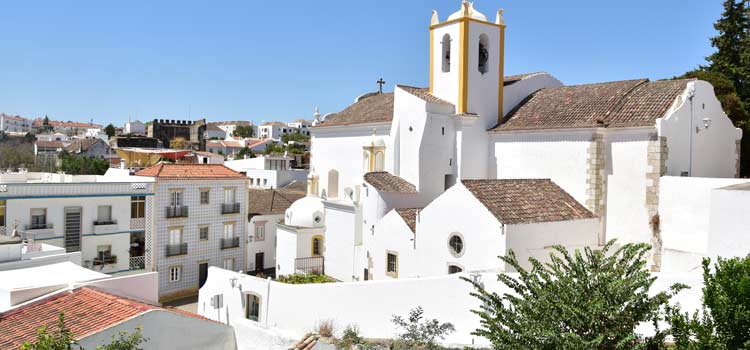 The charming centre of Tavira
For meals always eat where the locals do. Some of the best value eating establishments are often found in the food courts of the large shopping centres. Along with the obligatory fast food chains, are great value restaurants that serve traditional Portuguese dishes often for less than €7.50 for a full meal.
For lunch head to the cafes and coffee shops, most will serve a great value lunch time menu that will be a fraction of the cost of a restaurant. When purchasing a coffee (or tea) from a café always ask for a glass of water, (the Portuguese are never shy of asking for a free water!).
For flights to Portugal always consider the larger established airlines for cheaper flights. There was a time when the low-cost airlines were the cheapest to fly with but nowadays fares are almost equivalent. The national airline of Portugal is TAP air.
Take public transport from the airport to your hotel. Public transport is excellent from Lisbon and Porto airports and taxis are notorious for over charging tourists.
Faro airport is the exception with a very poor bus service and most visitors must travel to into Faro for bus and rail onward travel. Never skimp on travel insurance, you never know when an issue may occur.