Obidos Weather
The following weather chart displays the average weather conditions for Obidos in Portugal. The first chart displays the maximum temperature plotted against the number of wet days per month The second chart displays the average maximum daytime temperature and minimum night time temperature in Fahrenheit and Centigrade. The third Obidos weather chart display the average hours of sunshine while the fourth indicates the average amount of rainfall verses number of wet days.
Average Weather of Obidos

The Temperature of Obidos in Fahrenheit and Centigrade
Obidos Rainfall and Wet Days

Average Rainfall for Obidos
The blue bar chart displays the average number of wet days that Obidos experiences per month, this is plotted against the average amount of rainfall per month.
Have you considered an organised tour?
An organised tour is a great way to discover Obidos. We have worked with Getyourguide.com for the last six years and some of their best tours of Obidos include:
• A Popular tour of Fatima, Obidos, Batalha and Nazaré (€65)
• Fátima, Nazaré, Óbidos & São Martinho do Porto Full-Day Tour (€60)
• Óbidos, Fátima and the Atlantic Coast (€65)
Obidos Sunshine and Hours of Sun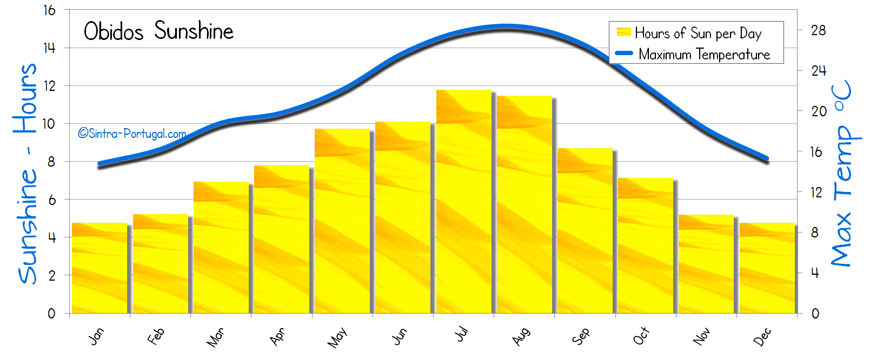 Average hours of Sunshine for Obidos
The above Obidos weather chart details the average number of hours of sunshine per day plotted against the maximum temperature. Portugal has pleasantly long warm summers with many hours of sun.
Discover more of central Portugal with our guides