Backpacking in Portugal
Portugal is considered as one of the best backpacking destinations of Europe. If you're in the early stages of planning your backpacking adventure, Portugal really should be included. It may not be as famed as other European countries, but Portugal excels with every aspect important to an enjoyable backpacking trip. It's safe, inexpensive, and has great weather, while the Portuguese are liberal, welcoming and most speak some English. This guide will provide an introduction to Portugal designed for backpackers who considering visiting this wonderful country.
Top 5 Reasons why Portugal is Great for Backpacking
1 – Cheapest country in Western Europe
2 – Glorious (almost) year-round weather
3 – Banging nightlife (in the major cities), with liberal and progressive attitudes
4 – Vast amount to see and do; beautiful beaches, stunning scenery through to historic towns and bustling cities
5 – Excellent public transport, which is inexpensive, safe and covers the entire country
Top Portuguese Destinations for Backpackers
Lisbon – The vibrant capital of Portugal; amazing nightlife, active artisan scene, and a fun city to be in. Lisbon is always full of other like minded backpackers and has become a popular destination for digital nomads.
Porto – Historic city, but with a young and social atmosphere, which closely resembles Lisbon before it was "discovered".
Lagos – Beautiful beaches, dramatic scenery and a delightful historic centre. Lagos is the best destination in the Algarve for backpackers.
Peniche – Surfing capital of Portugal; chilled vibe, tremendous waves and delicious sea food. Peniche is a destination where people come for a day and stay for weeks……
Coimbra – Underrated University city of Portugal; debating students, liberal views, and endless singing of Fado.
The Alentejo Coastline (Vila Nova de Milfontes) – Escape the crowds and experience the raw natural beauty of Portugal.
Sagres – Exposed, wild and wind blasted surfing destination. Its remote setting and understatedly cool vibe will be adored by some or simply bore others.
Albufeira – The party destination of the Algarve; a mixture of sunburnt tourists, drunken stag/hen do's and screaming children.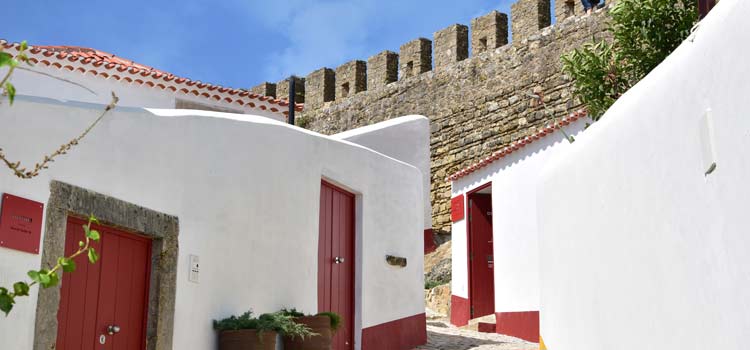 How long for a trip to Portugal?
An entire backpacking trip could be spent in Portugal, and a two-month stay is not unheard of. If time is a constraint, then these are our suggested itineraries:
Under four days in Portugal – Just Lisbon*
4-7 days in Portugal – Lisbon* and Porto
7-10 days in Portugal – Lisbon*, Peniche, Coimbra and Porto
10 -14 days in Portugal – Porto, Coimbra, Peniche, Lisbon* and Lagos
14+ days in Portugal – Porto, Coimbra, Peniche, Lisbon*, the Alentejo coastline, Lagos and Sagres or Albufeira
*While in Lisbon, visit Sintra and Cascais as day trips
For a full tour of Portugal, it takes around two weeks; 4 days in Lisbon, 2 days Silver Coast, 4 days Porto and 5 days in the Algarve. Generally, the best route is to start in Lisbon and then head north to Porto, before heading south to the Algarve. Useful links for planning a route of Portugal:
• Suggested routes for Lisbon to Porto
• 1-week tours and itineraries for Portugal
• Tours of the Algarve
When to go to Portugal for a Backpacking Trip?
Portugal is such a great location for backpacking as it is almost a year-round destination. Portugal has hot summers, pleasant spring and autumns, while winters are mild but possibly wet.
Summer – Height of the tourist season. Accommodation in the Algarve completely sells out. It is better to explore northern Portugal where it will be quieter (and cheaper!)
Spring – Best season to visit Portugal; great weather, cheap flights and accommodation options; ideal for flexible travel plans.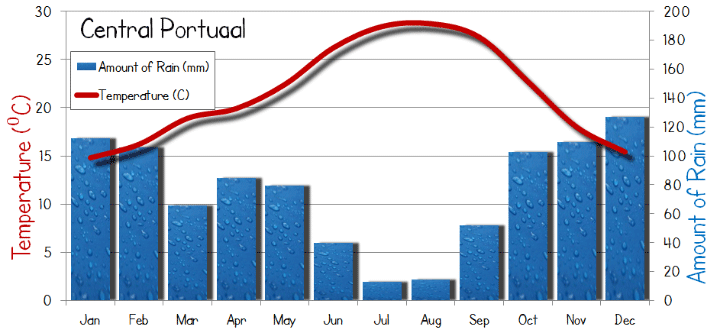 The average weather conditions of cenmtral Portugal
Autumn – Similar to the spring, this is a great season for hunting out last-minute deals with mid-price hotels. During the autumn the landscapes of Portugal tends to look sun scorched and parched, this is why we recommend the spring over the Autumn
Winter – Mild but possibly wet, so stick to the big cities in case it rains. Smaller resort towns close for the winter and will feel very empty. Southern Portugal is dryer and warmer than the north.
Beach Weather – The weather is suitable for lounging on the beaches of the Algarve from mid-May until the end of September.
I'm travelling alone or as a single female….
Portugal is one of the safest countries in Europe and outside of the big cities crime is virtually unheard of. Even in Lisbon, the only real risk to tourists is from pick-pockets, and these are only ever opportunistic scum. Often the biggest risk to backpackers is the loss of common sense while travelling – if you wouldn't do it back at home don't do it in Portugal. Never go travelling without sufficient travel insurance!
Portugal is a safe destination for women who will be travelling alone. Again, use common sense as you would back at home, sit with other people on late trains and buses, and move away from dodgy looking people (unfortunately Lisbon has lots of drunks and addicts). The biggest risk to travellers, is that Portugal instils a complacency for safety, which is an issue when you travel to other cities which are not as safe……