Tomar, Portugal: A tourism guide updated for 2021
The town of Tomar is exceptionally beautiful, being set along the banks of the Nabão River and having a delightful historic centre, filled with ancient churches, pretty cobbled streets and traditional houses.
Tomar could be rushed through as a day trip, but its calm ambience and authentic Portuguese character make it a great location for a longer stay. The town is a great base from which to explore the surrounding region, with day trips to Ourém, Fatima, the Castelo de Almourol and Batalha.
Tomar is one of the best tourist destinations between Lisbon and Coimbra, and this article will provide an in-depth guide to the town.
Related articles: Tomar sights – Lisbon to Tomar
Highlights of Tomar
Who Should Visit Tomar?
Tomar as a day trip
It is possible to visit Tomar as a day trip from Lisbon, but it will be a very long day due to the two-hour train ride or 90min drive from the capital. It is a much better idea to spend at least one night in Tomar.
Once in Tomar, there are lots of historical sights and tourist attraction, which can easily fill a day of sightseeing. The town is small enough to be explored on foot. Below is an interactive map for a suggested day tour of Tomar.
Sights during the tour: 1) Sinagoga de Tomar 2) Igreja de São João Baptista 3) Câmara Municipal de Tomar 4) Porta de Sao Tiago/ Castelo dos Templários 5) Charola - Convento de Cristo 6) Claustro dos Corvos - Convento de Cristo 7) Nossa Senhora da Conceição 8) Jardim da Várzea Pequena 9) Núcleo de Arte Contemporânea 10) Mouchão Parque 11) Mata Nacional dos Sete Montes 12) Igreja do Convento de São Francisco 13) Museu dos Fósforos 14) Igreja de Santa Maria dos Olivais
Note: The suggested walking tour above would take around 3-4 hours, and will be longer to include lunch.
Why stay longer in Tomar?
The map below shows the location of the hotels and rental rooms in Tomar, if you adjust it to your holiday dates it will display current prices and availability.
What's the best Sight in Tomar?
The best sight of Tomar is the Charola church at the heart of the Convento de Cristo. This unique circular church followed the design style of the great temples in Jerusalem and the interior is decorated with some of Portugal's finest sacred art.
The best lesser-known sights of Tomar?
The Museu Dos Fosforos houses the world's largest collection of matchboxes, and is a world-class art gallery and museum, but on a miniature scale!
This incredibly niche museum has been beautifully curated to reflect the values and changing interests of the world's smokers from 1890 to the 1980s; spanning over 125 countries. The box artwork is so varied; certain box sets celebrate the achievements of countries, while other sets are humorous, and some controversial.
Why is Tomar connected to the Knights Templar?
Travel to and from Tomar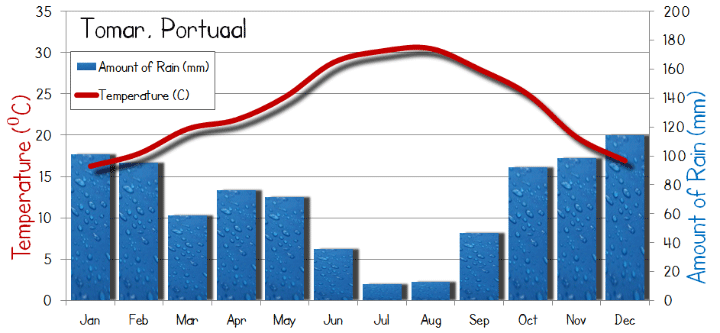 The average weather conditions for Tomar
Discover more of central Portugal with our guides